'Our Kids Deserve Better. Our Teachers Deserve Better': Thousands Rally For Education in Oklahoma (Updated)
"We have so little funding," said Marci Underwood, an art teacher at El Reno High School. "Our students are hurting."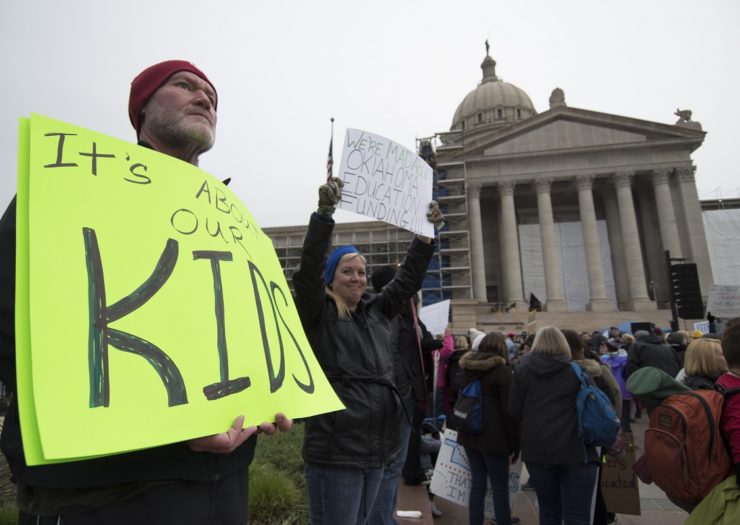 UPDATE, April 3, 11:05 a.m.: Oklahoma teachers continued their walkout on Tuesday, causing schools to remain closed in the state's ten largest school districts according to USA Today.
An estimated 30,000 teachers and their supporters descended on the state capitol in Oklahoma calling for additional education funding on Monday—a move that shuttered schools for the day across the state.
Though state lawmakers approved a measure last week raising teachers' pay, those who rallied at the capitol said it wasn't enough. Oklahoma's teachers join the growing ranks of educators nationwide striking and walking out.
"The legislation providing more funding for higher teacher salaries and tax increases is a great beginning, but it's not the end," said Ed Allen, president of the Oklahoma City American Federation of Teachers, in a Friday statement on whether the 2,600 teachers in the state it represents would strike. "Our teachers raised their voices and the Legislature did the right thing, and now we need assurances that there will be additional funding to invest in our schools."
Roe has collapsed and Texas is in chaos.
Stay up to date with The Fallout, a newsletter from our expert journalists.
Last week, Oklahoma Gov. Mary Fallin (R) signed into law a bill giving teachers an approximately $6,100 pay raise, but it failed to fully restore funding that had been cut to public education over the past decade. The new law also raises taxes on cigarettes, fuel, and oil and gas production.  
Laura Steele, an eighth-grade social studies teacher at Jenks Public Schools, told Rewire.News that last week's vote was historic, but noted that the legislature has already repealed parts of the measure. Less than 24 hours after the legislature passed the bill, it repealed a portion that had added $5 to hotel and motel tax.
Like many teachers in Oklahoma, which ranks 49th in the nation in teacher pay, according to the National Education Association, Steele works several jobs to try to make a living. On the weekends, she works retail for her mother and consults on the business' webpage. She's also the assistant debate coach at the high school, taking kids to tournaments and judging them.
"It's just trying to make ends meet on a teacher's salary, which is hard," she said.
Steele said the walkout is necessary because for at least the past decade, education hasn't gotten the respect it deserves in the state.
In Oklahoma, she said, the schools aren't performing well because the state has cut programs and funding. "It's a lack of respect," she said. "It's a lack of respect for the teachers. It's a lack of respect for the students."
Steele told Rewire.News that she is extremely happy with her job but does believe she should be paid more. But that wasn't the only reason she showed up at Monday's rally.
"I have a Bachelor's degree. I have a Master's degree. I have 15 years of teaching experience, and yes, I should be paid more than a starting teacher in Dallas, Texas, with just a Bachelor's degree," she said. "But it's not about my pay. It's about funding education. It's about not having classroom sizes that are 38 people big that you can't even maneuver around. It's about the special services that we need to help these kids succeed."
Jill Deutscher brought her two sons who are in seventh-grade to the rally. Coming together, she said, demonstrates there is unity among parents, students, teachers, and supporters.
"This is the best social studies lesson," she said. "This is not spring break 2.0. It's important to be active and engaged in what is happening around you. This issue directly impacts them, this is real. They want to be here. They admire their teachers. They're excited."
She said that she believes companies don't come to Oklahoma due to the dismal state of its public education system.
"I want my kids to live and work in Oklahoma," she said. "And right now they're looking at me saying why do we live in Oklahoma?"
Marci Underwood, an art teacher at El Reno High School, told Rewire.News that she hopes the rally brings greater awareness.
"We got our raise. We got some of what we requested. But our kids are drastically underfunded," she said. "We have so little funding. Our students are hurting. Our kids deserve better. Our teachers deserve better. A lot of us are highly qualified. We're college-educated. We're state-certified."
The rally also brought out supporters like Pat Ritter, a retired special education teacher who marched in a similar rally in 1990.
"I don't feel that we can trust what [legislators] say," she said, pointing to funds made available for public education in the early 1990s that have since been slashed.
"And I feel like we're at the bottom again. They need to know that some of us remember."