Democrat Backed by Anti-Choice Groups Claims Narrow Victory in Illinois Primary
Rep. Dan Lipinski, who has parroted Republican talking points pushing junk science to support anti-choice policies, won with 50.89 percent of the vote.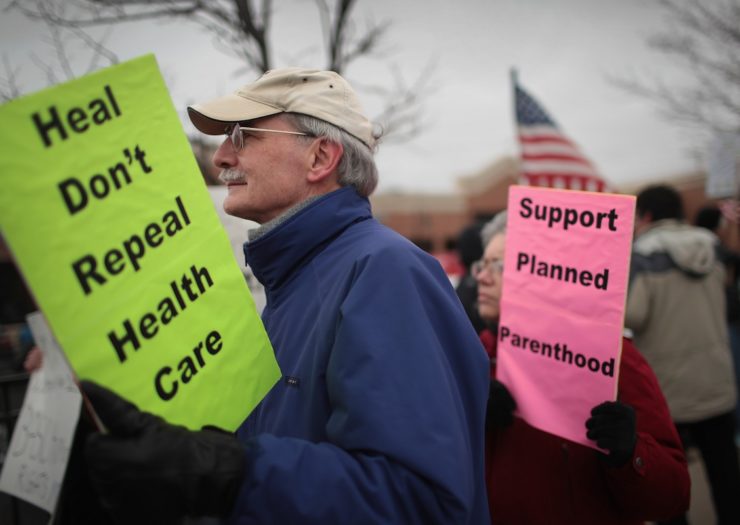 Anti-choice Democratic U.S. Rep. Dan Lipinski won his primary on Tuesday by a slim margin against progressive challenger Marie Newman, capping off a race in Illinois' District 3 centered on Lipinski's opposition to abortion rights and LGBTQ rights.
As of Wednesday morning, Lipinski had won 50.89 percent of votes to Newman's 49.1 percent, with less than 2,000 votes separating the two Democrats. The Associated Press called the race in the incumbent's favor early Wednesday morning. Newman reportedly declined to concede as the results came in Tuesday night. 
Newman, a first-time candidate, came within striking distance of a win despite polling released by the campaign in December noting she had low name recognition in the district.
Lipinski's opposition to abortion rights, LGBTQ equality, the Affordable Care Act, and other issues commonly safeguarded by Democrats made him the target of progressive groups who hoped to unseat the "Blue Dog" Democrat.
Roe has collapsed and Texas is in chaos.
Stay up to date with The Fallout, a newsletter from our expert journalists.
Lipinski's position on reproductive rights has earned him the support of several anti-choice groups. Not only has he co-sponsored legislation like a ban on abortion at 20 weeks' gestation, he co-chairs the Congressional Pro-Life Caucus and sits on the federal advisory board of anti-choice group Democrats for Life of America.
Anti-choice group Susan B. Anthony List announced this month that it would deploy a team of 70 canvassers in support of Lipinski. The District 3 primary marks the first time that SBA List had canvassed for a Democratic candidate, according to the conservative National Review.
The anti-choice group had supported Lipinski in past races.
During this primary, it spent almost $120,000 "on not just ads and mailers but also money to fly canvassers to the district, put them up at hotels and transport them in vans to various neighborhoods," CNN reported.
Though Lipinski skipped a scheduled speaking engagement for the anti-choice March for Life in January, he appeared at an affiliated event that week where he lamented that progressive groups had gone "all in" on the race to back Newman. Lipinski parroted Republican talking points pushing junk science to support anti-choice policy and noted that he was "hanging in there" to "evangelize" his opposition to abortion rights, as Rewire.News reported.
Newman had the backing of progressive groups and organizations focused on reproductive rights and health, including NARAL Pro-Choice America, Planned Parenthood Action Fund, and EMILY's List. Her platform called for the protection of abortion rights, noting her belief that "reproductive decisions belong with women and her right to choose, not with government or politicians."
Lipinski will take on Republican Arthur Jones in the November midterm elections. The seat is considered a "solid Democratic" stronghold by Inside Elections with Nathan Gonzales and Roll Call. Jones ran unopposed in the Republican primary, despite being a neo-Nazi and white supremacist who is openly campaigning as a Holocaust-denier. The state's Republican Party has disavowed the candidate.
Abortion rights were a central issue in Illinois' Republican gubernatorial primary, where Gov. Bruce Rauner beat state Rep. Jeanne Ives.
Ives throughout her campaign attacked Rauner's decision to sign a pro-choice measure last September to expand insurance coverage for abortion care and strike down provisions in the state's "trigger law" to outlaw abortion should Roe v. Wade be overturned. She vowed to "immediately" sign a measure to repeal it should she be elected.
Rauner will face Democrat J.B. Pritzker in the general election for governor.