Gavel Drop: Judge Says Massachusetts Has No Case Against Birth Control Exemptions
And in other news, President Trump has appointed no Black or Latino judges. Color us unsurprised.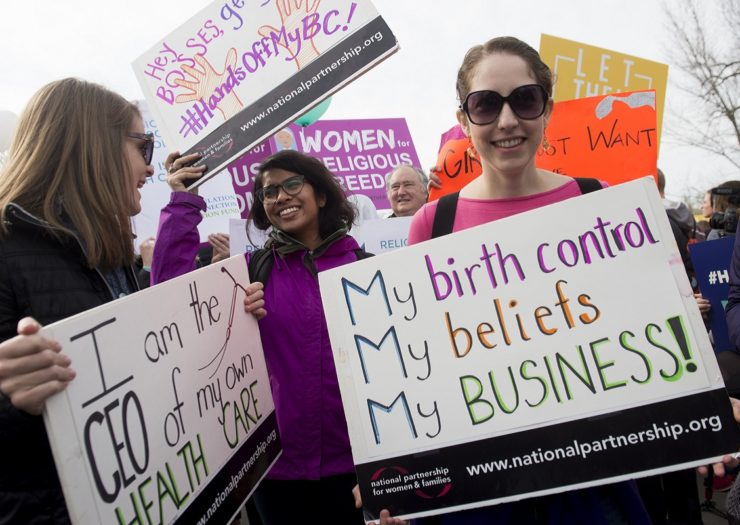 Welcome to Gavel Drop, our roundup of legal news, headlines, and head-shaking moments in the courts.
U.S. District Court Judge Nathaniel Gorton tossed out a lawsuit filed by Massachusetts Attorney General Maura Healey challenging the Trump administration's decision to expand exemptions from the Affordable Care Act's birth control benefit. Gorton ruled that Massachusetts did not have standing to sue; in his reasoning, because Gov. Charlie Baker (R) signed a law last year requiring employers to offer birth control without co-pays in their insurance plans, Massachusetts would not be injured by the Trump rules. Recall that to have standing, one must have an injury that can be redressed by a court, as I explained here.
President Donald Trump is trying to make the judiciary white again, as Ian Millhiser notes for ThinkProgress. He hasn't appointed a single Black or Latino federal judge. I wish you could see my shocked face. It's the same as my regular face.
The parents of Seth Rich, the Democratic National Convention staffer who was killed in an unsolved July 2016 shooting, filed a lawsuit against Fox News last week. They allege intentional infliction of emotional distress among other claims. The suit alleges that a May 2017 network story claiming that Rich had leaked information to Wikileaks before he died spawned a conspiracy theory that has caused Rich's parents harm.
Sex. Abortion. Parenthood. Power.
The latest news, delivered straight to your inbox.
A federal judge in Ohio blocked the state's law prohibiting pregnant people from getting an abortion if the decision to do so is based on the fact that the fetus has Down syndrome. The court said that the law violates U.S. Supreme Court jurisprudence that permits a pregnant person to obtain an abortion up until the fetus is viable.
In Michigan, a group of anti-choice protesters were convicted of trespassing and interfering with police at a West Bloomfield abortion clinic. They were sentenced to probation and banned from picketing abortion clinics—though that's not likely to stop them; four of the defendants have similar previous convictions.
A three-judge panel of the Fifth Circuit Court of Appeals ruled that a provision in the Texas sanctuary cities law that allows police to question people lawfully detained for criminal or civil violations about their citizenship status is constitutional.
The American Civil Liberties Union (ACLU) of Louisiana filed a lawsuit on behalf of New Orleans resident Neal Morris, who has been ordered to remove a controversial mural featuring an edited version of Trump's infamous "grab 'em by the pussy" quote. The city's Department of Safety and Permits accused Morris of a zoning violation. Rather than remove the mural, he covered it with a sheet that says "censored." The ACLU alleges that Morris' First Amendment rights are being violated.
Ariel Hawkins, a transgender woman living in Portland, Oregon, is suing Tinder. The dating app removed her profile after she added information about her legal sex work and trans identity. Tinder notified her that her account violated the app's terms of service. Hawkins says that she just wants to find love like everybody else.