Jersey City Teachers Strike As Their Take-Home Pay Dwindles (Updated)
New Jersey teachers have pointed to the "unintended consequences" of a law that mandated state workers pay a larger share of health-care costs, cutting into workers' pay.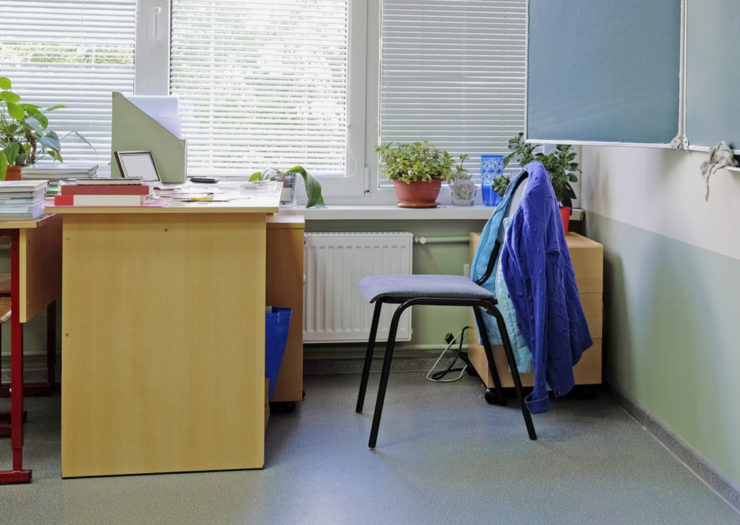 UPDATE, March 19, 8:59 a.m.: The strike was called off late Sunday when the Jersey City Board of Education and the Jersey City Education Association reached a tentative agreement, details of which have not been released. Teachers will go back to work and school will run as usual on Monday, according to a statement from the board.
After a deal for a new contract fell through late Thursday, teachers in the 29,000-student Jersey City school district walked out on Friday over complaints about rising health-care costs. 
New Jersey teachers have for years pointed to the "unintended consequences" of a law mandating state workers pay a larger share of health-care costs, cutting into take-home pay. Workers are responsible for 20 percent of the $98.9 million the district spends each year on health benefits, the Jersey Journal reported. The law, known as Chapter 78, was signed by former Gov. Chris Christie (R) in 2011; a supporter of the law, Sheila Oliver, now serves as the state's lieutenant governor under Gov. Phil Murphy (D). 
Murphy has not commented on Friday's events, and Jersey City Mayor Steve Fulop plans to stay out of the contract dispute, according to the Jersey Journal. On March 4, Fulop wrote on Twitter that a "strike hurts teachers, parents + students. It isn't best approach."
Roe is gone. The chaos is just beginning.
Follow Rewire News Group on Twitter to stay on top of every breaking moment.
The New Jersey Education Association says the Christie-era law has had a lasting effect on teachers in Jersey City. "Some are unable to meet their basic financial obligations like mortgage, rent, and car payments," the union said on its website. "Others are taking on added debt like short-term loans and increased use of credit cards. While the overall economy is improving, our members are doing worse. Their salaries are not keeping up with the escalating costs associated with Chapter 78."
Teachers are demanding salary increases and a reduction in what they pay for their health insurance. Superintendent Marcia V. Lyles said at the Thursday night school board meeting that the district is facing a $70 million shortfall.
"We recognize and appreciate the contributions of our teachers, and we are hoping to find a speedy resolution in these challenging financial times," she said in a statement.
Officials from the Jersey City Public School Board of Education and the Jersey City Education Association (JCEA)—the teachers' union—have met more than 20 times since last May to negotiate a contract. The district employs around 2,900 teachers drawing an average salary of $81,000; the union, which has around 4,000 members, also represents other school workers. They have worked without a contract since September 1.
A spokesperson from the superintendent's office told Rewire.News that the board plans to continue negotiating with the JCEA to settle the contract. The district announced adjusted school hours and and cancelled programs Friday as many students joined their teachers in the walkout.
The Jersey City strike comes on the heels of a two-week teacher strike in West Virginia that ended with the union winning all demands and a 5 percent pay hike.
The West Virginia win has emboldened teachers in districts across the United States to consider striking, including in Oklahoma, which ranks 49th nationwide in teacher salaries. West Virginia is 46th, according to the National Center for Educational Statistics.