Gavel Drop: Satanists Sue Again to Block Missouri's Abortion Waiting Period
The Satanic Temple in Missouri is on a mission to prove to lawmakers that religious beliefs about abortion cut both ways.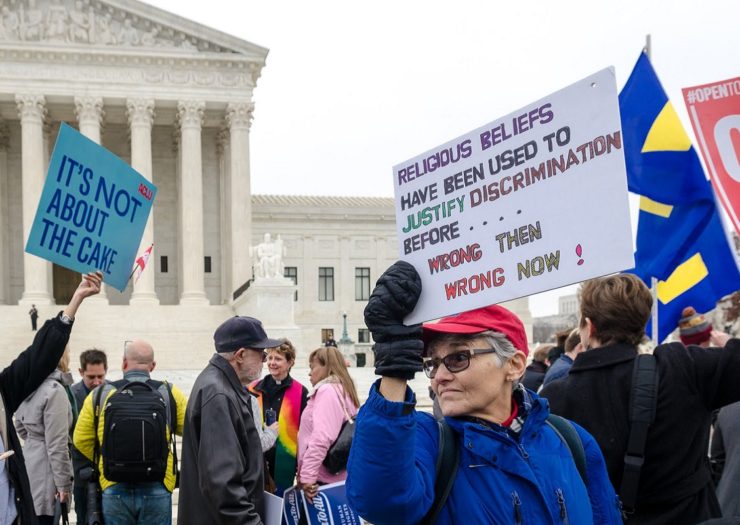 Welcome to Gavel Drop, our roundup of legal news, headlines, and head-shaking moments in the courts.
The Satanic Temple in Missouri has filed another First Amendment challenge to the state's mandatory 72-hour abortion waiting period and certain disclosure requirements that claim life begins at conception, arguing the anti-abortion measures violate its religious freedom.
With a major U.S. Supreme Court showdown looming over a California law that requires certain disclosures for so-called crisis pregnancy centers in that state, an abortion rights group in Pennsylvania is suing the state Department of Human Services for records concerning state funding of similar centers there.
Attorneys for another bakery that refuses to make cakes for same-sex couples, this time in Oregon, have appealed to the Oregon Supreme Court a ruling that fined the bakers $135,000 for refusing service to Rachel and Laurel Bowman-Cryer in violation of state anti-discrimination laws. Meanwhile, the Gorsuch Court has yet to rule on a similar case from Colorado in the Masterpiece Cakeshop case.
Roe is gone. The chaos is just beginning.
Follow Rewire News Group on Twitter to stay on top of every breaking moment.
The Eighth Circuit Court of Appeals is the latest federal appeals court being asked to weigh in on the scope of Title VII's legal protections for LGBTQ employees as it considers the case of a Missouri man who claims an employer withdrew a job offer once it learned he was gay.
Progressive advocacy organizations People for the American Way and Right Wing Watch have sued the Trump administration, demanding it produce documents related to Department of Housing and Urban Development and Department of Justice decisions affecting programs about LGTBQ homelessness, discrimination, and trafficking.
Lawyers in Louisiana have filed a class action lawsuit against opioid manufacturers and pharmacies on behalf of newborns diagnosed with neonatal abstinence syndrome, or NAS, arguing the companies should be on the hook for the financial costs of dealing with the opioid epidemic.
The Gorsuch Court agreed to hear a case next term that could revive a legal theory called the nondelegation doctrine that was last used to go after New Deal legislation in the 1930s. Mark Joseph Stern has this explainer for Slate on why we should be worried about the case.