Here's What Washington State's New Democratic Majority Has Done in 2018
"Elections matter. It's such a vindicating feeling; it underscores just how important it is when people get up, and stand up, and take action."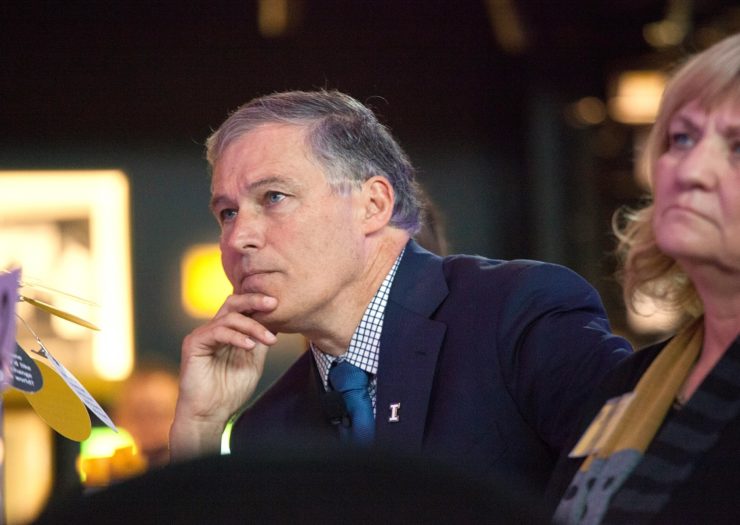 To Planned Parenthood's Courtney Normand, a recent string of legislative wins in Washington state is payoff for hard work.
"Without all that action, all that work that took place last year, we would not be seeing any of the successes that we're seeing now," said Normand, Washington public affairs manager with Planned Parenthood Votes Northwest and Hawaii.
Democrats flipped the state senate in a much-watched race last November, putting the party in control of both chambers. Now, state progressives are seeing a flood of their legislative priorities reach Gov. Jay Inslee (D). Among these is a bill, which was once logjammed by state senate Republicans, requiring Washington insurance plans that cover maternity care to also cover contraceptives and abortion care. Progressives count among their wide-ranging wins a ban on bump stocks and on anti-LGBTQ "conversion therapy."
"Elections matter. It's such a vindicating feeling; it underscores just how important it is when people get up, and stand up, and take action," Normand told Rewire.News.
Sex. Abortion. Parenthood. Power.
The latest news, delivered straight to your inbox.
Also heading to the governor is legislation to lock into state law some of the Affordable Care Act's provisions. The bill requires Washington insurers to cover preventive health services, including reproductive health care and birth control, without copays or deductibles. Other bills poised for Inslee's signature ensure incarcerated pregnant people have access to doula and midwife services and "ban the box" by barring employers from asking about arrests on a job application.
Depending on when the bills reach his desk, Inslee has between five and 20 days to sign legislation into law.
The session delivered some setbacks, Normand said. Advocates had pushed hard for the Reproductive Health Access for All Act, which died in a state senate committee. The bill would have guaranteed coverage of a broad range of health services, including gender-affirming therapies. Normand said they'll bring back the bill next year.
This session, progressives gained traction with a package of measures that they say increase access to the ballot box. Nearly a million eligible Washington state voters aren't registered, said Oskar Zambrano, an activist and steering committee member with Washington Voting Justice Coalition, which is backing the bills.
Two of the voting measures—to allow same-day registration and pre-register 16 and 17-year-olds—are headed to the governor's desk. Meanwhile, both chambers are hashing out a pair of bills on automatic voter registration and redistricting.
Separately, advocates are pushing for legislation to safeguard workers from on-the-job retaliation for discussing their salaries.
Thursday is the final day of the state legislative session. Normand said they're already looking ahead to next year. Plans include updating sex education law to make it more inclusive and increasing the culture of consent in the state, she told Rewire.News.
The timing, she believes, couldn't be better. "With the Me Too movement, it's really a huge opportunity," she said.