At Power Rising, LBTQ Representation Mattered
Black women are already pushing through racism and sexism, and some of us are pushing through homophobia and transphobia as well.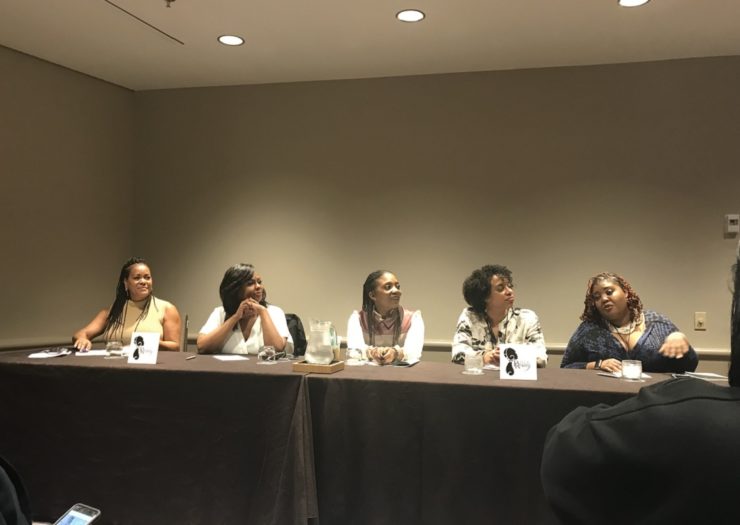 As far back as folks can recall, Black women have a history of leading, reaching back, seeking clarity, and uplifting and wanting the best for others. That being said, there is also the reputation of Black folks not always being so welcoming to out, open, unapologetic LBTQ folks, and that contradiction just is. True or untrue, that reputation exists.
But from the onset of the recent Power Rising Summit in Atlanta, there was mention of LBTQ folks by name, and notably, it was out of the mouths of leaders with "reverend" in their titles. This matters. There is power in visibility. There is power in intention. Although intention and impact are not the same when we are discussing harm, it is notable when discussing inclusion and efforts to get it right.
What was truly revolutionary about Power Rising—and what I'd like to see in all spaces moving forward—was that as it forged ahead, so did the inclusion of LBTQ women. Even the litany from the event raised up our voices:
We cannot be ignored, we cannot be minimized. We are committed to ourselves and our sisters and our daughters and our nieces and our granddaughters. We are committed to our women folk and our men folk and our trans folk and our folk who choose not to be so narrowly defined. We are committed to our entire village.
What I am taking away from this experience is that LBTQ people of color can have it all. Similarly to the value that is inherent in the inclusion of Black voices and the voices of women—as evidenced by the many panelists noting their frustrations having to constantly state "but what about Black people" when they're "the only" at the table—there is value in the diversity of experiences, including the experiences of Black LBTQ sisters.
This weekend reminded folks that it is possible to stand with our people—all our people. And it's past time that others stand with all of their people too. LBTQ folks are also out here trying to live our best lives; we are open to being gotten all the way together. We know all the gospel songs and appreciated singing the entire "Negro National Anthem." We noticed that sistas' curls were poppin'; we know that Wakanda is forever too.
Roe has collapsed in Texas, and that's just the beginning.
Stay up to date with The Fallout, a newsletter from our expert journalists.
The out LBTQ women on the organizing committee of Power Rising were part of what spurred my attendance, and my early registration. Given the body of work of steering committee members She Woke Co-Founder Nakisha Lewis and Rooted Bodywork Owner Carla Gaskins-Nathan, I felt confident that these organizers were taking responsibility for the well-being and safety of the LBTQ women in the space, and they were not about to let anyone up to the podium to spew homophobic or transphobic sentiments. Seeing oneself reflected back at you in this way can be empowering. It allows you to breathe into a space differently, and to lean back in one's chair, both literally and figuratively.
Many of the LBTQ individuals who attended are employed at nonprofit organizations or work in philanthropic spaces, but this was us showing up with our multiple identities, putting our sexual and gender identities out in front. Some of us were there with our spouses as well, or jumping in the mix when our respective sororities were claiming space and making themselves known during the magnificence that was the impromptu early morning electric slide.
In addition to the offerings from headliners at the summit, I witnessed the ways that we in the LBTQ community found each other: from the very opening plenary session, where we could be seen clapping and taking photos of Elle Hearns, a trans activist, organizer, and writer who sat center stage boldly and unapologetically speaking her truth, to motioning each other about empty seats near the front where we were sharing pictures in real time with the speakers so that they could see themselves shining brightly. LBTQ women also purposely attended sessions being offered with LBTQ women on the panel as a show of solidarity, sometimes having to swap it for ones we had originally signed up for. At one panel on sexual harassment in the workplace, when an audience member haphazardly conflated the term lesbian with the concept of predator when discussing their experience, a lesbian sister gently invited the audience in, reminding them to take responsibility for the words they use, and how they use them. Naturally those of us in the audience could not clap loud enough for these sentiments, given that this is more common than one would like to admit.
When queer-affirming organizations created space for folks to gather on Friday evening, the majority of us pushed through our exhaustion to at least show our faces and express our gratitude. And when a Black queer couple opened their home on Saturday evening, you best believe most of us came through with our bodies and some form of contribution for the hosts as well—again, expressing gratitude for being seen.
Throughout the summit, there was an effort to be inclusive of all. The "put five on it" takeaways were worded in such a way that made them accessible for those of us with intersecting identities, beyond race and gender. As an example, most people can help sign someone up to register to vote, and can prioritize five hours of self-care.
For those members of the LBTQ community who could not join us in Atlanta, I encourage you to look at the videos and other social media posts. Look at the sponsor lists, and the names on the organizing committee members—LBTQ women are there. We were purposely and intentionally included, and our participation was woven throughout all aspects of the summit.
Black women are already pushing through racism and sexism, and some of us are pushing through homophobia and transphobia as well. Just like there was power in the gathering of Black women, with that being a worthwhile goal, there was comfort and energy gained from the connecting of other LBTQ women in a space made for Black women—a space that was not separate, but was a part of the larger frame. There was no division or setting aside certain issues until it was our turn; there was a layering of our identities, like a chocolate layer cake, rich and full.
Had I not been there, I might suggest putting "five on" connecting with other LBTQ women. But guess what? It was already done and dusted. Build it and they will come—and we did.