Planned Parenthood's $20 Million Midterm Strategy Designed to Halt GOP's 'Unprecedented Assault' on Reproductive Rights
"This is an initial investment in the midterm election in races where we think we can be a decisive factor."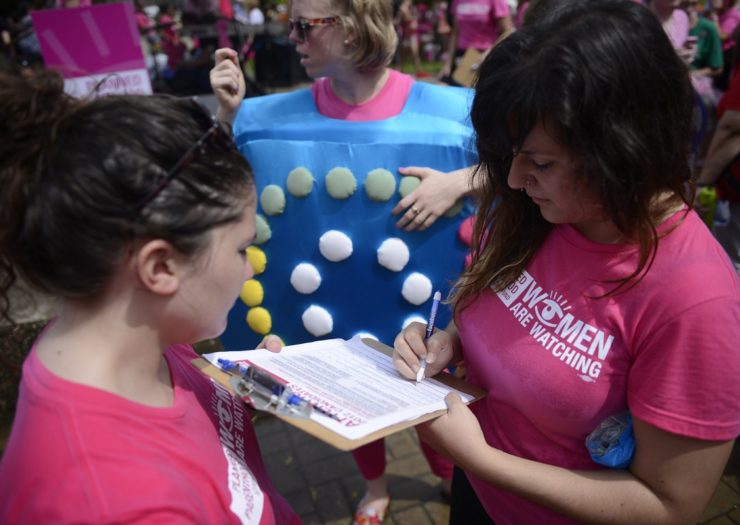 Planned Parenthood Votes and Planned Parenthood Action Fund on Thursday announced a strategy that will target eight states in the 2018 midterm elections. The organization's political arms say the program will support candidates who oppose the agenda of the Trump administration.
Deirdre Schifeling, executive director of Planned Parenthood Votes, said in a statement that the organization is sending a message to politicians who support the Trump administration's "unprecedented assault" on Planned Parenthood and the GOP's agenda of restricting access to health care.
"In response, we've marched, we've mobilized, we've organized, and together we've built a historic resistance," Schifeling said. "Now, our electoral program is going to channel that energy and the activism into electoral victories across the country in 2018."
The "March. Vote. Win." campaign will invest $20 million in "grassroots mobilization programs" in support of 2018 gubernatorial and U.S. Senate races in eight states: Arizona, Florida, Michigan, Minnesota, Nevada, Ohio, Pennsylvania, and Wisconsin.
Roe is gone. The chaos is just beginning.
Follow Rewire News Group on Twitter to stay on top of every breaking moment.
There are a handful of "key races" where Planned Parenthood will focus efforts: opposing the re-election of U.S. Sen. Dean Heller (R-NV) and Gov. Scott Walker (R) in Wisconsin and supporting the re-election of Gov. Tom Wolf (D) in Pennsylvania and U.S. Sen. Tammy Baldwin (D-WI).
Schifeling said on a press call Thursday that the goal is to "elect reproductive health champions that will fight with us to expand access to health care," and the states were chosen for a variety of reasons, including whether the election offers an opportunity to shift power in Congress or a state legislature.
However, the focus and priorities may shift as the campaign evolves over the next several months.
"This is an initial investment in the midterm election in races where we think we can be a decisive factor," Schifeling said. "We're going to continue to monitor and look at other races around the country as we get closer to November."
Since Trump's inauguration, woman-led movements have been galvanized by the administration's policies that disproportionately benefit corporate interests, undermine voting rights, restrict access to reproductive health care, and target historically marginalized communities.
Planned Parenthood's campaign seeks to build on the momentum from the wave of grassroots activism in the last year, and Democratic victories such as now-Gov. Ralph Northam's victory in November 2017.
Kelley Robinson, the national organizing director for Planned Parenthood Votes, told reporters during the press call that "the activism and energy of this moment is palpable."
"There is so much energy and activism that our role at Planned Parenthood Action Fund and Planned Parenthood Votes is to give folks the tools and resources to channel that energy into electrical power, the kind of power that we need to protect reproductive health care for the next generation," Robinson said.
A variety of tactics will be used to support candidates, with a focus on door-to-door canvassing. Television and digital advertisements will supplement on-the-ground efforts.
Planned Parenthood's advocacy and political affiliates will also target U.S. House, attorneys general, and state legislature campaigns. "We have a network in all 50 states that we're excited to communicate with and to activate to win electoral victories decisively this year, building on watch we've learned in 2017," Robinson said.