Pence Sees an End to Legal Abortion as Google Searches for Self-Induced Abortion Climb
Online searches for methods of do-it-yourself abortion have increased amid a rash of laws eroding access to legal abortion care in the United States.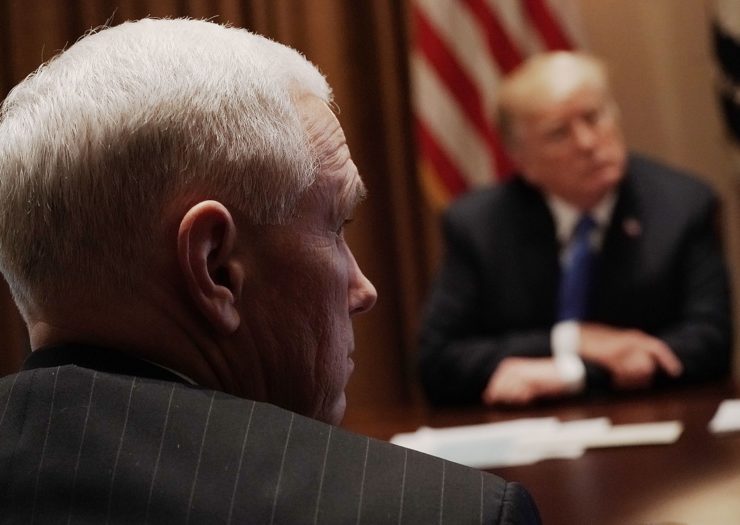 Vice President Mike Pence in a speech this week foretold of a not-so-distant future when abortion care is once again illegal in the United States.
Addressing the anti-choice groups Susan B. Anthony List and Life Issues Institute, Pence cataloged the Trump administration's new limits on abortion access, then predicted the end of legal abortion "in our time."
A growing body of research suggests those seeking abortion care in the United States already live in the reality that Pence predicts, as they take matters into their own hands. A paper published online last week in the journal Contraception is the latest to explore a rising interest in self-induced abortion.
A trio of researchers from the Guttmacher Institute examined about a month's worth of Google searches for self-managed abortion in 2017. The most common searches were for variations of "abortion pill," "how to abortion," or "how to miscarriage," with the majority seeking information on "self abortion." When researchers asked about the searches in a survey, most respondents said they were pregnant and didn't want to be.
Roe is gone. The chaos is just beginning.
Follow Rewire News Group on Twitter to stay on top of every breaking moment.
"People were searching for this information because they wanted to end their pregnancy on their own," said lead author Jenna Jerman, senior research associate with the Guttmacher Institute.
Eleven percent of those surveyed had attempted an at-home abortion.
"There is a real interest in this," Jerman said.
Earlier studies have examined do-it-yourself abortion. In 2014, a nationally representative survey of abortion patients found around 2 percent had performed at-home abortions. In 2015, economist Seth Stephens-Davidowitz found more than 700,000 Google searches for self-induced abortion over a year. The new research, in comparison, revealed many more DIY abortion searches—upwards of 200,000 in the span of 32 days. Jerman cautioned that the numbers cannot be compared to suggest a trend.
"The truth is we really don't know how much it is happening," she told Rewire. "This is such a difficult topic to study because it occurs among a hidden population."
Even so, abortion pills are easily found on the internet. A growing underground movement teaches women to terminate pregnancies without a doctor, as Mother Jones reported.
"People have been controlling their own fertility since the dawn of time," said Jill Adams, chief strategist with SIA Legal Team. "Given technological advances—abortion pills—the physical threats from unsafe abortion have waned."
The Guttmacher study explored who is searching for self-managed abortion. Roughly two-thirds of respondents lived in the South or Midwest, areas rife with abortion restrictions implemented by anti-choice lawmakers. More than half were teens—age 19 and younger. One-third weren't sure whether abortion was legal in their state.
Jerman said they asked people about their methods to self induce. The most commonly reported means were herbs/vitamins (55 percent) and alcohol or drugs (36 percent), followed by abortion pills/misoprostol (9 percent).
A common misconception, she noted, is that large doses of Vitamin C or certain teas can end a pregnancy. She said their results reveal a lack of accurate online knowledge to terminate a pregnancy in a way that's effective and legal.
Amid threats of federal restrictions, a conservative-leaning U.S. Supreme Court, and Pence's vow to do away with abortion rights, the issue could grow more pressing as interest in self-managed abortion grows.
Seven states explicitly outlaw self-induced abortion, SIA's Adams told Rewire. Other states prosecute it under various laws.