Gavel Drop: Nurses May Be the Key to the Abortion Provider Crisis
Two lawsuits challenge laws that ban nurses from providing abortion care. And in other news, a Texas lesbian couple were told they couldn't adopt a refugee child because they don't "mirror a holy family."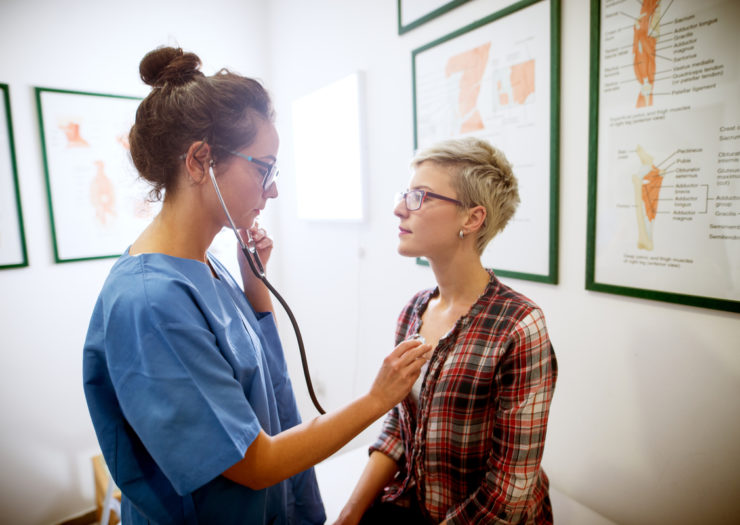 Welcome to Gavel Drop, our roundup of legal news, headlines, and head-shaking moments in the courts.
It could be pretty easy to solve the country's abortion access crisis: Let nurses provide abortion care. But several states have enacted laws that say only physicians can provide abortion care. In Maine and Montana, nurses are challenging those laws in federal court.
A group of immigrants from Haiti and El Salvador—the former a nation that Trump specifically derided as a "shithole country"—have filed a lawsuit in federal court in Boston alleging that Trump's decision to end the Temporary Protective Status for immigrants from countries affected by natural disasters or civil conflicts was racially motivated.
Is there a constitutional right to sell firearms? John Teixeira is challenging a zoning ordinance in Alameda County, California, that effectively bars him from opening a gun and ammunition shop, alleging that the ordinance burdens his tstSecond Amendment rights. The Ninth Circuit sitting en banc disagreed and dismissed his case, but Teixeira has asked the U.S. Supreme Court to review that ruling.
Sex. Abortion. Parenthood. Power.
The latest news, delivered straight to your inbox.
As rumors continue to swirl about Justice Anthony Kennedy's retirement, Adam Liptak of the New York Times speculates about how likely it is that Kennedy will remain on the bench and the factors that influence a judge's decision to stay or retire.
A Planned Parenthood clinic in New Orleans has asked a federal judge to require the Louisiana Department of Health to issue an abortion license, alleging that the state has erected unconstitutional roadblocks to prevent the clinic from becoming licensed. The new facility opened in mid-2016, but it has been almost 17 months and the state health department has still not issued the clinic a license.
Supreme Court newbie Neil Gorsuch will be the deciding vote in Janus v. The American Federation of State, County and Municipal Employees, a case that will likely decide the fate of public sector unions. Given Gorsuch's rank conservatism, we might as well kiss public sector unions good bye.
The U.S. Supreme Court agreed to hear a case that will decide whether a Minnesota law barring voters from wearing political clothing to the polls is constitutional. Minnesota argues that it is a reasonable restriction to preserve "order and decorum in the polling place," and to prevent voter intimidation and confrontations between voters. But challengers argue that the law infringes their free speech rights.
In New York magazine, Jill Abramson lays out the case for impeaching Clarence Thomas and re-examining the evidence that Thomas lied about his interactions with Anita Hill during his confirmation hearing.
The New York Civil Liberties Union filed a lawsuit alleging that federal officials are detaining young adults indefinitely and illegally as part of the Trump administration's aggressive deportation policy. The strategy is based on fear-mongering about the MS-13 street gang—even when the young adults do not have any suspected gang ties. But never mind the lack of evidence.
A lesbian couple in Fort Worth, Texas, is suing the federal government and the U.S. Conference of Catholic Bishops because they were prohibited from fostering a refugee child after being told they did not "mirror a holy family."