We Translated Trump's Top CPAC Dog Whistles Undermining Reproductive Health
Trump cheered on the GOP's overhaul of the federal judiciary and piecemeal attacks on the Affordable Care Act, but he failed to acknowledge their human cost. Here, Rewire accounts for it.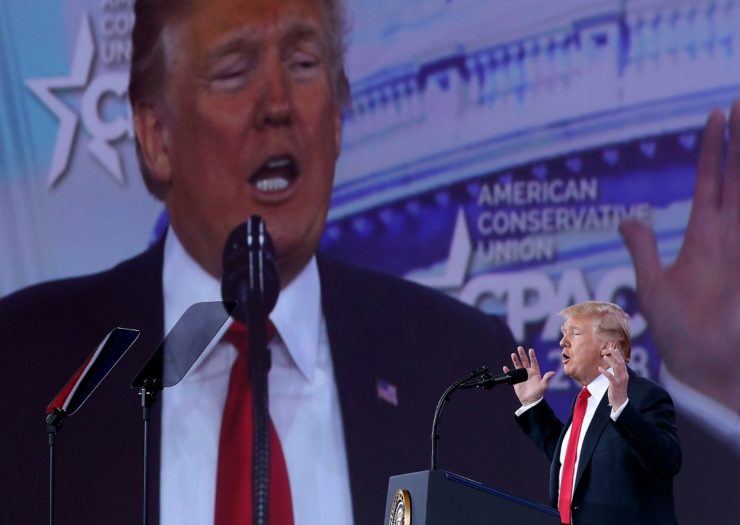 President Trump's Friday morning address to the Conservative Political Action Conference (CPAC) included a series of conservative dog whistles lauding his administration's regressive victories at the expense of reproductive health.
Trump cheered on his overhaul of the federal judiciary and piecemeal attacks on the Affordable Care Act (ACA), or Obamacare. But he failed to acknowledge their human cost. Here, Rewire accounts for it.
What Trump said:
"We've confirmed a record number—so important—of circuit court judges, and we are going to be putting in a lot more, and they will interpret the law as written."
What's really happening:
Trump and Republicans in the U.S. Senate have partnered to remake the federal judiciary in their anti-choice, anti-LGBTQ image. Leonard Steven Grasz, an abortion rights foe and "conversion therapy" ally, was "so far outside the judicial mainstream" that the American Bar Association rated him as "not qualified" to serve on the U.S. Court of Appeals for the Eighth Circuit, Rewire's Jessica Mason Pieklo noted in an analysis.
Sex. Abortion. Parenthood. Power.
The latest news, delivered straight to your inbox.
Senate Judiciary Committee Chair Chuck Grassley (R-IA) nevertheless pushed through Grasz and other radical nominees, including birth control benefit opponent Amy Coney Barrett, to the Senate floor for final confirmation. Senate Republicans have easily confirmed these nominees to lifetime slots on the federal bench, thanks to a rule change under the chamber's former Democratic majority leader, Sen. Harry Reid (NV), who "nuked" the filibuster and allowed a simple 51-vote majority to confirm most presidential picks.
What Trump said:
"And we've confirmed an incredible new Supreme Court justice, a great man, Neil Gorsuch."
What's really happening:
Neil Gorsuch has broken with professional norms while advancing his far-right ideology in the time since he was confirmed to the U.S. Supreme Court last April. Rewire reported on Gorsuch's parade through small-town Colorado and his Trump Tower address to a conservative group funded by the Koch brothers and dark-money organization Donors Trust. The associate justice stands to do damage to civil rights in the current Supreme Court term's cases, among them partisan gerrymandering, voter purges, union fees, immigrant detention and removal rights, and religious refusals to serve LGBTQ couples.
Trump had promised to appoint Supreme Court justices who would overturn Roe v. Wade, the court's 1973 decision that established the right to abortion care until fetal viability. Conservative leaders worked with Trump and his senior advisers on Gorsuch's nomination, per White House pool reports.
Those leaders included National Rifle Association Executive Vice President and CEO Wayne LaPierre, a CPAC headliner who addressed the conference little more than a week after a mass shooting at a Parkland, Florida, high school left 17 students dead, and Concerned Women for America CEO and President Penny Nance Young, who addressed a CPAC panel that revealed conservative divisions in anti-choice legislative strategy. Senate Majority Leader Mitch McConnell (R-KY) then triggered the nuclear option to pave the way for Gorsuch's confirmation with just 51 votes. (McConnell blocked President Obama's nominee, Merrick Garland, allowing Trump to later fill the open seat.)
What Trump said:
"I think we may be better off the way we're doing it. It's piece by piece by piece. Obamacare is just being wiped out."
What's really happening:
Trump and congressional Republicans repeatedly failed to repeal Obamacare and in doing so, also failed to defund Planned Parenthood, end the law's birth control benefit, and ban abortion coverage even in private insurance plans. But all along, Trump's virulently anti-choice, anti-LGBTQ federal agencies were waging a stealth regulatory war on health-care benefits and protections for women and vulnerable populations.
In October, Trump officials created broad exemptions for the ACA's birth control benefit that guarantees no-copay contraception for some 62.4 million cisgender women and an untold number of transgender and gender non-conforming people.  And last month, the U.S. Department of Health and Human Services created a new health-care discrimination wing, complete with regulations bolstering its power to support health-care providers who don't want to treat LGBTQ patients or provide reproductive health care, including contraception, miscarriage management, and abortion care. The office could, among other things, undermine the protections outlined by the ACA to protect LGBTQ patients.
After congressional Republicans were unable to defund Planned Parenthood through repealing Obamacare, HHS coordinated with a prominent hate group to undermine family planning access for people with low incomes, the majority of whom are women of color and women in rural areas.