It's Been Celebrated as a Path to Revitalization—But Who Does Atlanta's BeltLine Truly Help?
And who is it leaving behind?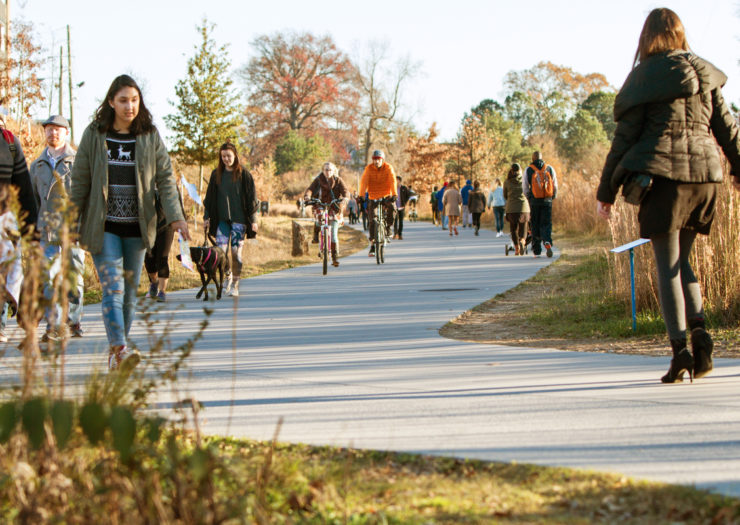 Atlanta has always had a penchant for big, audacious projects. In the 1990s, the city hosted the Summer Olympics. In the 2000s, it opened the nation's largest aquarium. And today, it is busy at work constructing a bold, new public health infrastructure in the form of the "BeltLine": billed as 22 miles of pedestrian-friendly rail transit, 33 miles of multi-use trails, and 1,300 acres of parks in a path throughout the city.
The BeltLine's health-centric, sustainable design has elicited widespread acclaim, including a front-page story in the New York Times and a prominent place in a Cooper Hewitt Smithsonian Design Museum exhibit on socially responsible design. But despite the extensive praise, the specter of gentrification looms over the development. The BeltLine, which started as an idea for a graduate thesis in 1999 and opened its first trail in 2008, has begun to drive up housing prices; displace low-income, Black communities; and threaten to widen Atlanta's already yawning racial health gap.
In Atlanta, Black people suffer from lifestyle diseases that could be mitigated by the equitable built environment that the BeltLine advertises. According to statistics from the Georgia Department of Public Health OASIS website, in Atlanta's Fulton County, twice as many Black people died from diabetes in 2016 as white people. In the county's 2015 Environmental Scan document, the Office of the County Manager noted that the differences in obesity rates between Black and white residents were "striking," with 35 percent of Black residents considered obese compared to only 13 percent of white people living within the same county. And in his book on Atlanta, City on the Verge, journalist Mark Pendergrast documents how higher rates of asthma plague Black neighborhoods, in part due to miserly landlords who rarely replace water-stained walls and old air filtration systems.
To be sure, there are multiple factors that contribute to these kinds of diseases. However, the public assets of the kind offered by the BeltLine could help to ameliorate them by providing access to parks, sidewalks, crosswalks, and public transit in the areas it is slated to go through in the near future. Unfortunately, those behind the BeltLine have not taken steps to address the burgeoning gentrification its construction has inspired.
Roe has collapsed in Texas, and that's just the beginning.
Stay up to date with The Fallout, a newsletter from our expert journalists.
At a July town hall meeting hosted by the Center for Civic Innovation, locals chastised city council members and mayoral candidates for not doing enough to protect Black communities from such displacement. "You have got real people being pushed out of their homes," one of the attendees said during the question-and answer-portion. "We have money for the Dome [Mercedes-Benz Stadium]. You got money for Philips Arena. You have money for everything else. But you ain't got money for Big Mama and her family to stay where she is."
Alison Johnson, a Peoplestown resident and Housing Justice League member, said in a 2017 report Beltlining: Gentrification, Broken Promises, and Hope on Atlanta's Southside, "Communities on the Southside deserve to be a part of the process to shape and determine the neighborhoods where we live. We want the kind of responsible, democratic city building that gives us the best quality of life, not that which is done by and for the wealthy."
Within the last two years, the city has seen a flurry of nonprofits like the Housing Justice League and public art campaigns funded by groups like Black Channel Films articulate similar concerns about gentrification in Atlanta. However, affordable housing experts say that it might already be too late.
A 2017 investigation by the Georgia News Lab and the Atlanta Journal-Constitution reported that Atlanta BeltLine Inc.—the "agency in charge"—and the City of Atlanta have focused on building luxury condos near the project while woefully underinvesting in affordable housing.
"Along with the ribbon of parks, trails and transit, Atlanta Beltline Inc. was supposed to create at least 5,600 affordable houses and apartments—a goal so important that City Council put it into law," the investigation read. "But halfway to the Beltline's scheduled completion, it has only funded 785 affordable homes, more than 200 of which remain under construction."
This trend has reverberated throughout the city: A data analysis by Quartz found that in Atlanta as a whole, 96 percent of new apartment units in 2015 were built in luxury buildings. Moreover, in predominantly Black Atlanta neighborhoods along the BeltLine's route, like Bankhead and English Avenue, rents have risen as much as 38 percent over the last four years.
The combined effect of rising rents due to the proliferation of luxury apartments and the lack of affordable housing being built, including near the BeltLine, is squeezing Black people, especially those who are low income, out of the city. Between 2000 and 2010, Atlanta's Black population decreased by around 30,000 according to data from the U.S. Census Bureau. In this same period, the white population grew by over 22,000.
"We're at 52 percent African-American—that is the latest." Dan Immergluck, professor in Georgia State University's Urban Studies Institute, said at an anti-gentrification event in July. "It won't be a majority African-American city for much longer. The trends are pretty clear."
For Atlanta's increasingly white, wealthy residents, the city's rapid development and the BeltLine are a boon for public health. According to the Atlanta BeltLine Health Impact Assessment, "the BeltLine would have a largely positive effect on the health of Atlantans by improving access to green space and healthy foods, creating opportunities for physical activity and increasing transportation options."
The study, conducted by the Centers for Disease Control and Prevention and the Georgia Institute of Technology, even suggested that the new developments will decrease injury and crime.
But while Atlanta's new residents reap these benefits, those who are displaced stand to lose access to what little public health resources that they had before. In their 2014 book, Confronting Suburban Poverty in America, Elizabeth Kneebone and Alan Berube outline how being displaced from the inner city to the suburbs can harm low-income families. "Some of the things that many poor city neighborhoods have—proximity to jobs, services, and transit—poor, suburban communities lack," Kneebone and Berube wrote. "Other things that one hopes might be better for poor families in suburbs, such as better schools and greater safety, do not always materialize."
This is the case in Metro-Atlanta, where food insecurity is growing faster in the suburbs than it is in the inner cities. The U.S. Department of Agriculture's databases already show that food deserts riddle Atlanta's predominantly Black neighborhoods on the South and West Sides. Moreover, low-income people residing in the suburbs may have less access to reliable public transportation and crucial health services for issues like substance abuse, mental health, and food assistance.
For low-income, Black Atlantans whose health depends on access to these resources, the BeltLine's fate is critical. Over the last year and a half, the city has made some modest shifts towards reforming the development's priorities. After the original planner of the BeltLine resigned from the board in protest in 2016, citing the project's failure to build affordable housing, the city elected a new CEO who pledges to stymie gentrification. This could potentially be done by making good on the promise to build at least 5,600 affordable units and listening to the needs of Black Atlantans, including a concerted effort to make sure existing residents don't get displaced and have a say in the future of the BeltLine. However, experts are skeptical that this will be enough at this late date.
Whether city leaders can turn this project around will determine if Atlanta's BeltLine is truly a force for health and equity, or just another instrument of segregation and gentrification.