California Regulators Take Aim at Abortion 'Reversal' Nursing Course
Abortion "reversal" is a controversial treatment that anti-choice doctors and advocates maintain can stop a pill-induced, or medication abortion.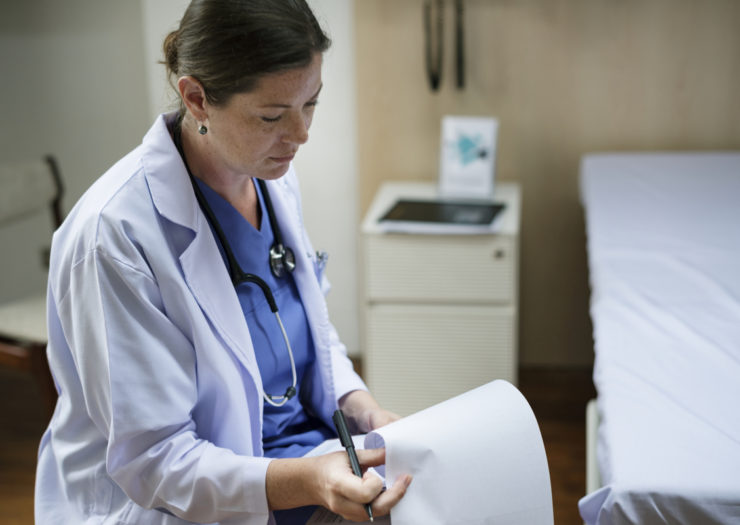 California nursing regulators unanimously agreed Thursday to craft new regulations to bar unproven experimental treatments from nursing continuing-education courses.
While the proposed regulatory language from the state Board of Registered Nursing is silent on an experimental treatment called abortion pill "reversal," the new language appears tailored to block a "reversal" course taught for continuing education credit. The "reversal" curriculum is offered by Heartbeat International, a California continuing-ed provider and prominent anti-choice organization.
The new language prohibits nursing instruction on experimental procedures not supported by a peer-reviewed study. Experimental treatments must be "generally accepted as effective by the medical community" to be offered for continuing ed credit.
Abortion "reversal" is a controversial treatment that anti-choice doctors and advocates maintain can stop a pill-induced, or medication abortion. But the American Congress of Obstetricians and Gynecologists, among others, has called the technique "unproven and unethical."
Roe has collapsed and Texas is in chaos.
Stay up to date with The Fallout, a newsletter from our expert journalists.
The "reversal" treatment is offered to pregnant people who have taken the first abortion drug, mifepristone—which blocks the hormone progesterone—but have not taken the second required medication, misoprostol. The "reversal" procedure involves an injection of progesterone, which is not approved by the Food and Drug Administration for this type of process.
Abortion "reversal" is based on a 2012 case report and the personal accounts of people who say they've had successful pregnancies after the "reversal" process, including a case in a U.S. Supreme Court brief.
"We look forward to a healthy, open discussion on abortion pill reversal's medical merits, as well as the 400 women who have rescued their children with this treatment so far," Jor-El Godsey, president of Heartbeat International, said in a statement to Rewire following the board's vote.
The American Congress of Obstetricians and Gynecologists has criticized the 2012 report on the "reversal" process, saying the case series does not present scientific evidence and was not overseen by an institutional review board or ethical review committee.
Heartbeat International's abortion "reversal" course isn't new. But it wasn't until 2016 that Rewire's reporting brought the course to the board's attention. Last year, the nursing board flip-flopped over whether to allow Heartbeat International to teach abortion "reversal," before giving the go-ahead in December. A Bay area billboard campaign launched this month criticized "politically-motivated deception" around abortion "reversal."
Those testifying on Thursday urged board members to adopt the new language to maintain high nursing standards and protect patients. "Misleading patients with unsubstantiated claims does significant harm to their health," Natasha Schimmoeller, an OB-GYN with the UC Davis Medical Center, told the board.
Maggy Krell, chief counsel with Planned Parenthood in California, representing about 150 clinics in the state, said the new standards are needed to stop the spread of "untested and potentially harmful techniques under the guise that they are scientifically valid."
"This is critical for our patients and all patients as it impacts not just access to care, but access to accurate information about health options," she said.
Supporters of "reversal" have said the hormone progesterone is commonly used to maintain pregnancies. They note the Yale School of Medicine's Dr. Harvey Kliman said progesterone's use in abortion reversal "makes biological sense,'' as the New York Times Magazine reported.
The regulatory language could take up to a year to finalize, said Veronica Harms, spokesperson for the state Department of Consumer Affairs, the umbrella agency for the nursing board. The process will include a 45-day public comment period and review by the Office of Administrative Law. The board must vote again on the new regulatory language if there are comments opposing the changes, Harms said.
Meanwhile, Heartbeat International has indicated it plans to teach the abortion "reversal" class in Anaheim in April.