'Whoever Gets to 60 Wins': Senate Plays Games With the Lives of Immigrants
The Senate's actions Thursday leave Deferred Action for Childhood Arrivals recipients, often called "Dreamers," without a safety net.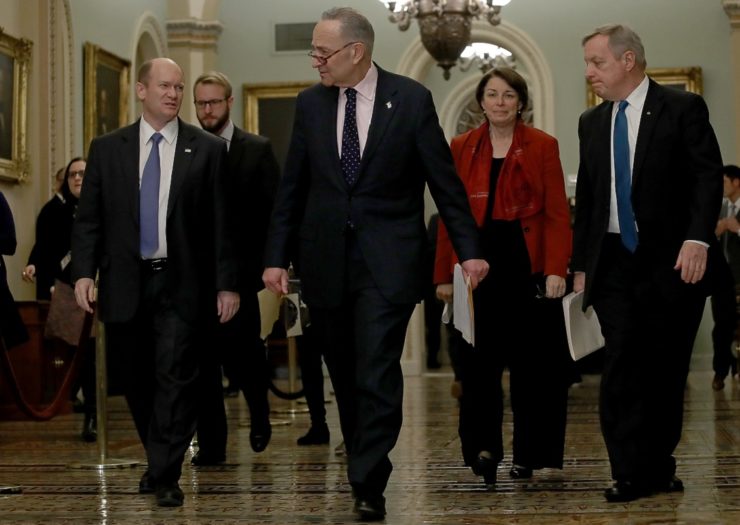 After months of lies and fear mongering about immigrants by the Trump administration and its utterly shameless supporters in Congress, and as many months of ineptitude and utter spinelessness by Democrats in the U.S. Senate and House, the Senate defeated several immigration proposals Thursday. This leaves Deferred Action for Childhood Arrivals (DACA) recipients, often called "Dreamers," without a safety net.
None of the proposals were particularly good. Numerous Democrats co-sponsored one of the worst of the these, calling what was known as the Schumer-Rounds-Collins Amendment a "compromise" measure crafted in the name of "common sense." This is the ultimate in inside-the-Beltway self-congratulation: Any proposal based on lies and the allocation of billions of dollars to solve a problem that does not exist is, by definition, not based on "common sense," and certainly is not a compromise for any of the people actually affected by this legislation.
Apparently the only sense this makes is in the minds of weak-kneed Democratic senators who somehow see it as a goal to "compromise" with a white supremacist administration that stokes hatred for people of color and immigrants, and lies with abandon in doing so. Indeed, Democrats have displayed no willingness or ability whatsoever to make a coherent case for what is true and what is just, notwithstanding months of grandstanding about their very deep concern for Dreamers.
The lack of seriousness with which the Senate is taking the lives of the millions of undocumented immigrants in this country can be summed up in Senate Majority Leader Mitch McConnell's (R-KY) flippant remark last week: "Whoever gets to 60 wins." In saying so, he was treating the votes as though he were running a pick-up game and completely erasing what is at stake—the lives of literally millions of people.
Roe has collapsed and Texas is in chaos.
Stay up to date with The Fallout, a newsletter from our expert journalists.
The most modest and least problematic of the amendments in the view of most immigrants' right's groups was the McCain-Coons Amendment, named for Sens. John McCain (R-AZ) and Chris Coons (D-DE). McCain-Coons would have enabled Dreamers to qualify for permanent residency, but did not offer a pathway to citizenship for them, nor address the plight of their family members in this country. On a positive note, it would not have placed limits on future legal immigration, and rather than allocating billions of dollars to further militarize the border, it required a comprehensive study of border security needs required to be completed in one year. 
The so-called "Common Sense Coalition"
proposal
made no sense at all, as even one of its most high-profile co-sponsors, Senate Minority Leader Chuck Schumer, made clear when he admitted to the
Washington Post
that "there's a lot I don't like in it, believe me. I think the wall will not accomplish anything, will be a terrible waste of money."
The one positive aspect of the proposal was that it provided a pathway to citizenship for Dreamers, although it barred them from sponsoring their parents for citizenship. Otherwise, Schumer is right. Throwing $25 billion of taxpayer money down the drain would indeed be a terrible waste of money, raising the question as to why the Democrats' most senior leader would support it. There simply is no evidence of need
for a border wall
or further militarization
of the border itself
, not least because illegal crossings at the southern border have fallen precipitously and such a wall would wreak environmental and economic havoc. Moreover, spending this money, as virtually everyone in this country knows, is meant only to feed the fever dreams of the Trump administration and its white supremacist base.
Sen. Pat Toomey (R-PA) proposed an amendment to punish sanctuary cities, opposed by the very cities he represents in his own state. "It's certainly disappointing," Philadelphia's Deputy Managing Director Brian Abernathy told
Philadelphia's CBS affiliate
. Abernathy said Toomey misunderstands the city's policy. "His rhetoric is just flat wrong about what we do," Abernathy said. "In reality, we actually cooperate with all our federal partners but our policies also don't allow our officers or our employees to become an extension of immigration enforcement."
Immigrant advocates also criticized Toomey's proposal. "He's using very charged language," Tyler Moran of DC Immigration Hub told CBS:
[W]hat he's doing is requiring local law enforcement to use their local resources to work with ICE to detain people and, unlike under the Obama administration, where there was a set of priorities and people with felonies were a priority and Dreamers were not a priority, there's no prioritization anymore. And this administration has even said they're not going to go after Dreamers but if they apprehend Dreamers, they're going to be deported. So they're basically trying to get a force multiplier out of local law enforcement and Philadelphia has said no to that.
And the last of the bills came from Sen. Chuck Grassley (R-IA), who is carrying the administration's water and included in his proposal everything the administration requested, including billions for a wall, drastic reductions in legal immigration, an end to family reunification, and increased militarization of ICE and police forces.
In response to all of these plans, Alma Couverthie, deputy field director of immigration at the Center for Community Change, told Rewire: "The Senate proposals range from middle of the road to absolutely dangerous for immigrant families. It is not right to hold immigrant youth hostage in exchange for a ridiculous border wall, severe restrictions to family reunification and ramped up enforcement that will terrorize communities of color. Mass deportation bills such as were proposed are the antithesis of who we are as Americans. They should be on notice that we will remember and name those who led and voted for the most vicious attack on human and civil rights in this country in almost a century."
Among those names are many Democrats who failed to make the case based on the evidence and based on what is just and right.