Exclusive: Senate Democrats Tell Azar to Reverse Hate Group's Anti-Choice Policy (Updated)
Thirty-seven Democrats and two Independents urged Health and Human Services Secretary Alex Azar to reverse his agency's decision to block Medicaid beneficiaries from using the family planning provider of their choice.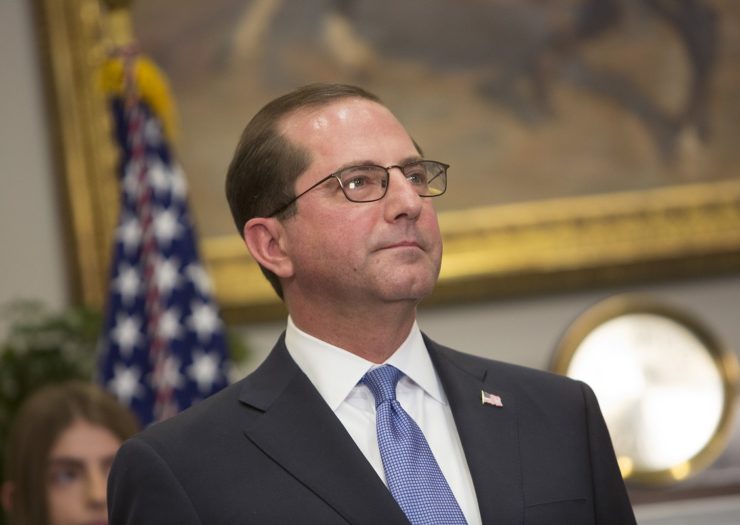 UPDATE, February 27, 10:59 a.m.: Rep. Elijah Cummings (MD), the top Democrat on the House Oversight and Government Reform Committee, urged Republican Chair Trey Gowdy (SC) to subpoena the Trump administration over its collaboration with Alliance Defending Freedom on the anti-choice family planning policy. Cummings had obtained documents about the matter from a whistleblower within Trump's health department.
Democrats in the U.S. Senate are pressuring Health and Human Services Secretary Alex Azar to reverse a strategy coordinated with a prominent hate group to undermine family planning access for people with low incomes.
Thirty-seven Democrats, along with two Independents who caucus with them, urged Azar in a Wednesday letter to reverse his agency's decision, made just days before his confirmation, to block Medicaid beneficiaries from using the family planning provider of their choice.  Obama-era "free choice of provider" guidance from 2016 was intended to warn states with GOP-controlled governments against cutting off Planned Parenthood's Medicaid funding for offering abortion care among its reproductive health services. As Rewire's Jessica Mason Pieklo wrote, "the Supreme Court has broadly upheld Medicaid's choice-of-provider provision."
The Alliance Defending Freedom (ADF), a conservative litigation mill that attacks reproductive and LGBTQ rights, worked with the U.S. Department of Health and Human Services (HHS) on the policy maneuver, according to a whistleblower. Politico first reported the news of the agency's connection to ADF—a Southern Poverty Law Center-designated anti-LGBTQ hate group—over the free choice of provider policy.
Roe has collapsed in Texas, and that's just the beginning.
Stay up to date with The Fallout, a newsletter from our expert journalists.
With ADF's help, President Trump's virulently anti-choice administration is targeting Planned Parenthood and other providers that offer abortion care among their reproductive health services. Doing so ultimately stands to punish the nation's approximately 74 million Medicaid beneficiaries, about one in five of whom are women of reproductive age, according to a recent Guttmacher Institute analysis drawing on 2016 figures. Overall, 31.4 percent of Black women of reproductive age and 27.7 percent of Hispanic women of reproductive age use Medicaid, compared with 16 percent of their white counterparts, Guttmacher reported. The percentages for each spike when factoring in incomes below the federal policy level.
Senate Democrats slammed the administration for foisting disproportionate consequences on women of color and women in rural areas, in effect "widening our nation's health disparities." Congress' own nonpartisan budget wonks at the Congressional Budget Office last year determined that the poor and those living in rural areas would lose the most under congressional Republicans' repeated failed attempts to end Medicaid reimbursements for Planned Parenthood.
"Reproductive health care is essential for all Americans and in particular for women's health, economic security, and equality. Yet, this Administration has undertaken a campaign to obstruct access to these services," Senate Democrats reminded Azar in the letter, ticking through the administration's broad exemptions for the birth control benefit and axing of evidence-based teen pregnancy prevention grants, among other actions contrary to public health.
"Continuing this agenda of discrimination by promoting the state-by-state repeal of the free choice of provider provision and defunding of qualified family planning providers like Planned Parenthood is unacceptable, unlawful, and threatens the lives and rights of millions of women across the country," the letter continued.
The GOP-held Senate on January 24 confirmed Azar to helm HHS. On January 19, as thousands of anti-choice protesters descended on the National Mall for the 2018 March for Life, HHS delivered a one-two punch in the form of regulations bolstering the power of its new health-care discrimination wing and rescinding the 2016 guidance protecting Medicaid patients' family planning access.
But Azar isn't likely to right what reproductive health advocates called Trump's "badly off-course" health department, Rewire reported upon his confirmation. Azar, himself a longtime abortion foe, inherited an HHS stacked with anti-choice officials. They include, but are not limited to, top spokesperson Charmaine Yoest, who falsely believes that some forms of birth control cause abortions; Valerie Huber, an abstinence-only advocate charged with handling now-stagnated family planning money for Title X providers, including Planned Parenthood affiliates, that serve people with low incomes; Roger Severino, an anti-LGBTQ activist behind the health-care discrimination wing; and Scott Lloyd, who weaponized his religious beliefs to deny abortion care to undocumented immigrant teenagers, including a teen who had become pregnant by rape.
The agency already had an ADF pipeline through the organization's former employee, Matt Bowman, a top HHS official and "principal author" of the birth control benefit rollback. 
"President Trump's administration has even coordinated with an identified hate group in order to enact its agenda of undermining a woman's freedom to make her own health care decisions—so their latest ideological attempt to prevent patients from seeking care at Planned Parenthood and other trusted medical providers is unfortunately no surprise," Sen. Patty Murray (D-WA), a vocal reproductive rights advocate on Capitol Hill, told Rewire.
"I'm proud that so many Democrats are standing up for a woman's freedom to make the health care choices that are best for her—and we're going to keep fighting for that freedom as long as Republicans try to take it away."
Sens. Chris Coons (DE) and Tom Carper (DE), two of the six Democrats who crossed party lines to vote for Azar's confirmation, signed the letter to plead with the HHS secretary to reverse course on the free choice of provider attack.
Sen. Ron Wyden (D-OR), who has repeatedly criticized the agency's attempts to undermine reproductive rights and LGBTQ protections, now turned his attention to the Medicaid sabotage in a statement to Rewire.
"This is another example of the Trump Administration's health care discrimination agenda—restricting a woman's choice of health provider threatens her health as well as the objectives of the Medicaid program," Wyden said.
Audrey Sandusky, director of advocacy and communications for the National Family Planning & Reproductive Health Association, called blocking Medicaid beneficiaries from their provider of choice "a troubling sign of what the Trump administration wants to do."
"It opens the door for states to ban some of the most trusted providers in the country," Sandusky told Rewire in an interview. "And that will jeopardize the health and well-being of Medicaid enrollees nationwide. We're talking about people who already face barriers in their lives, and if they can't come to the family planning provider they know and trust, it often means they will go without that care."