FBI Intervenes After Sexual Assault Allegations at Texas Immigrant Detention Center
"The FBI will collect all available facts and evidence and will ensure that the investigation is conducted in a fair, thorough, and impartial manner," an FBI spokesperson told Rewire in a statement.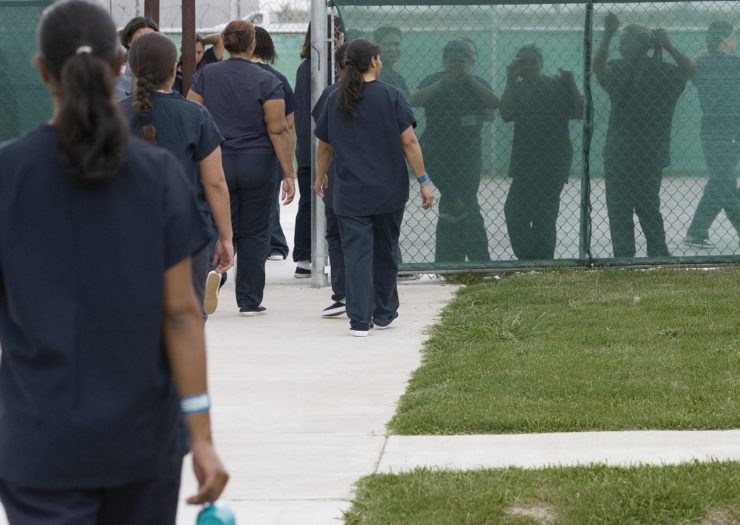 The FBI has intervened in the investigation of sexual assault allegations emerging from the T. Don Hutto Residential Center after Immigration and Customs Enforcement (ICE) found the allegations to be "unsubstantiated."
"The San Antonio FBI Field Office, Austin Resident Agency Office and the Civil Rights Division have opened a civil rights investigation into the alleged sexual assault of a detainee by a correctional officer at T. Don Hutto Detention Center," reads a statement issued to Rewire from an FBI spokesperson. "The FBI will collect all available facts and evidence and will ensure that the investigation is conducted in a fair, thorough, and impartial manner. As this is an ongoing investigation we are not able to comment further at this time."
Christina M. Fialho, co-founder/executive director of Community Initiatives for Visiting Immigrants in Confinement (CIVIC), told Rewire that to the best of her knowledge, the FBI's involvement is unusual. "We don't have any data on FBI practices, but I have never heard of the FBI investigating sexual assault in immigration detention," said Fialho.
On November 9, Laura Monterrosa went public with her allegations, saying that she had been repeatedly sexually assaulted by a female guard, who Monterrosa said is still employed at the detention center. Monterrosa was interviewed by ICE officials and the Williamson County Sheriff's Office, which has jurisdiction in Taylor, Texas, where Hutto is located. Advocates told Rewire that Monterrosa was never informed that an official investigation had been launched, even as two more women came forward with allegations of sexual abuse. 
Roe is gone. The chaos is just beginning.
Follow Rewire News Group on Twitter to stay on top of every breaking moment.
Monterrosa was interviewed twice, by both ICE and Williamson County officials, and she expressed that she wanted to press charges against the guard. However, on the night of November 22, an ICE spokesperson issued a statement to Rewire, explaining that the "ICE Office of Professional and Responsibility (OPR) with the assistance of the Williamson County [Sheriff's Office] found the allegations made by a woman from El Salvador who is currently detained at the T. Don Hutto Residential Center to be unsubstantiated." When asked to detail the nature of the investigation, ICE told Rewire it would release no further details.
Bethany Carson is the immigration policy researcher and and an organizer with Grassroots Leadership, an Austin, Texas-based immigrant rights organization that works with women detained in Hutto. Carson told Rewire that Monterrosa has largely been "left in the dark" regarding the investigation. The first and only time Grassroots Leadership was contacted proactively by the sheriff's department, which has stonewalled both the advocacy organization and media, was before a press conference on December 4.
"It was days before we were going to hold a press conference to demand justice for Laura. The sheriff's office told us they had never actually opened an investigation, but that they were handing over everything they had to the FBI. They were clearly trying to avoid negative press," Carson said.
When asked to shed light on the nature of the investigation that reportedly took place with ICE, a public information officer with Williamson County would only say, "As much as we would like, we are not going to comment." CoreCivic, formerly the Corrections Corporation of America, the private prison company that contracts with ICE to operate Hutto, has not responded to requests for comment from Rewire. 
"Our immigrant prison system thrives in secrecy," Fialho told Rewire. "If more people knew what was truly happening behind locked doors, I think there would be an outcry against the immigrant prison system. So, ICE has an incentive to keep the public in the dark about what is happening behind locked doors. What better way to do this than to deny that any problems exist? By adopting a head-in-the-sand approach and declaring sexual assault complaints 'unfounded,' ICE and its contracted facility guards can continue to perpetrate rights."
Grassroots Leadership and Detention Watch Network conducted a monitoring tour at Hutto in October 2016. In notes from the tour provided to Rewire, a CoreCivic's facility administrator told the immigrant rights organizations that it follows the Prison Rape Elimination Act (PREA) standards, meaning it commits to supporting the investigation of assault cases and seeks to protect those in its custody from sexual violence. 
In the weeks that have followed Monterrosa's claims being made public, there appeared to be a great deal of quibbling over which law enforcement agency—Williamson County or the Taylor Police Department—had jurisdiction over Hutto, forcing Grassroots Leadership to file all of the information they obtained from the survivors with both agencies. 
"This is not the first time these kinds of allegations have come out of Hutto, so you would think they'd have a clear procedure about who has jurisdiction and who needs to investigate," Carson said. "If they do follow PREA, a policy for allegations is required, and now that the FBI has stepped in, everyone has kind of thrown their hands up and bucked responsibility for how it was initially handled—and we don't even know how it was handled. This is all highly problematic."
Monterrosa has been denied access to her own case file at Hutto. According to Carson, Monterrosa was told by ICE officials that she would have to submit a Freedom of Information Act (FOIA) request for her records. Grassroots Leadership is currently working on submitting FOIA requests for Monterrosa and Ana (a pseudonym). Ana was transferred to the Laredo Detention Center after filing a formal complaint regarding sexual harassment she says she was experiencing at Hutto. Another woman, named Esmerelda, also has come forward, alleging that she was sexually abused by the same guard as Ana. 
The Hutto detention center, which exclusively detains asylum-seeking women, has a long history of sexual abuse. In 2007, a CoreCivic guard was accused of sexually assaulting a woman detained at Hutto "while her son was sleeping in his crib inside the cell," according to Courthouse News. In 2010, another CoreCivic guard was charged with sexually assaulting eight women whom he was tasked with transporting. 
As Rewire reported, allegations of sexual abuse and harassment in detention centers often go uninvestigated. In April, CIVIC filed a complaint with the Department of Homeland Security's Office for Civil Rights and Civil Liberties on behalf of 27 people who were in immigration detention or had been released from detention and who say they experienced sexual abuse.
CIVIC analyzed data obtained through a FOIA request regarding sexual assault reports from the Department of Homeland Security's Office of the Inspector General (OIG). That information showed that the OIG received at least 1,016 reports of sexual abuse, which were filed by people in detention, between May 2014 and July 2016. This means there was more than one complaint of sexual abuse made by people in detention each day. Of these 1,016 reports of sexual abuse, the OIG investigated 24.
"This is extremely disturbing because immigrants who have survived sexual trauma in detention are re-victimized by an ineffective or non-existent investigation process," Fialho said. "By not properly investigating each allegation of sexual assault, our government sends a message that sexual abuse of immigrants will be tolerated."
Of the data CIVIC received directly from ICE about investigations it undertook for complaints lodged directly with the ICE Enforcement and Removal Operations' Detention Reporting and Information Line, all of the complaints were either marked as "unfounded," "closed," "not referred to management," or "unsubstantiated." This included the case of a young girl under 18 at the Karnes Detention Center in Texas who had filed a complaint about sexual assault. According to Fialho, a medical exam of the child showed indications of a sexually transmitted disease and vaginal scarring. Despite physical evidence, ICE declared the allegation of sexual abuse "unfounded."
"There was only one complaint that was marked 'substantiated'; the complaint was lodged by a detained individual about being touched inappropriately and offered marijuana by a contracted facility officer in the medical unit of a facility run by Emerald Companies," Fialho said. "The contractor, Emerald Companies, substantiated the complaint, yet the FOIA data did not state whether the contracted facility officer was reprimanded or fired."
Any relief Monterrosa may receive as a result of her alleged abuse hinges on an official investigation being launched. Monterrosa can't be deported while she waits to hear back on an appeal she filed for her original asylum case. This means she encounters her alleged abuser on a daily basis. In order to obtain a U visa because of the abuse she says she has experienced, Monterrosa would need a law enforcement agency to certify it, but according to Carson, this typically doesn't take place until the accused perpetrator has been formally charged with a crime.
"Laura wants justice and so far, it's been delayed and denied," Carson said. "What is happening to Laura is endemic of detention centers and almost impossible to completely eliminate unless we eliminate detention centers. A woman who spoke at Laura's press conference was detained at Hutto seven years ago and said she saw inappropriate behavior from guards that was sexual in nature. There has been a trail of these incidents and most of them go unreported and this is why: they don't get investigated and the women who come forward are shamed or transferred or otherwise punished. This is an extremely pervasive problem."
Other women inspired by Monterrosa's example have written letters to Grassroots Leadership about abuse they experienced. While they are remaining anonymous for now, they may choose to come forward as Ana and Esmerelda did. In the meantime, Grassroots Leadership plans to fully cooperate with the FBI's investigation on Monterrosa's behalf.