'It's Unthinkable': Pennsylvania Lawmakers Fast-Track 'Dangerous' Anti-Choice Bill (Updated)
State GOP lawmakers have moved the anti-choice bill without input from medical professionals, according to advocates, who say the proposal has such narrow exceptions that it could land doctors in prison for providing standard abortion care.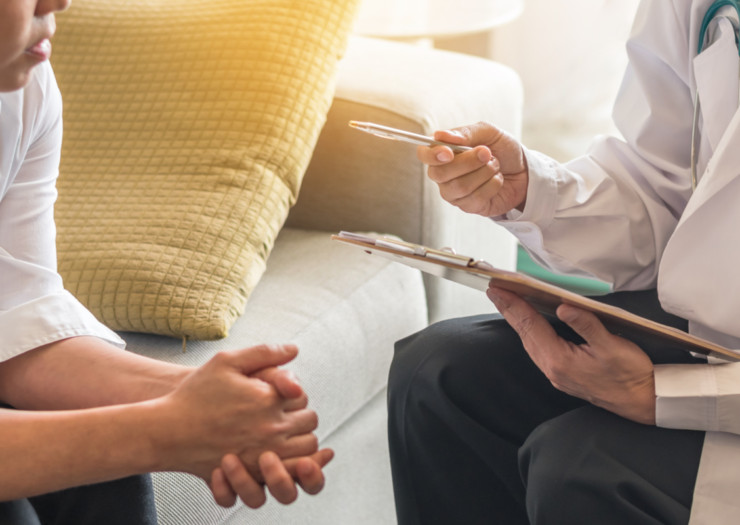 UPDATE, December 18, 10:58 a.m.: Gov. Tom Wolf (D) on Friday announced he would veto SB 3, which was passed by the GOP-held Pennsylvania legislature. Wolf in an op-ed called the bill "the most restrictive anti-choice bill in the country." He's expected to veto SB 3 on Monday. 
Kelsey Williams said she knew something was wrong when the technician called a doctor during what should have been a routine 20-week ultrasound.
Her world crashed on that February day when the doctor informed her that the fetus had clubbed hands, feet, and severe deformities. He was not moving and would not be able to develop normally.
"We were completely shocked," she told Rewire.
The doctors gave her three options—carry the fetus to term, opt for genetic testing, or end the pregnancy. Williams, 31, of Pittsburgh, went home devastated.
When the initial shock wore off, Williams decided to have an abortion. She also opted for genetic testing.
Sex. Abortion. Parenthood. Power.
The latest news, delivered straight to your inbox.
"I am forever grateful to the health care and support professionals at Magee-Womens Hospital of UPMC," said Williams, who has a 5-year-old.
"On the day of my ultrasound, I had all of my follow-up consultation and care on the spot; they provided me with objective, straightforward information, answered all of my questions, and had all of my testing completed within a few hours," she said. "And when I decided to end the pregnancy, they also provided me with my abortion care with all of my physicians and midwives working together for my benefit. This continuum of care provided by objective and compassionate professionals is absolutely what got me through those dark days of shock and grief."
Williams underwent dilation and evacuation (D&E), a common abortion procedure, at 21 weeks and six days into her pregnancy. "It was the hardest week of my life," she said.
So when she heard about the Republican-backed Senate Bill 3, which would make abortion illegal in Pennsylvania after 20 weeks of gestation, narrowing the threshold from the current 24 weeks, she said her reaction was "visceral."
"My heart started racing, my palms started sweating .… I really had a physical reaction. I couldn't wrap my head around it," she said. "It's unthinkable to me that legislators find it to be a priority to curtail a woman's right to choose and to privacy, as if they know what's best for each and every woman out there. No one can ever know what someone else is going through, what their personal circumstances are, what the baby's prognosis is, what the woman's social support or mental health status is. There's only one person who can know all of that: the woman herself."
Williams has since been a vocal opponent of the anti-choice bill, which could create one of the strictest abortion restrictions in the United States. It passed 32-18 in Pennsylvania's Republican-held state senate in February, and was quietly passed Monday by the State House Health Committee. It is now up for a full house vote.
State GOP lawmakers have fast tracked the anti-choice bill without input from medical professionals, according to advocates at the Women's Law Project (WLP). Officials at WLP charge that the abortion restriction has such narrow exceptions that it could land doctors in prison for providing standard abortion care. 
"I share my story, my personal heartache, in hopes that it will give that woman the space to grieve and decide what is best for herself and her baby in private, without interference from legislators. And perhaps my story will also help to protect this constitutional right for us all," Williams said.
Several women's rights, physician, and hospital groups have fiercely opposed the fast-moving bill sponsored by state Sen. Michele Brooks (R-Crawford), calling it restrictive, dangerous, and unconstitutional. Democratic Gov. Tom Wolf, who plans to veto it, said it "would be a step backwards for women and for Pennsylvania."
The state is already among the 19 that have the most restrictive abortion laws.
"We are alarmed by the Pennsylvania legislature's attempt to interfere in medical practice by outlawing a very safe and common method of abortion care, and banning abortion after 20 weeks," said Jodi Magee, president and CEO of the Physicians for Reproductive Health. "Individualized care is the cornerstone of the patient-provider relationship, and SB 3 takes safe options away from patients and their health care providers."
The Women's Law Project in Philadelphia, a legal advocacy group for women and girls, sent a letter Wednesday to the Pennsylvania House of Representatives urging them to vote against SB 3.
Advocates are concerned that the bill criminalizes abortions past 19 weeks and the time-tested D&E procedure, uses non-medical terminology like "dismemberment," contains a "method ban" provision, threatens to imprison doctors and stands in their way of providing standard care. Plus, it makes no exceptions for fetal anomaly, rape, incest, or unviability and is "blatantly unconstitutional."
All it has is a narrow exception if the physician "reasonably believes that it is necessary to prevent either the death of the pregnant woman or the substantial and irreversible impairment of a major bodily function of the woman."
There is more work to be done in advancing legislative proposals to support women's health rather than waste taxpayer time and money to curtail it, advocates told Rewire.
"The women of Pennsylvania need our state legislators to pass workplace accommodations for pregnant women and nursing mothers, protection from the epidemic of sexual harassment, and access to reproductive health care, to name a few," said Susan Frietsche, senior staff attorney at the Women's Law Project. "These bills are sitting on a shelf while our lawmakers keep passing abortion restrictions. SB 3 will harm women's health and take away our rights. It is unconstitutional. We have reason to be outraged."
Medical experts who have denounced the bill have not been allowed to offer testimony as the bill's sponsors declined to hold public hearings. Law Project advocates told Rewire that medical personnel in their white coats have become a common sight this year at the State Capitol in Harrisburg as they try to make their voices heard.
"Let's be clear, this is not about patient safety. This is an incredibly safe procedure," said Dr. Lisa Perriera, who has been providing abortions since 2003. "The public don't realize that it is safer to have an abortion at this time than it is to have a full-term pregnancy and birth."
A doctor at the Philadelphia Women's Center and a member of the Women's Law Project board, Perriera told Rewire if this bill was law, she wouldn't have been able to offer the surgical solution she provided to a woman this week who was at 22 weeks in her pregnancy. The ultrasound showed that the fetus had a serious heart malfunction that surgeons could not fix. Her patient chose "the humane option to have an abortion and not make the baby or herself suffer."
"These laws are forcing women to be incubators by not allowing them to make choices for their health and for the health of their babies," Perriera said. "A women must be able to make decisions about her health without interference from politicians."
A lot of fetal abnormalities are unfortunately not spotted before 20 weeks, which makes the proposed ban even more problematic for doctors and patients, Perriera added.
Williams said she can't imagine what she would have gone through if she had not had the procedure. She thinks politicians should stop legislating women's bodies.
"Since my abortion, I've had to listen to proponents of these bills like SB3 say that they know what's best for babies and mothers, that they are the true voice for life. And that's just flat out wrong," she said. "I'm the only one in this world who ever held my son, carrying him in my womb for nearly six months. And I loved him enough to let him go so that he didn't live only to know pain and suffering because life is about so much more than just a heartbeat."