Trump Finds Another Way to Slash Legal Immigration
The Trump administration is ending temporary protected status for Nicaraguans after capping the number of refugees it would accept next year to 45,000, the lowest number in decades.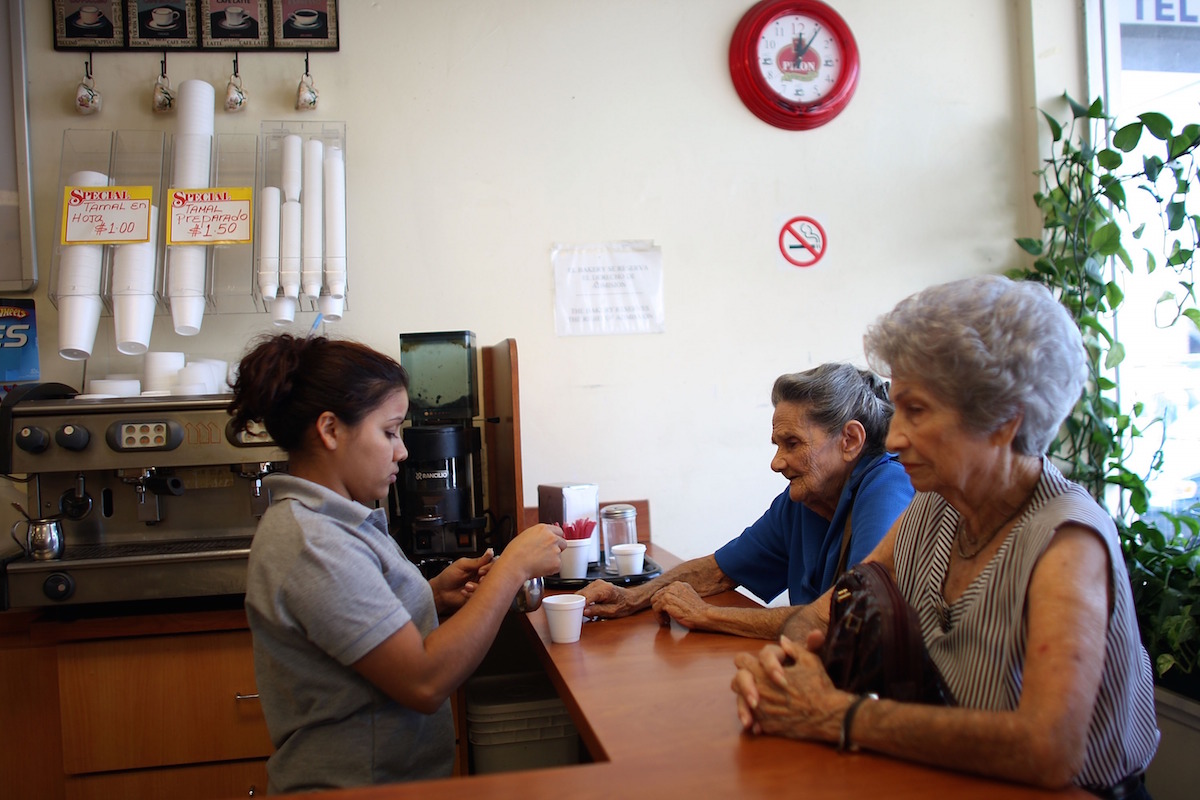 After terminating Temporary Protected Status (TPS) designations for immigrants from Haiti and Sudan this year, the Department of Homeland Security (DHS) announced Monday the termination of TPS for Nicaragua, signaling that the Trump administration intends to do away with the immigration program.
DHS's announcement affects an estimated 2,500 Nicaraguans who fled the country in 1998 after Hurricane Mitch killed more than 2,000 people and caused more than $1 billion in damage. TPS recipients from Nicaragua have lived in the United States for nearly 20 years, and many have established deep roots, with mixed-status families and U.S. citizen children. The TPS designation for Nicaragua will end January 5, 2019.
"The decision to terminate TPS for Nicaragua was made after a review of the conditions upon which the country's original 1999 designation were based and whether those substantial but temporary conditions prevented Nicaragua from adequately handling the return of their nationals, as required by statute," a statement from DHS reads. "Acting [DHS] Secretary [Elaine] Duke determined that those substantial but temporary conditions caused in Nicaragua by Hurricane Mitch no longer exist, and thus, under the applicable statute, the current TPS designation must be terminated."
Duke failed to make a decision regarding Honduras, so the country's TPS designation has been automatically extended from its original expiration date of January 2018 to July 2018. El Salvador's current designation expires in March 2018. Should DHS fail to extend TPS for both countries, it would subject 260,000 Honduran and Salvadoran immigrants—who come from two of the three countries that make up what has been referred to as "Central America's triangle of death"—to deportation.
Roe has collapsed and Texas is in chaos.
Stay up to date with The Fallout, a newsletter from our expert journalists.
"I have concerns for all TPS recipients under this administration because the decisions being made regarding their status are wrong and immoral," said Amanda Baran, a TPS expert with the Immigrant Legal Resource Center.  "People are still trying to escape Haiti by entering Central America, Mexico, and Canada because [Haiti's] been hit with multiple natural disasters since the original TPS designation was given and it has an ongoing cholera outbreak. The decision regarding Nicaragua is also wrong. If you look at the federal register notice that extended TPS for Nicaragua in 2016, those conditions still exist today, and there have been subsequent environmental disasters that have exacerbated the conditions of Hurricane Mitch. There is no good reason not to extend these designations."
While a final decision on Haiti's TPS designation is expected this month, all signs point to the administration moving forward with its original plan of terminating the program in January. Baran told Rewire that when DHS made the announcement regarding Haiti, a country she says is not equipped to take back an estimated 50,000 TPS recipients, it served as a "warning sign" of what was to come. Trump's political appointees are another indication, Baran said.
Policy adviser Stephen Miller, who parrots white supremacist talking points, has been instrumental to the Trump administration's push to curb legal immigration, increase deportation, and "put the onus on Congress to designate individuals who qualify for temporary protected status in the U.S.―a move that that would likely stunt anyone from getting that designation," according to the Huffington Post. Baran pointed to the influence of Jeff Sessions staffers and former members of anti-immigrant hate group the Federation for American Immigration Reform within the administration.
"I think the Trump administration has gone in knowing they want to end TPS. That is going to be their guiding principal in figuring out how to end these programs. They're going in with that conclusion and trying to find evidence to support that conclusion," Baran said. "They keep saying that 'temporary' should be very temporary, but its definition is not in statute and it's a very relative term. New Orleans is still feeling the effects of Hurricane Katrina, so imagine a place like Haiti that has continued to get battered and beaten down by natural disasters. The Trump administration's actions make it very clear that they feel no humanitarian obligation to those outside the U.S."
This point was illustrated when the Trump administration capped the number of refugees it would accept next year to 45,000, the lowest number in decades. Trump ended the Central American Minors program, which allowed child refugees from Honduras, Guatemala, and El Salvador to reunite with their parents based in the United States.
Baran told Rewire the administration is often "disingenuous" in the way that it discusses TPS, "which is to pretend that they are troubled by having to end the designation but have no choice because they have to follow the statute."
In order to extend TPS, Baran explained, the conditions in the country must be the same as when the status was first granted. TPS is granted for three scenarios, according to U.S. Citizen and Immigration Services (USCIS): ongoing armed conflict, environment disasters or epidemics—which should have resulted in the extension of TPS for Haiti because of repeated hurricane damage and ongoing cholera epidemic, Baran noted—or other "extraordinary and temporary conditions."
"If they truly felt strongly that country conditions don't support renewal based on natural disaster, why not redesignate the country?" Baran said. "If this administration truly cared to continue TPS for a place like El Salvador, a country with extreme violence, gang warfare, and political instability, they could simply re-designate El Salvador for TPS on new grounds because of armed conflict in the country. But something tells me they won't do that."
If the Trump administration phases out the TPS program, Congress can pass legislation to help recipients. This is something suggested by Trump picks like Miller, as well as the DHS acting secretary.
"Recognizing the difficulty facing citizens of Nicaragua—and potentially citizens of other countries—who have received TPS designation for close to two decades, Acting Secretary Duke calls on Congress to enact a permanent solution for this inherently temporary program," according to a DHS press release.
Rep. Nydia M. Velázquez (D-NY) and a group of House Democrats last week introduced the American Promise Act, which would protect TPS recipients from deportation. On October 31, Carlos Curbelo (R-FL) introduced the Extending Status Protection for Eligible Refugees (ESPERER) Act, bipartisan legislation that would allow TPS recipients from Nicaragua, Honduras, El Salvador, and Haiti to become legal permanent residents.
The president called on Congress to act when the Trump administration rescinded Deferred Action in June.
"When has Congress passed a piece of immigration legislation? It's the Trump administration's way of passing the buck. They can do what they want and then tell the American public it's Congress' job to fix it," Baran said. "And for all of the people directly impacted by this—the Trump administration can say they're not going to round up former TPS recipients who are now undocumented, but anyone who is undocumented is a priority. If you're undocumented, as TPS recipients will be once stripped of their protected status, they can get picked up at any time."