Illinois GOP Governor Gets 2018 Anti-Choice Challenger
Gov. Bruce Rauner signed a bill that expanded insurance coverage for abortion care and ended a "trigger law" that would have criminalized abortion in Illinois if Roe v. Wade were overturned.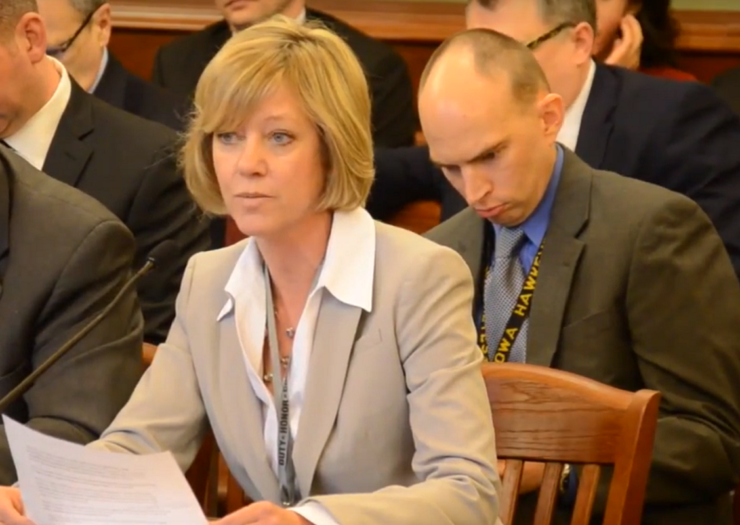 Illinois state Rep. Jeanne Ives this week launched her campaign for the state's Republican gubernatorial nomination, a response to Gov. Bruce Rauner's decision to sign a pro-choice measure amid fierce GOP opposition.
Ives claimed in a Tuesday interview on WTTW's Chicago Tonight that she "at this point I would not have a social agenda" if elected governor, though she added that she would  "immediately" sign an anti-choice bill repealing the one signed by Rauner should one get to her desk.
The Democrat-backed law signed by Rauner in September, HB 40, expanded insurance coverage for abortion care and ended a "trigger law" that would have criminalized abortion in Illinois if Roe v. Wade were overturned. Rauner in 2013 campaigned as a pro-choice Republican and was listed as the sponsor of a Planned Parenthood fundraiser in April. 
Ives campaign spokesperson Kathleen Murphy, in a response to a question from Rewire about whether Ives' assertion that she would not act on "social issues" meant that she would not advocate for anti-choice policies from the governor's office, said a bill to repeal Rauner's actions "would be considered Pro-Life legislation."
Roe is gone. The chaos is just beginning.
Follow Rewire News Group on Twitter to stay on top of every breaking moment.
"She is willing to entertain reasonable bills that protect families regardless of whether you would categorize it as social or economic policy," Murphy said in an email. "Her focus, however, is not on a social agenda."
Ives penned a piece in October for conservative website The Federalist attacking Rauner for signing the pro-choice legislation into law. In a statement on the matter she said that Rauner's move was "a profound and unprecedented betrayal beyond words" and "a total failure of leadership."
Speaking to the Northwest Herald Thursday, Ives pointed to the decision as part of the reason why Rauner was being challenged from within his own party. "That was a key vote that basically indicated that Gov. Rauner did not respect our party's principles and platform, and actually didn't respect taxpayers statewide," Ives said. "So that was really a poor decision that he made, and that's why he has brought upon this challenge himself through his actions."
When Ives received an endorsement from the Family PAC in 2012, she noted her devotion to policies designed to erode abortion access. "I am committed to upholding the sanctity of life, protecting the rights of the unborn, and ensuring that tax revenues are never used to pay for abortions," she said, according to a press release published in the Wheaton Patch. "Protecting life is a fundamental core value which I will champion as a State Representative 100 percent of the time."
Ives called for investigations into Planned Parenthood in the wake of propaganda videos released by anti-choice front group the Center for Medical Progress, which worked with GOP lawmakers to attack funding for the health-care organization. Ives is listed as a co-sponsor on several anti-choice bills, including a failed forced ultrasound measure and a failed target regulation of abortion providers bill.
Ives opposes same-sex marriage, which she reportedly claimed in 2013 opens the door to "redefine society." She said, according to HuffPost, that to "not have a mother and a father is really a disordered state for a child to grow up in and it really makes that child an object of desire rather than the result of a matrimony." In response to the controversy surrounding her comments, she reasserted her opposition to marriage equality and claimed she had "no interest in meddling in a person's private affairs."
She faced criticism this year after sharing an op-ed on her Facebook page from the Illinois Family Institute—an anti-choice and anti-LGBTQ rights organizations—that claimed parents should pull their children out of public schools that have LGBTQ non-discrimination policies or protect LGBTQ children. The post said public school teachers are "like dirty old men in trench coats lying in wait to expose children to sordid things."
Ives will have to collect 5,000 signatures from eligible residents by December 4 to qualify for the ballot in Illinois. The state's gubernatorial primary will take place on March 20.