Planned Parenthood Antagonist Marsha Blackburn Launches Bid for U.S. Senate
Rep. Marsha Blackburn is perhaps best known for leading a congressional "witch hunt" into a discredited anti-abortion propaganda campaign that falsely alleged Planned Parenthood profited from legal donations of fetal tissue.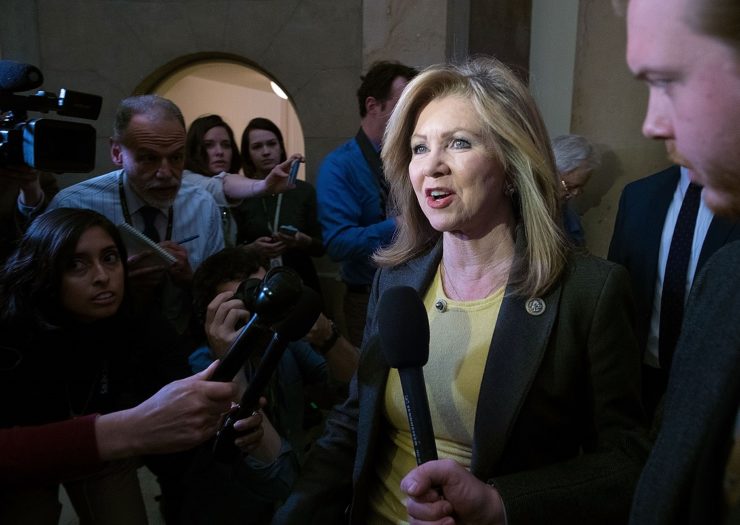 Rep. Marsha Blackburn, the Tennessee Republican who collaborated with anti-choice extremists in an inflammatory, taxpayer-funded crusade against Planned Parenthood, has officially launched her campaign to fill retiring GOP Sen. Bob Corker's seat in the U.S. Senate.
If Blackburn prevails in her party's primary and the general election, she'd replace a fellow Republican who opposes federal funding for Planned Parenthood. But Corker is more of a rank-and-file anti-choice Republican, not a firebrand like Blackburn. A Blackburn victory would elevate one of the GOP's most proactive abortion rights opponents from the tempestuous U.S. House of Representatives to the traditionally more even-keeled Senate. Blackburn in that role stands to silence the Senate's lingering echoes of bipartisanship on some reproductive health issues, including Title X family planning and teen pregnancy prevention funding.
Blackburn is perhaps best known for leading a $1.59 million congressional "witch hunt" into a discredited anti-abortion propaganda campaign that falsely alleged Planned Parenthood profited from legal donations of fetal tissue. Over the course of the year-long anti-choice showcase, Blackburn's so-called Select Investigative Panel on Infant Lives undermined life-saving fetal tissue research, while endangering the privacy and safety of researchers and reproductive health-care providers alike.
Blackburn and her staff appeared to have a close working relationship with the Center for Medical Progress (CMP), the anti-choice front group that ran a propaganda campaign that was followed by a spate of violence against abortion providers. Blackburn repeatedly quoted Planned Parenthood shooter Robert Lewis Dear, Jr.'s crusade against "baby body parts"—rhetoric that came directly from the deceptively edited CMP videos and inspired a dramatic increase in violence against abortion providers. The select panel chair seemingly took cues from David Daleiden, the CMP head under indictment in California for his role in the propaganda campaign, even in the final weeks of the investigation.
Roe has collapsed in Texas, and that's just the beginning.
Stay up to date with The Fallout, a newsletter from our expert journalists.
During that time, Blackburn served on President-elect Trump's transition team, and rumors circulated that Trump would appoint her to a cabinet-level position. At least one of Blackburn's top staffers subsequently found a home in the administration. March Bell, the select panel's staff director and chief counsel, serves as chief of staff in the U.S. Department of Health and Human Services' Civil Rights division under anti-LGBTQ activist Roger Severino.
Then-candidate Trump sought to shore up his support with anti-choice advocates heading into Election Day, appointing Blackburn and anti-choice leaders to a "Pro-Life Coalition" for on-call guidance on how to restrict abortion rights. That's how Blackburn described the coalition's mission in an interview with Rewire.
Blackburn described a cadre of congressional abortion opponents "available for advice and counsel if and as needed" on legislative processes, whether for the Hyde Amendment, bans on later abortion care, "live child, or some of the other legislation that we work on," rather than a formal board.
Trump's initial recruitment letter to anti-choice leaders made the same promises. Under his watch, congressional Republicans are passing a number of abortion bans that he pledged to sign into law.
Blackburn voted with House Republicans early this year to permanently codify the Hyde Amendment, which has been renewed by Congress each year, and in early October, to send the 20-week abortion ban to the Senate. A 2015 version of the ban, inspired by CMP's campaign, fell short of the Senate's 60-vote threshold to pass most controversial legislation without a potential derailment in the form of a filibuster.
Sen. Blackburn's election alone wouldn't change the party division of vote count in the Senate. But she could inspire, and inflame, her fellow GOP senators to attack and dismantle the full range of reproductive rights, from contraception to abortion care.