In El Salvador, Activists Demand Justice for Teenager Imprisoned After Obstetric Complications
Evelyn Hernandez Cruz says neither she nor her mother knew she was pregnant; she had continued to menstruate, and confused labor pains with gastrointestinal distress. Even so, doctors suspected her of abortion, illegal in all circumstances in El Salvador.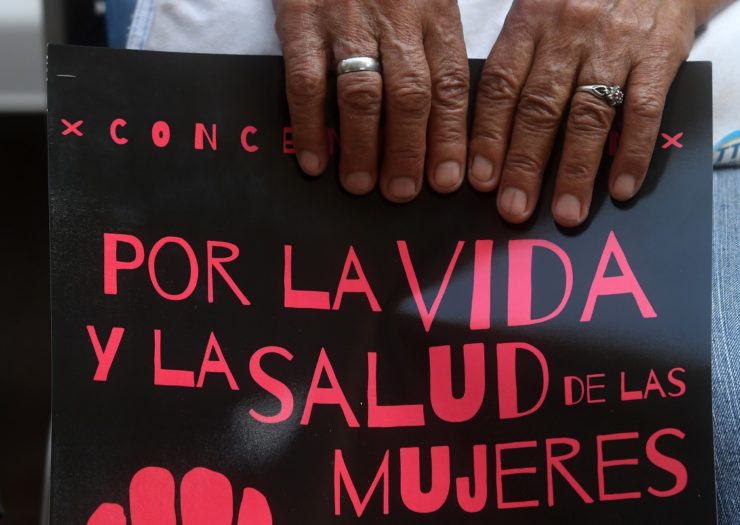 Evelyn Hernandez Cruz was an 18-year-old high school student in April 2016, when she lost consciousness in the latrine behind her home in El Salvador's rural community of El Carmen.
She regained her senses long enough to exit the latrine, where her mother saw her as she fainted again. Her mother called for help to transport her to the local hospital, where doctors determined she had given birth. They dispatched police to the home and found a cadaver in the latrine.
Hernandez says neither she nor her mother knew she was pregnant; she had continued to menstruate, and had confused labor pains with gastrointestinal distress. Hernandez had suffered an obstetric emergency during an unattended, premature birth—even so, doctors suspected her of abortion, illegal in all circumstances in El Salvador. The prosecutor's office later amended the charges to aggravated homicide. On July 5, trial court judge Nury Velasquez determined that Hernandez was guilty in the death of her baby, sentencing her to 30 years in prison.
On Thursday, La Agrupación Ciudadana por la Despenalización del Aborto, or Citizen Group for the Decriminalization of Abortion in El Salvador, held a forum on behalf of Hernandez, exploring how her case connects to larger patterns of criminalization of young, poor women in the country.
"We believe this was an unjust guilty verdict and that the reasons presented by the judge for convicting her are not based on law, but on prejudices," said Morena Herrera, president of the Agrupación, in her opening remarks.
Roe has collapsed in Texas, and that's just the beginning.
Stay up to date with The Fallout, a newsletter from our expert journalists.
A "Natural Death"
Hernandez's lawyers, Dennis Muñoz and Bertha De Leon, say the conviction was not grounded in any evidence of criminal actions or intentions.
According to De Leon, two witnesses for the prosecution—forensic medicine specialist Dr. Jose Gregorio Trujillo and pathologist Dr. Blanca Eugenia Nuila—clearly established that Hernandez gave birth in the latrine and that there was meconium, the first fecal excretion of a newborn, in the bronchial tubes of the newborn.
The witnesses were "emphatic," says De Leon, that the fetus experienced "fetal stress" in utero, and that "the cause of death was aspiration pneumonia." They offered three possible scenarios for how that could have happened, but could not say with certainty which one was most likely. First, it could have been caused by the fetus aspirating meconium while in utero. A second possibility was that as the newborn fell into the septic tank during birth, it could have ingested material from the tank.  A third possibility is that the newborn ingested both materials.
During the forum, Muñoz added, "The pathologist stated that aspiration pneumonia is a natural death, not caused by the woman."
"So, a 19–year-old is in prison for 30 years for a natural death," he concluded.
A major point of contention in the trial was whether or not Hernandez knew she was pregnant: The prosecutor and judge absolutely did not believe it was possible she did not know. Thus, the judge argued, Hernandez's failure to seek prenatal care was evidence of her intention to kill the baby. The prosecutor also claimed that Evelyn had given birth in a different location and then threw the infant in the latrine with the help of her mother.
"They presented no evidence that that had happened, but the judge's speculation was that those were the events," said De Leon. In fact, as Muñoz noted, two police officers also testified that they had washed and cleaned the infant cadaver before delivering it for an autopsy—actions that Muñoz says constitute contamination and manipulation of the scene.
Overall, De Leon said, "The forensic medicine specialist and the pathologist were the two professionals qualified to present this type of evidence, and the judge did not take into account the documents they presented nor their testimony in court …. What they presented indicated a reasonable doubt that Evelyn was guilty of any crime."
The judge presented her oral arguments defending her verdict at the end of the trial. On July 19, she will present a written document, in which she has the responsibility to show the legal foundation for her reasoning and how it ties to the evidence presented during the trial. Then the defense has ten working days to respond to the judge's arguments and present its request for an appeal.
Defense attorney Teresa Naves from FESPAD, another member of Hernandez's legal team, explained that, legally speaking, "The prosecutor and the judge need to show that Evelyn had the intention to kill.  We believe the evidence showed there is a reasonable doubt.  Under Salvadoran law, if there is a reasonable doubt, the decision must favor the accused."
She continued, "We will appeal based on the lack of due process, on the existence of reasonable doubt and on the lack of proof of dolo, or malice."
"This Is the Justice System in El Salvador"
Hernandez's story has been covered by a wide range of local and international media. Some outlets, such as the major Salvadoran daily El Diario de Hoy, ran front-page pictures of Hernandez with stories that included inaccurate or misleading information about the case. But even sympathetic coverage has included personal facts Hernandez does not feel safe disclosing.
For example, Herrera noted that some outlets have reported that Hernandez's pregnancy was the result of rape from a "forced relationship" with a gang member.
"On the question of rape, we have not made any definitive statement about this because Evelyn has chosen not to speak about it. When we attempted to talk with her, she was visibly afraid and did not want to talk about it. We respect her right not to speak," Herrera said.
"What we do know is that in the region where she lives gangs exercise considerable control, and that presence often includes sexual violence exercised against young women. The state is not ensuring the safety of young people there. We know there have been other pregnancies that have occurred in a similar manner. So she has chosen not to report anything," Herrera continued.
"We understand the realities and contexts that women who have been victims of sexual violence are dealing with, and we respect their decisions and their fears," she concluded.
She tied these key issues to broader contextual questions around how cases like these are investigated and prosecuted.
"In our view, the prosecutor did not investigate properly all these questions nor the social circumstances around what happened. The prosecutor needs to be informed about the facts. One has to interpret the silence of the woman," she said, concerning facts they may not feel comfortable sharing.
Herrera noted that Hernandez's circumstances are not uncommon. She pointed out that Maria Teresa Rivera, who conviction was reversed in 2016 after she spent four-and-a-half years in prison and has now been granted asylum in Sweden based on the persecution she experienced in El Salvador, also gave birth in a latrine, did not know she was pregnant, and the cause of death was undetermined.
Herra also mentioned another ongoing case of a woman who gave birth to a baby in a latrine. In that case, the baby had survived. "We know that there is another woman from Jiquilisco, the same age as Evelyn, who is incarcerated right now awaiting trial," Herrera said. "This young woman was … raped, in this case by her stepfather, and she has filed charges against him, so this information is public."
After the woman's arrest, however, "the baby was placed with the young woman's mother, who still lives with the stepfather, the aggressor."
"This is the justice system in El Salvador," she said. "The woman is in prison, and the baby is with the aggressor."
"There is a pattern here. We have photos of young women handcuffed to hospital beds.  We're not just inventing this!" Herrera said.
In light of that pattern, Herrera said, groups like the Agrupación are noting what steps the government should take to ensure no more women are jailed after obstetric emergencies.
"We are preparing an analysis of the three ways in which the State does not address the vulnerability of young women such as Evelyn and the woman from Jiquilisco. One is the Ministry of Health, since Evelyn as well as the woman in Jiquilisco were charged with crimes in the public hospitals. The second is the Ministry of Education, which must provide a comprehensive program of sexual education," to give young women more knowledge and control over their bodies and their sexuality. "The third includes all the government agencies that should protect the rights of adolescents."
Herrera also brought up the proposed legislation to decriminalize abortion that has been pending in the national legislature since October 2016, arguing that it provoked the original charges and investigations against Hernandez and other women.
"We know that Evelyn's is not a case of abortion.  But it originates with the stigma attached to abortion. These young women have gone to public hospitals seeking medical help and instead they have been criminalized. These are facts that we must change in this country."