Attorneys for Anti-Abortion Activist David Daleiden Held in Contempt of Court
Daleiden has been charged with 14 felony counts of unlawfully recording people without permission and one count of conspiracy to invade privacy stemming from his covert recordings of Planned Parenthood staffers and officials.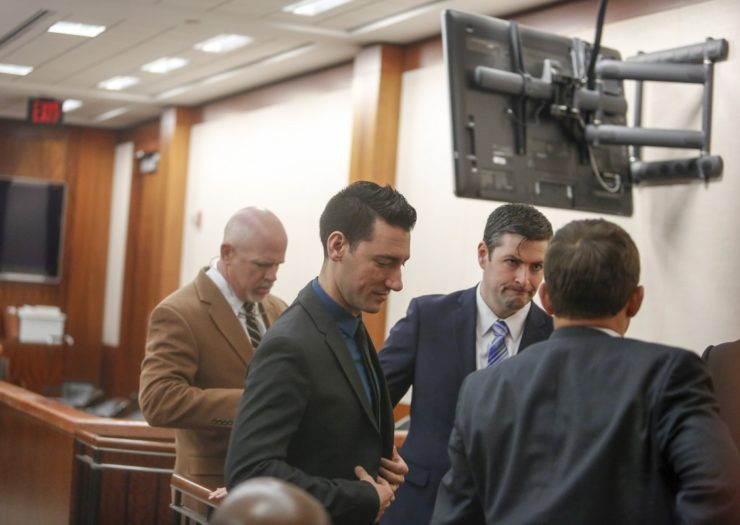 A federal judge on Tuesday held two attorneys for David Daleiden in contempt of court after video footage surreptitiously recorded at a National Abortion Federation (NAF) private event appeared on their website in violation of an injunction.
Daleiden, head of the anti-choice front group known as the Center for Medical Progress, has fought legal battles related to his "Human Capital Project," a series of misleadingly edited videos claiming to expose Planned Parenthood as black market traffickers of fetal tissue.
Daleiden and an associate, Sandra Merritt, infiltrated private NAF meetings, recorded video footage despite signing contracts promising not to, and released the footage after deceptively editing it to suggest Planned Parenthood was performing illegal "partial birth" abortions and profiting from the sale of what Daleiden and his supporters ominously call "fetal body parts."
NAF filed a lawsuit in federal court asking that any further publication of illicitly recorded footage be blocked. United States District Judge William Orrick issued a temporary restraining order in July 2015, and in a blistering opinion in which he said the defendants had "engaged in repeated instances of fraud," converted the temporary restraining order into a preliminary injunction in February 2016.
Roe is gone. The chaos is just beginning.
Follow Rewire News Group on Twitter to stay on top of every breaking moment.
The injunction blocks CMP and Daleiden from publishing or disclosing "any video, audio, photographic, or other recordings taken, or any confidential information learned at any NAF annual meetings."
By publishing video footage on their website, Daleiden's attorneys, Steve Cooley and Brentford Ferreira, violated that injunction, the judge ruled at Tuesday's hearing.
Cooley and Ferreira justified publishing the material as necessary to Daleiden's defense against criminal charges he faces in California, according to Courthouse News. State prosecutors from California State Attorney General Xavier Becerra's office have charged Daleiden with 14 felony counts of unlawfully recording people without their permission and one count of conspiracy to invade privacy, stemming from his covert recordings of Planned Parenthood staffers and officials. Those charges were dropped but have since been refiled.
Matthew Geragos, the lawyer representing Cooley and Ferreira at Tuesday's contempt hearing, claimed the two attorneys were "legally entitled" to publish the videos to find witnesses and other information that could help defend Daleiden against the felony charges in California state court, according to the Washington Post.
"We take criminal defense seriously," Geragos said at the hearing.
But Orrick rejected Geragos's argument.
"With respect to the criminal defense counsel, they do not get to decide whether they can violate the preliminary injunction," Orrick said, according to the Post.
There was "no possible excuse" for the video footage to appear on the attorneys' website, the judge added.
Orrick did not say whether he would hold Daleiden and CMP in contempt, though he ordered the anti-abortion activist and his attorneys to pay damages to NAF. NAF is seeking to recover legal costs related to the contempt proceedings and expenses for increased security measures used to protect providers exposed by the leak.
Orrick said he would issue a written ruling shortly. That ruling is expected to include the amount of damages Daleiden and his attorneys have to pay.