Thousands of Workers Strike Across Nation's Airports, McDonald's in Continued Fight for $15
"Americans are united around our desire for a better future for our kids and an economy that works for everyone, not just those at the top," said Betty Douglas, a McDonald's worker from St. Louis, Missouri, in a conference call last week announcing the action.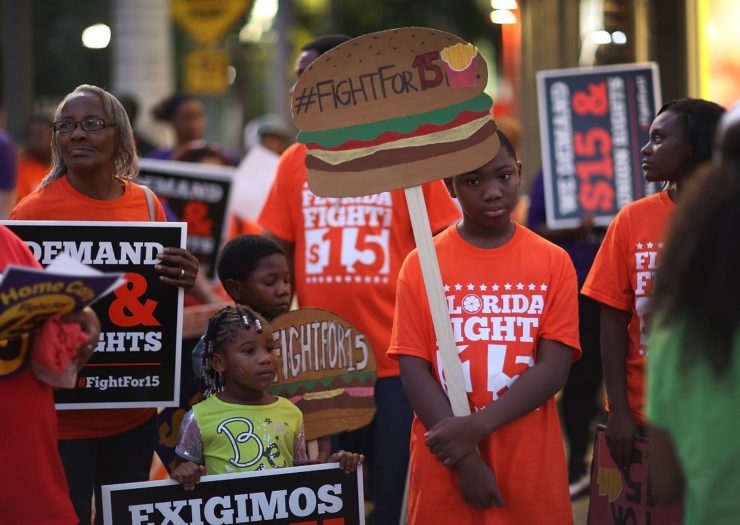 Thousands of workers have continued the struggle for fair wages in a nationwide day of disruption Tuesday to mark the fourth anniversary of the Fight for $15 movement.
Fast-food cooks and cashiers, Uber drivers, home health aides, airport workers, and employees in other industries faced arrest in the nationwide series of actions, organizers told Rewire.

"The strikes, which began early Tuesday on the East Coast, are rolling westward throughout the morning, with McDonald's and other fast-food workers walking off their jobs in 340 cities from coast to coast, demanding $15 and union rights; baggage handlers, cabin cleaners and skycaps walking picket lines at Boston Logan International Airport and Chicago O'Hare International Airport to protest against unfair labor practices, including threats, intimidation and retaliation when they tried to join together for higher pay and union rights; Uber drivers in two-dozen cities idling their cars calling for a fair day's pay for a fair day's work; and hospital workers at the University of Pittsburgh Medical Center, who won a path to $15 earlier this year, joining in too, fighting for union rights," according to a press release.
Organizers say the protest will encompass 20 of the nation's busiest airports and include civil disobedience actions to demand an end to police violence, immigrant deportations, and reduced health-care coverage.
Alvin Major, 51, was among the 250 to 300 people protesting in New York City Tuesday; two dozen of them were arrested by 11 a.m.
Roe is gone. The chaos is just beginning.
Follow Rewire News Group on Twitter to stay on top of every breaking moment.
After working at a Bedford-Stuyvesant KFC for five years, Major said he makes $10.50 per hour and struggles to take care of four children and a wife who is battling cancer.
"You can't pay bills or put food on the table with that. I still depend on food stamps," he said in a phone interview to Rewire.
One of the first strikers who launched the Fight for $15 movement on November 29, 2012, in New York City, Major said that "a lot of people thought we were crazy."
Four years later, Major said he is proud to continue a fight that has helped lead to record leaps in wages across the country and to an election that garnered strong support for minimum wage and paid sick leave ballot initiatives in Arizona, Colorado, Maine, and Washington.
"We suffer and we struggle so we have to speak out," Major said. "These companies are making money off our backs and can afford to pay us a living wage. This message is not just going around the United States, it is going around the world because many of these companies are global."
A report released Tuesday by the worker advocacy group National Employment Law Project (NELP) shows the Fight for $15 has won nearly $61.5 billion in raises for working families since that first strike in 2012, more than ten times larger than the total raise received under Congress' last federal wage increase nearly a decade ago. It estimates that 19 million workers will benefit from these increases.
The NELP report also pointed out that two-thirds of the $61.5 billion in additional income is the result of landmark $15 minimum wage laws won in "a handful" of cities and states.
The majority of low-wage workers are women and people of color; many racial justice advocates are worried about the effect a Donald Trump presidency will have on them.
"Americans are united around our desire for a better future for our kids and an economy that works for everyone, not just those at the top," said Betty Douglas, a McDonald's worker from St. Louis, Missouri, in a conference call last week announcing the Tuesday action. "We are also protesting to reject the politics of divisiveness that tears America apart by race, religion, ethnicity, and gender. And we won't back down until the economy is fixed for all workers and we win justice for all people in our nation."
Douglas says she makes $7.90 an hour, only 25 cents above minimum wage in the state, after eight years on the job.
"We won't back down until we win an economy that works for all Americans, not just the wealthy few at the top," said Naquasia LeGrand, a McDonald's worker from Albemarle, North Carolina, in the release. "Working moms like me are struggling all across the country and until politicians and corporations hear our voices, our Fight for $15 is going to keep on getting bigger, bolder and ever more relentless."
Working families are being supported across the country by religious and elected leaders as well, the release stated, including Rep. Jan Schakowksy and Cook County Commissioner Jesús "Chuy" Garcia in Chicago; New York City Council Members Brad Lander, Mark Levine, and Antonio Reynoso; and Rev. William Barber II, a founder of the Forward Together Moral Movement, in Durham, North Carolina.
"By rejecting the reactionary politics of divisiveness and relentlessly opposing injustice in all its forms, the workers in the Fight for $15 are lighting the way forward for our nation," said Barber in the release. "We need to come together across lines of class, race, and gender, and tell our newly elected leaders in one clear voice that we will not let you divide us, oppress us, or take us one step backward in our march towards a more perfect union. The fight for voting rights, living wages, and civil rights are all one fight."
"The Fight for $15 has shifted the way our country talks about economic and racial injustice and inequality in our democracy," said Marvette Hodge, a home care worker from Richmond, Virginia, who says she makes $9 an hour, in a news release last week. "But our fight isn't over, in fact, we are standing up in larger numbers to show that divisiveness has no place in this country. Our movement is resilient and unstoppable, and I will never stop fighting for an America where all work is valued and every family in every community has the opportunity to thrive."