Debbie Wasserman Schultz Resigns as Chair of DNC, Will Not Gavel in Convention
Donna Brazile, vice chair of the DNC, will step in as interim replacement for Wasserman Schultz as committee chair.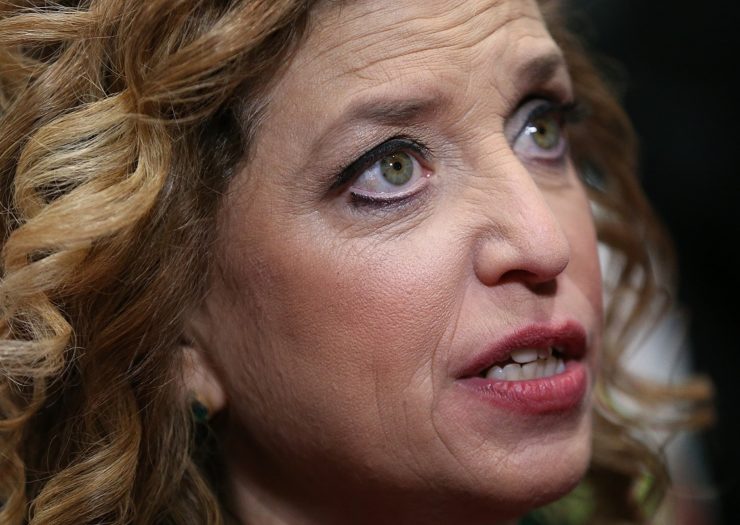 On the eve of the Democratic National Convention in Philadelphia, Rep. Debbie Wasserman Schultz (D-FL) resigned her position as chair of the Democratic National Committee (DNC), effective after the convention, amid controversy over leaked internal party emails and months of criticism over her handling of the Democratic primary races.
Wasserman Schultz told the Sun Sentinel on Monday that she would not gavel in this week's convention, according to Politico.
"I know that electing Hillary Clinton as our next president is critical for America's future," Wasserman Schultz said in a Sunday statement announcing her decision. "Going forward, the best way for me to accomplish those goals is to step down as Party Chair at the end of this convention."
"We have planned a great and unified Convention this week and I hope and expect that the DNC team that has worked so hard to get us to this point will have the strong support of all Democrats in making sure this is the best convention we have ever had," Wasserman Schultz continued.
Just prior to news that Wasserman Schultz would step down, it was announced that Rep. Marcia Fudge (D-OH) would chair the DNC convention.
Donna Brazile, vice chair of the DNC, will step in as interim replacement for Wasserman Schultz as committee chair.

Wasserman Schultz's resignation comes after WikiLeaks released more than 19,000 internal emails from the DNC, breathing new life into arguments that the Democratic Party—and Wasserman Schultz in particular—had "rigged" the primary in favor of nominating Hillary Clinton. As Vox's Timothy B. Lee pointed out, there seems to be "no bombshells" in the released emails, though one email does show that Brad Marshall, chief financial officer of the DNC, emailed asking whether an unnamed person could be questioned about "his" religious beliefs. Many believe the email was referencing Sen. Bernie Sanders' (I-VT).
Another email from Wasserman Schultz revealed the DNC chair had referred to Sanders' campaign manager, Jeff Weaver, as a "damn liar."
As previously reported by Rewire before the emails' release, "Wasserman Schultz has been at the center of a string of heated criticisms directed at her handling of the DNC as well as allegations that she initially limited the number of the party's primary debates, steadfastly refusing to add more until she came under pressure." She also sparked controversy in January after suggesting that young women aren't supporting Clinton because there is "a complacency among the generation" who were born after Roe v. Wade was decided.
"Debbie Wasserman Schultz has made the right decision for the future of the Democratic Party," said Sanders in a Sunday statement. "While she deserves thanks for her years of service, the party now needs new leadership that will open the doors of the party and welcome in working people and young people. The party leadership must also always remain impartial in the presidential nominating process, something which did not occur in the 2016 race."
Sanders had previously demanded Wasserman Schultz's resignation in light of the leaked emails during an appearance earlier that day on ABC's This Week.
Clinton nevertheless stood by Wasserman Schultz in a Sunday statement responding to news of the resignation. "I am grateful to Debbie for getting the Democratic Party to this year's historic convention in Philadelphia, and I know that this week's events will be a success thanks to her hard work and leadership," said Clinton. "There's simply no one better at taking the fight to the Republicans than Debbie—which is why I am glad that she has agreed to serve as honorary chair of my campaign's 50-state program to gain ground and elect Democrats in every part of the country, and will continue to serve as a surrogate for my campaign nationally, in Florida, and in other key states."
Clinton added that she still looks "forward to campaigning with Debbie in Florida and helping her in her re-election bid." Wasserman Schultz faces a primary challenger, Tim Canova, for her congressional seat in Florida's 23rd district for the first time this year.