A Q&A With 'Never Too Real' Author Carmen Rita Wong on Why #WeNeedDiverseBooks
Rewire had a chance to chat with Wong about her experience finding a place for the work she wanted to create, and what the media often gets wrong when portraying Latina women and other women of color.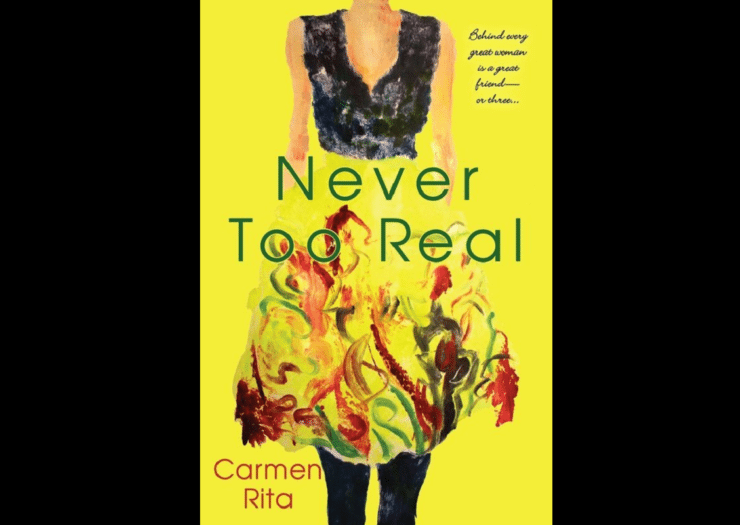 Carmen Rita Wong says the characters in her new novel, Never Too Real, are largely invisible in media, which is why she chose to tell their stories. The fictional work is about Latina women who are both struggling and successful in their various fields. Wong says she's treating this writing project as a mission, a way to tell the story of women like her: Latina women and other women of color who exist in ways other than the stereotypes so often portrayed on television and in films.
Wong herself is a master of media: She's written for countless outlets, been the host of her own TV show, written books on finance, and now, she's turned to fiction.
Rewire had a chance to chat with Wong about her experience finding a place for the work she wanted to create, and what the media often gets wrong when portraying Latina women and other women of color.
Rewire: How did this novel come about?
Roe is gone. The chaos is just beginning.
Follow Rewire News Group on Twitter to stay on top of every breaking moment.
Carmen Rita Wong: My a-ha! moment came with my daughter; we were walking together and passed a bus stop with [a poster for] a show and she said, "Mom, that poster, all those women look like you. But why are they maids?"
My daughter's frame of reference is very different from mine: She's growing up more privileged and with a Black president, surrounded by family where she happens to be a blonde Latina while her cousins are Black Latinas. I waited tables alongside my mom to put myself through college, so I have a deep respect for every form of work. But it was definitely one of those things where you only see yourself reflected in one way—and that's how I grew up, seeing Latinas being shown in one way; but this is not how I live, and not how my daughter lives, now.
That same month I was having a party, celebrating my wonderful, successful girlfriends. We all came up together, we've all supported each other, and we're all women of color, mostly Latina. I looked around and wondered, how come nobody knows we exist?
So I thought, all right, you know what? Now's the time. This has just got to get done. I'm in a position to do this, I need to do it. It was very much a mission; I didn't approach it as a side project.
Rewire: Kirkus Reviews, a book review site, called Never Too Real a "multicultural edition of Sex and the City." How would you characterize the book? Would you call it that?
CRW: I think that superficially that's a nice, easy elevator pitch because there are four of these women, they're glamorous, and they're in New York City. I think that's where the similarities pretty much end. The book goes a lot deeper than that. If you had to categorize it TV-wise, it's a "dramedy": There's some lightheartedness, there's some playfulness, some glamor, but it is really about real issues in your life as you try to do well, if you try to be the first generation to do better than the previous. I think that's one of the uniting factors of these four women—they're all … first [in their families] to be born in the United States, and grow up and finish college. And that's an important bonding issue that makes it very different [from] Sex in the City.
Rewire: Diversity in literature is a widely-discussed issue in the literary community these days, with hashtags like #WeNeedDiverseBooks. Was it hard for you to find a place for your book, to publish it?
CRW: I don't know—hard for some people is not hard for others. Let's just say—my agent's probably going to kill me—but my favorite rejection from a major publisher, which actually confirmed to me that I was on the right track, was (and I have it memorized): "We are not looking for aspirational in this market at this time."
Rewire: They called it aspirational?
CRW: Exactly. So it was mildly crushing, and then I realized—I'm on it, I am so on it. Because these publishers, who are they, and what have they published? Books by white men. Yes, those publishers are powerful, and yes, they're rich, but they don't get it. They don't see it. They don't know we exist. What is "this market," and what is "aspirational?"
When I was coming up in media, in publishing and magazines, I would hear from people, "Carmen, we know you want to get ahead, but we just don't know what to do with you." And that's code. What it really means is, "Carmen, you're a brown girl, and we can promote this white guy or girl, but we can't promote you. We just don't know what to do with you." But they would never say that to a white male. They would never say, "You know what, Bob? We just don't know what to do with you." So to me that rejection letter was just like that.
I remember back in the '90s, there was a really great push of [books] like Waiting to Exhale or Joy Luck Club. There was just a lot more in fiction about successful, multigenerational, multicultural families. It just was normal and it was not considered crazy. I think there was a trend, and it just became a different trend. And then there was a push for powerful stories, but stories of only one note, for a long time in Latino fiction. I can't read that stuff, because I lived it already. I want to read stories that make me escape or make me inspired or make me feel heard.
Rewire: In the book, you introduce women who come from all walks of life and economic backgrounds, but they're all upper-middle-class at the time of the narrative. Going back to your daughter seeing the poster of Latina women portrayed as maids, do you find that economic diversity is what's often missing in popular and literary culture?
CRW: My book wasn't as calculated as that, because this is my life, and these are my friends and the people I surround myself with. I think what I saw missing in these cultures was that niche [of successful Latina women].
Latinos in popular culture … I've watched it be a very hard process. For example, when I was in magazines, they tried to push me to the Spanish-language property, and I'd say that I don't primarily speak in Spanish. Why can't I be used in the English-dominant space? Why? Give me a reason why! And they'd have to say, "Well, because you're Latina." So? Latinos speak English! We're Americans! If you were Black or Latina you'd have to be in that particular space and you weren't allowed to exist in the general market. And as we've seen, and as we see now, that has changed a lot.
Rewire: How so?
CRW: We have huge growth in numbers, but also too, if you look at, for example, ShondaLand, [the production company] on ABC—it's an example of an openness to seeing and consuming media from all cultures, whether it's music or TV. I definitely feel that things have changed, there's a big shift and a huge push now toward inclusion.
I think with social media too, you see the pressure of people saying, for example, #OscarsSoWhite. I grew up in a time when media was controlled by a small group of people and I've watched it change, morph, and transform. Fifteen years ago, when I was co-chair of the Hispanic Affinity Group at Time Inc., I was saying we're here, we consume stuff in English, and you need to pay attention to us. When the census came out [proving what I had been saying], I said, the census, look at the census!
And still the dollars didn't come in; but when social media happened, that's when the money started coming in. And finally people started saying, "Oh, they're, they're quite vocal, they exist." [Laughs.] But our ethnicity or color shouldn't be our only draw. We're here and have been here. What they're seeing shouldn't come as such a shock.
This interview has been edited for length and clarity.