Advocates Reaffirm Shared Roots of Black Lives Matter, Reproductive Justice Movements
The Trust Black Women Partnership, a collective of Black women-led organizations and advocates, released a solidarity statement with Black Lives Matter on Tuesday, reaffirming the shared roots of struggles for Black self-determination and bodily autonomy.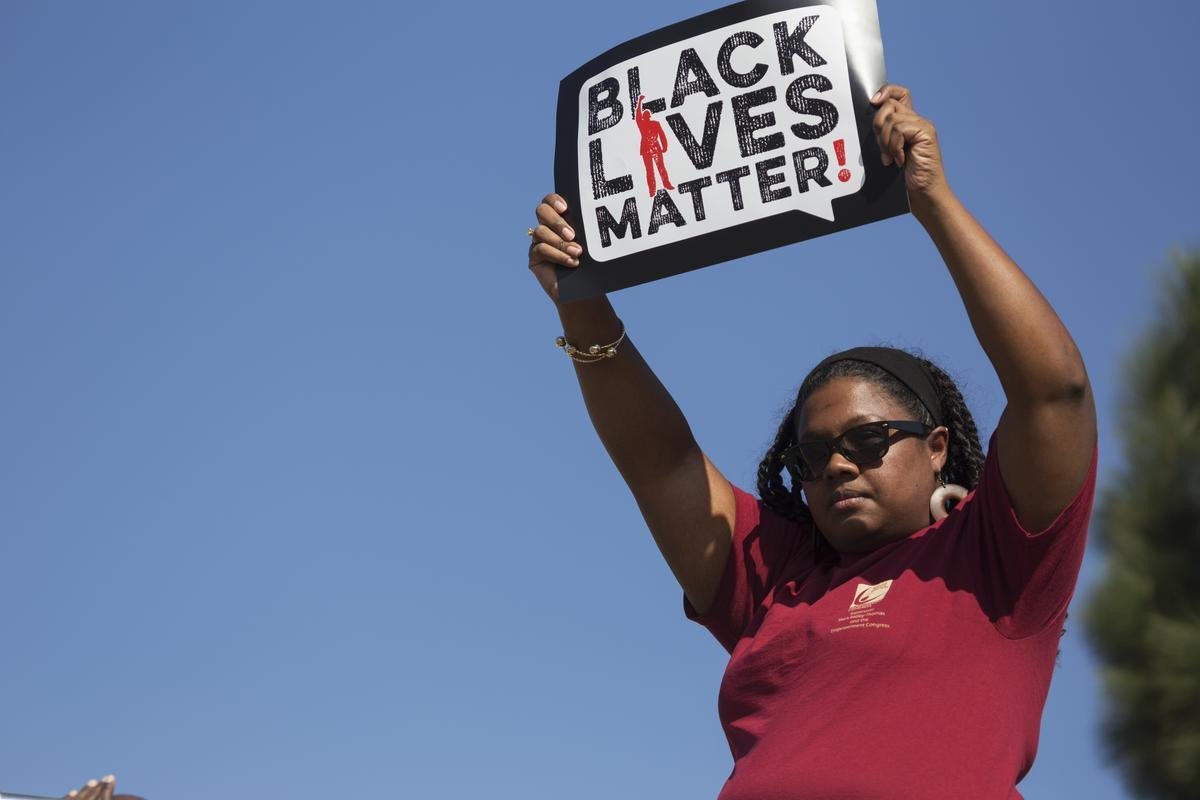 The Trust Black Women Partnership (TBW), a collective of Black women-led organizations and advocates, released a solidarity statement with Black Lives Matter (BLM) on Tuesday, reaffirming the shared roots of struggles for Black self-determination and bodily autonomy.
The statement comes as movements to end state violence and secure reproductive justice continue to converge around the country.
"The Reproductive Justice movement, created in 1994, the Trust Black Women Partnership, created in 2010, and the Black Lives Matter movement, created in 2012, were created because the lives of Black people were in peril," the statement reads. "All were born out of a demand for the … liberation of Black people in this country. And all were born because of the leadership of Black women."
Monica Raye Simpson, the director of TBW, highlighted during a Tuesday press call the expanding restrictions on Black women's access to safe, legal abortion and other reproductive health services, largely due to a rash of political and legislative attacks on reproductive rights that either directly target, or have disproportionate impacts on, Black women.
Roe has collapsed and Texas is in chaos.
Stay up to date with The Fallout, a newsletter from our expert journalists.
She called particular attention to the dozens of anti-choice laws, sponsored almost entirely by white Republicans, passed in 2016 that have put tremendous pressures on health-care providers and hundreds of thousands of Black women, particularly in southern states. These anti-choice policies require clinics to meet medically unnecessary safety regulations and force women to make multiple and unnecessary appointments that delay their care.
Black women are more likely than their white counterparts to be denied access to comprehensive sex education and contraception, experience higher rates of unintended pregnancies, and are four times as likely to die of pregnancy-related complications, according to a fact sheet prepared by the National Black Women's Reproductive Agenda.
"We make this statement of solidarity to affirm that the work that we've been doing for 20 years for Black women's reproductive freedom and justice is connected to the movement for Black lives, and to recognize that BLM has brought things to a crucial tipping point," Simpson said on Tuesday's call, which included BLM co-founder Alicia Garza, and La'Tasha D. Mayes, the founder and executive director of New Voices for Reproductive Justice. Rewire Managing Editor Regina Mahone moderated the call.
Garza addressed the deep links between reproductive justice and BLM, a movement that came about in response to police brutality. She clarified that BLM "has always been an intersectional organizing approach and intersectional organizing project."
"Reproductive justice is very much situated within the Black Lives Matter movement," she said. "This isn't just about the rights of women to be able to determine when and how and where to start families, but also our right to raise families, to raise children to become adults."
"What we've been seeing for many generations now is a real increase in the blocking of women's abilities to raise their children safely … as a result of state violence," she said, expressing a sentiment that finds echo in ample research documenting how Black people are more likely than any other ethnic group in the United States to be killed at the hands of law enforcement personnel.
A Guardian report published in December found that young Black men between 15 and 34 years of age, who make up 2 percent of the population, comprised 15 percent of the 1,134 police killings recorded in 2015—making them five times more likely to die at the hands of the police than white men of the same age.
Participants discussed the intersecting impacts of economic and environmental injustice on Black communities, a burden represented by the ongoing water crisis in Flint, Michigan, a majority Black city whose 100,000 residents have been exposed to water contaminated with lead for more than a year with the knowledge of city and state officials.
"It's critical for the reproductive justice and Black Lives Matter movements to fight for our rights to clean drinking water, the right to breathe, the right to exist," Mayes stated, adding that "being able to live and raise your children in a healthy environment is a reproductive justice issue."
Pointing out that both state violence and the oppression of women's bodies is deeply rooted in the United States' history of slavery, the statement noted: "This nation has yet to prove that Black Lives Matter, and it has yet to prove its ability to Trust Black Women."
Each advocate reaffirmed the importance of centering Black women and girls, as well as low-wage workers, LGBTQ communities, and other populations that have been forced into the margins within movements, to lift up the dignity and autonomy of Black people.
"I believe in the infinite power and potential of Black women and girls," Mayes said, "and through the movement for reproductive justice and in alliance with the Black Lives Matter movement we can tap into that infinite potential and unleash it."