Kasich Touts and Clinton Stays Silent on Welfare Reform That Could Leave One Million People Hungry
Federal guidelines mandating that food assistance recipients find a job or lose their benefits kicked in last month for residents of 21 states, leaving as many as one million at risk of food insecurity—a result that owes no small debt to the welfare reform efforts of former President Bill Clinton's administration and Ohio Gov. John Kasich (R) in the '90s.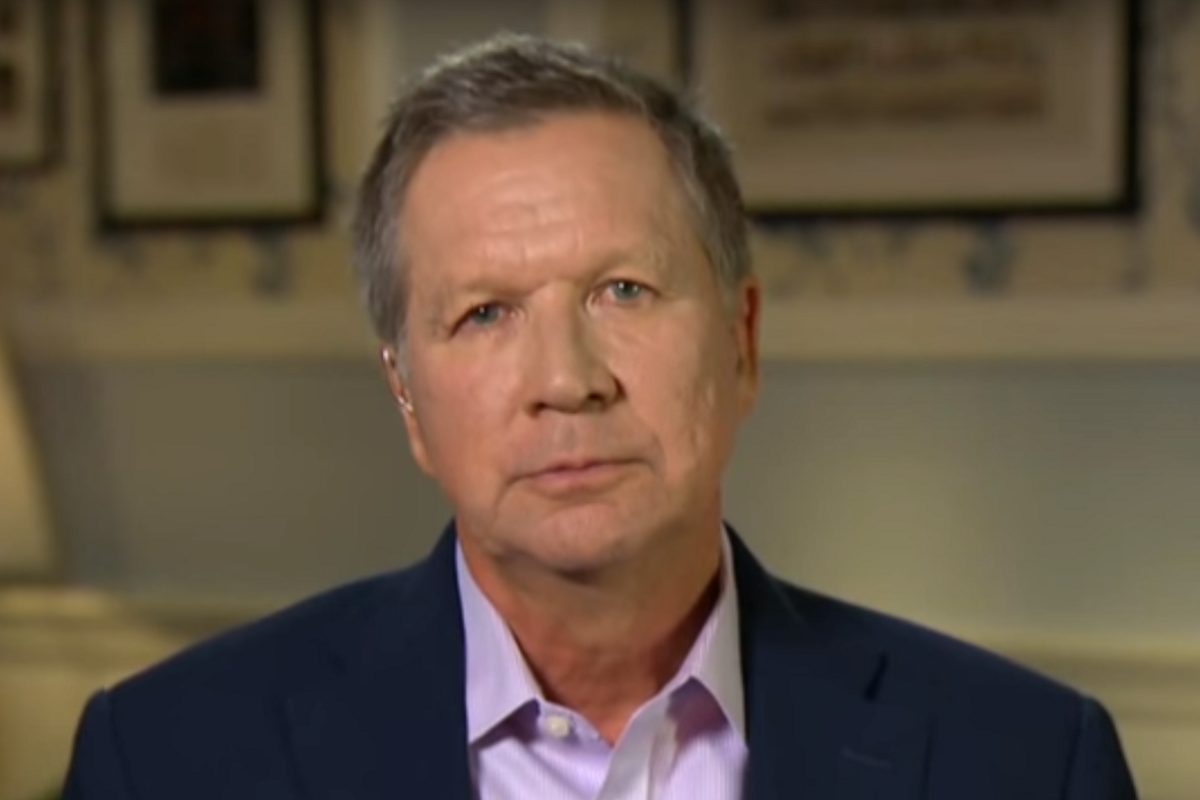 Federal guidelines mandating that food assistance recipients find a job or lose their benefits kicked in last month for residents of 21 states, leaving as many as one million at risk of food insecurity—a result that owes no small debt to the welfare reform efforts of former President Bill Clinton's administration and Ohio Gov. John Kasich (R) in the '90s.  
Work requirements have been part of welfare programs for nearly two decades, but the high unemployment rates of the Great Recession led dozens of states to qualify for and accept a federal waiver from the mandates because there simply were not enough jobs available. Today, the economy has been improving, albeit slowly: In many states, able-bodied food stamp recipients without dependents will once again face work requirements to access food assistance as those waivers expire, or states choose not to accept them in part or whole. 
As Ben Mathis-Lilley pointed out at Slate, Bill Clinton and John Kasich worked together in the 1990s to lead the charge on the very welfare reform measure that stands to boot so many off of food stamps 20 years later.
Bill Clinton ran for president in the early '90s touting a welfare reform platform that aimed to "put an end to welfare as we know it" in the United States by mandating a work requirement for public assistance programs. "We'll give them all the help they need for up to two years. But after that, if they're able to work, they'll have to take a job in the private sector, or start earning their way through community service," Clinton promised.
Sex. Abortion. Parenthood. Power.
The latest news, delivered straight to your inbox.
In 1996, then-President Clinton followed through on that declaration, signing into law the Personal Responsibility and Work Opportunity Reconciliation Act (PRWORA)—a bill originally introduced by then-Ohio Congressman and current Republican presidential candidate Gov. Kasich. 
As Bill Clinton had promised, PRWORA established strict work requirements for those seeking to use welfare programs, such as food assistance. Under the new law, able-bodied adults without dependents could only use three months of the Supplemental Nutrition Assistance Program (SNAP) in three years, unless recipients worked, volunteered, or participated in education or career training programs for at least 80 hours per month. States with high unemployment were allowed to apply for a federal waiver of those rules.
The measure was controversial enough that three senior officials resigned from the administration in protest of the law.
"I have devoted the last 30-plus years to doing whatever I could to help in reducing poverty in America. I believe the recently enacted welfare bill goes in the opposite direction," Peter B. Edelman, assistant secretary at the Department of Health and Human Services, said of his resignation at the time. 
Analyses conducted by the Economic Policy Institute (EPI) in 2001 on the impact of PRWORA confirmed what Edelman and other critics had suspected: that Clinton's welfare reform measure had failed on many fronts. EPI's analysis suggested that poverty had "not been reduced among the kinds of families most affected by welfare reform" and that although many former welfare recipients were working, they remained unable to move up the job ladder to improve their economic well-being.
Nevertheless, on the campaign trail, Ohio Gov. John Kasich, who helped lead the original push behind PRWORA in the '90s, has pointed to his work to reform welfare as one of his "great accomplishments."
"This is one of those successes that when we get old and we're all in our rocking chairs, we're going to look back and say, 'Thank God we were able to make America a little bit better,'" Kasich said of the law when it was passed.
More recently, Kasich has again pointed to his work on the issue as a critical component of what qualifies him to be president. "What I tell people is yeah, I've been a reformer. I've been involved in more fights than you can imagine but with great accomplishments—whether it's jobs, whether it's welfare reform, fixing my own state—so I just tell them that these problems we have, they can be fixed, and people seem to be very positive and hopeful when they leave," Kasich said during a Tuesday rally in New Hampshire, according to Politico.
During his tenure as governor, Kasich has pushed to reinstate work requirements in much of Ohio, even as the state's economy has been doing so poorly that it qualified for relief from the mandate in 2015.
This comes as little surprise, given that while speaking on the House floor in 1996 in defense of his bill, Kasich claimed that requiring welfare users to work was only fair. The legislation "says, look, you have got to go to work; you have got to get trained. You cannot be on welfare forever," he asserted.
Kasich has faced much pushback for using the waivers inserted into PRWORA for states experiencing high unemployment rates unequally by only obtaining them for some regions of the state, a pattern critics say disproportionately harmed people of color. According to Mother Jones, despite having qualified for a full waiver in 2014, the Kasich administration only accepted a partial one:
In 2014, the Ohio Department of Job and Family Services (ODJFS) had the option to waive time limits on food stamps for the entire state. Due to a struggling economy and high unemployment, Ohio had qualified for and accepted this statewide waiver from the US Department of Agriculture every year since 2007, including during most of Kasich's first term as governor. But this time, Kasich rejected the waiver for the next two years in most of the state's 88 counties. His administration did accept them for 16 counties in 2014 and for 17 counties in 2015. Most of these were rural counties with small and predominantly white populations. Urban counties and cities, most of which had high minority populations, did not get waivers.
Kasich's favored working requirements returned to the rest of the state, leaving many without the benefits they needed to be food secure. More than 10,000 Ohio residents lost food assistance in early 2014 after the work requirements were reinstated, according to the Columbus Dispatch.  
The decision led to stark disparity in who received food stamps in Ohio. In the 16 counties selected by Kasich, 95 percent of food stamp users were white, but before the policy, reports Mother Jones, the state's overall percentage of white users was much lower, at 65 percent: "[S]ix months into the new system, the six counties with the highest rate of terminating food stamps for able-bodied, childless adults were all counties populated mostly by minorities."
Ohio's lagging assistance policies may have contributed to its poor performance in ensuring its residents have proper access to food. Between 2012 and 2014, the state had a food insecurity rate of roughly 17 percent, higher than the national average of 14 percent, according to a September 2015 analysis conducted by the U.S. Department of Agriculture (USDA).
Kasich's presidential campaign website claims the "historic reforms to federal welfare programs" he helped accomplish are part of his platform for "lifting up the most vulnerable Americans."
Meanwhile, current Democratic presidential contender Hillary Clinton was a proponent of PRWORA during her husband's administration, during her time as a senator, and as late as her 2008 presidential run.
In 1999, Clinton lauded the welfare reform measure for helping push recipients to work. "It's important to recognize, though, that simply passing a law requiring welfare recipients to find work would have failed to fulfill the President's promise," Clinton wrote of the law, according to BuzzFeed. "Too many of those on welfare had known nothing but dependency all their lives, and many would have found it difficult to make the transition to work on their own."
As a U.S. senator in 2002, Clinton again touted the role PRWORA had in pushing welfare recipients to work, claiming it was an effort to "substitute dignity for dependence" and that those who got jobs were "no longer deadbeats." 
In her 2003 memoir Living History, Clinton again offered a defense of her husband's welfare reform decision, noting that although it was "far from perfect" she had agreed that it should be passed and worked to make that happen after the president vetoed the first two proposed reform bills.
"I agreed that he should sign it and worked hard to round up votes for its passage—though he and the legislation were roundly criticized by some liberals, advocacy groups for immigrants and most people who worked with the welfare system," Clinton wrote. "I felt, on balance, that this was a historic opportunity to change a system oriented toward dependence to one that encouraged independence."
In 2008 while on the campaign trail, Clinton again fell back on familiar rhetoric. "Welfare should have been a temporary way station for people who needed immediate assistance," Hillary Clinton said during an interview with the New York Times in which she discussed her husband's welfare reform measure. "It should not be considered an anti-poverty program."
Research shows welfare programs like food assistance do help pull people out of poverty.
Since then, Clinton hasn't been as vocal on the issue, but in late 2013 she did bring up problems with food stamps during an interview with ABC's Barbara Walters, seemingly referencing a federal budget battle that stood to cut food assistance benefits.
"I think we should be looking at the work that we have today," Clinton said at the time, explaining that focus should be on the issues that matter to voters, not on whether she would run for president. "Our unemployment rate is too high. We have people getting kicked off food stamps who are in terrible economic straits. Small business is not getting credit, I could go on and on, so I think we ought to pay attention to what's happening right now."
In June 2015, Clinton again brought up food stamps. "No one who works an honest job in America should have to live in poverty," the presidential candidate told a convention of fast-food workers in Detroit. "No man or woman who works hard to feed America's families should have to be on food stamps to feed your own families."
Despite numerous think pieces and calls for Clinton to address her husband's welfare reforms specifically, it does not appear that she has directly addressed the topic on the campaign trail during the 2016 race.
When asked directly by Bloomberg in May 2015 about whether she would distance herself from her husband's welfare overhaul, a spokesperson from Clinton's campaign provided a statement claiming the candidate would address the issue "in the coming months":
Hillary Clinton has a long record fighting for everyday Americans and their families, and she is running to make sure all families are not only able to get ahead, but stay ahead. In the coming months she will discuss more details on her approach to addressing children and families living in poverty, including how best to support those families who rely on the safety net of welfare to temporarily keep their families afloat during the hardest of times, as well as other ideas to further strengthen families and help them move forward.
Hillary Clinton's campaign website does include a promise to "preserve, protect, and strengthen" Medicaid and Social Security, two other social safety-net programs, but does not reference the Clinton administration's PRWORA reforms.
Her economic platform instead names "raising incomes for hardworking Americans" as the "defining economic challenge of our time," noting that "too many families are working harder and harder, but still not getting ahead." She proposes doing so by providing tax relief for families, raising the minimum wage, and supporting equal pay policies, among other things.
Clinton's Democratic rival Sen. Bernie Sanders (I-VT), has criticized Hillary Clinton's past support of welfare reform policies, as well as the reforms themselves, but has also faced criticism for not adequately taking on the issue.
Anti-poverty experts, however, suggest that the Clinton administration's welfare reform measures are an issue Hillary Clinton needs to take on. "Welfare reform needs to be revisited,'' Stephen Schneck, director of the Institute for Policy Research and Catholic Studies at Catholic University told Bloomberg. "I think Hillary needs to stand up and say, 'My husband and the Republicans in the 90s really thought they'd put together a package that was going to fix welfare and poverty but didn't fix either one.' She needs to call America to the barricades in the struggle against deep poverty.''