Advocates Wary of President Obama's New Refugee Resettlement Program
Organizations like the Women's Refugee Commission seem to have conflicting feelings about President Obama's new program, saying they're pleased to see the administration recognize that Central Americans seeking safety in the United States is a refugee situation, but that the program does not negate the United States' other responsibilities.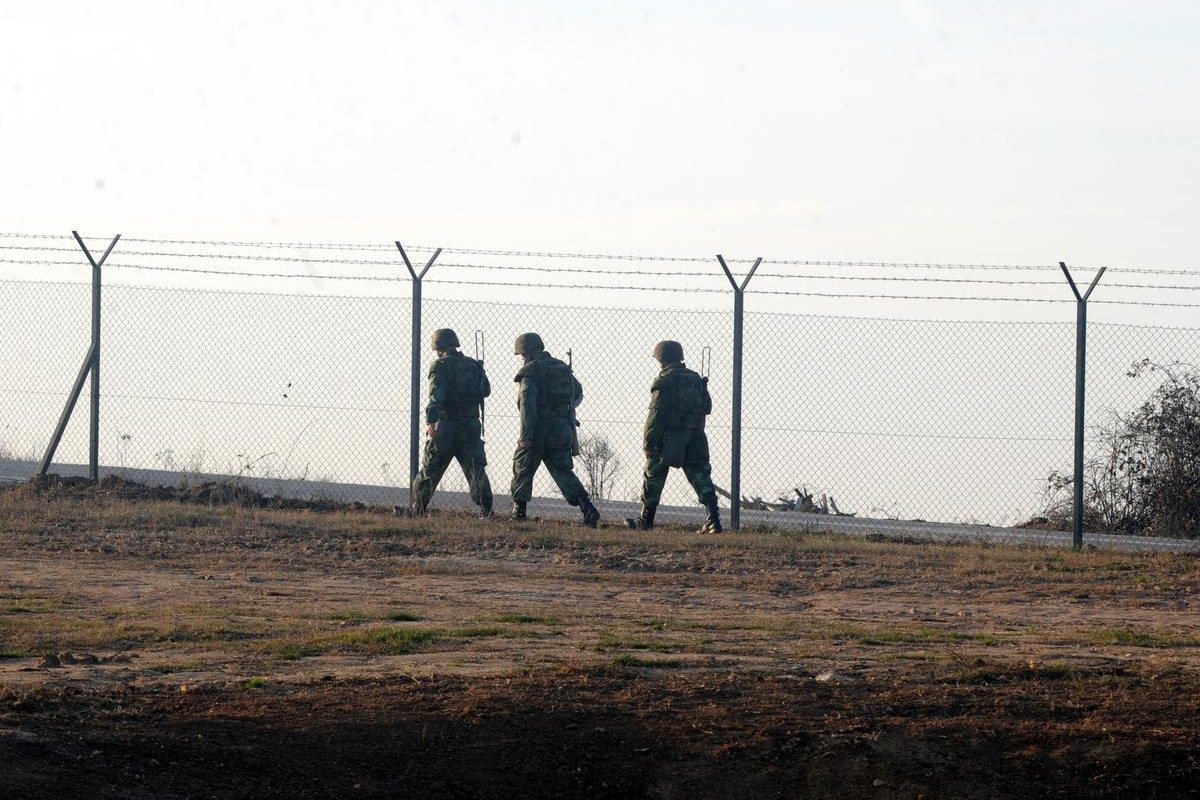 In response to another recent surge of Central American migrants at the U.S. border, the Obama administration announced a refugee resettlement program last week in collaboration with the United Nations, which will screen migrants fleeing violence in Central America and assist in setting up processing centers in Latin American countries.
The program is intended to, as the New York Times reported, "head off" migrants fleeing violence in El Salvador, Guatemala, and Honduras, which represent the "Northern Triangle" countries experiencing extreme poverty and dramatic increases in gang-related violence. Advocates believe the government is acting in anticipation of more asylum seekers, in part because of figures released by authorities in El Salvador that revealed a 70 percent spike in violent deaths in 2015. Historically, when violence has escalated in the Northern Triangle countries, the United States has seen a dramatic increase in the number of asylum seekers appearing at the border, as was the case during the 2014 "migrant crisis." Most of the migrants are women and their young children who have "run for their lives."
A state department official told Rewire in an email that the administration's initiative is an expansion of the U.S. Refugee Admissions Program intended to help "vulnerable families and individuals from El Salvador, Guatemala, and Honduras," offering them "a safe and legal alternative to the dangerous journey many migrants are taking, making them easy prey for human smugglers who have no interest but their own profits."
An underlying goal of the program, it seems, is to divert migrants to nearby countries before they make it to the United States. It is unclear what countries the temporary processing centers will be located in and if they will be camps or "less restrictive shelters."
Roe is gone. The chaos is just beginning.
Follow Rewire News Group on Twitter to stay on top of every breaking moment.
The Obama administration said the refugee program has been in the works for weeks and is not a response to the public outcries from both politicians and advocates regarding the ongoing raids targeting Central American asylum seekers.
It will be up to the United Nations to determine if migrants are eligible for refugee status. Obama administration officials told the New York Times that as many as 9,000 migrants each year could eventually settle in the United States, though some refugees would also be sent to other countries.
Advocates have already expressed concern the program is an attempt to justify the raids. When speaking during a press call, Wendy Young, the president of Kids in Need of Defense, said it is targeting the same population of people—Central American asylum seekers—who are treated as "refugees on the one hand and as wanted fugitives on the other," ThinkProgress reported.
The state department official said the United States will partner with governments in Central America "to address the underlying conditions that drive migration," with the U.S. Congress agreeing to invest up to $750 million in Central America and committing "to support the efforts of the governments of El Salvador, Guatemala, and Honduras to reverse endemic violence and poverty, promote economic prosperity, crack down on criminal networks, and strengthen good governance and the rule of law."
In the United States' strategy for engagement in Central America, which is vague at best, there is no mention of how the country contributed to the conditions in the Northern Triangle. This is a concern for advocates, who are wondering just how effective another program purporting to help Central American migrants will actually be, given that others have put them in more danger.
Between October 2013 and June 2014, 50,000 unaccompanied Central American children arrived at the U.S. border. The White House declared the influx an "urgent humanitarian situation." In response, President Obama met with Mexican President Enrique Peña Nieto "to develop concrete proposals to address the root causes of unlawful migration from Central America," according to the White House statement. Just three weeks later, Peña Nieto announced a new initiative, Programa Frontera Sur (or the South Border Program).
As In These Times reported, Mexico's Programa Frontera Sur did not stop Central Americans from taking the already unsafe journey to reach the United States. Rather, it forced them to find increasingly dangerous methods. Essentially, the program just cleared trains of migrants and, advocates say, it is just one of a number of recent policies out of Mexico "funded or tacitly endorsed by the United States" that has failed to address the growing humanitarian crisis.
In their quest to escape violence, Central American asylum seekers are routinely raped, assaulted, extorted, and abducted as they cross Mexico for the United States, and programs like Programa Frontera Sur have only exacerbated these conditions, advocates say.
There's also the issue of how many people could benefit from President Obama's new refugee resettlement program. His administration claims upwards of 9,000, but if previous, similar programs are any indication, it could be only dozens.
During the summer of 2014, during the height of the border crisis, the federal government set up the Central American Minors (CAM) Refugee/Parole Program to allow some children from Guatemala, El Salvador, and Honduras to apply for refugee status through an in-country application process. As of October 2015, 4,600 children had applied to the program and according to Mother Jones, just 90 applicants had been interviewed so far by the Department of Homeland Security. Eleven of those interviewed have been conditionally approved for refugee resettlement in the United States and another 76 have received humanitarian parole. According to U.S. Citizenship and Immigration Services, this category is "used sparingly to bring an otherwise inadmissible alien into the United States for a temporary period of time due to a compelling emergency." All the while, 35,000 unaccompanied minors were apprehended along the U.S.-Mexico border in 2015 and thousands more were picked up in Mexico.
Organizations like the Women's Refugee Commission seem to have conflicting feelings about Obama's new program, saying they're pleased to see the administration recognize that Central Americans seeking safety in the United States is a refugee situation, but that the program does not negate the United States' other responsibilities.
"The truth remains that those fleeing violence and persecution often lack the luxury of registering with authorities. Many will have no choice but to run and ask for protection when they reach the border," the Women's Refugee Commission said in a statement. "It is not illegal to cross international borders and request asylum. The presence of a formal refugee resettlement program does not negate our obligation to accept asylum-seekers at our borders."