Indiana Governor: 'Religious Freedom' Should Trump Civil Rights
Gov. Mike Pence (R) in his State of the State address said that he would not support any measure to protect LGBTQ Indianans that would infringe on religious freedom.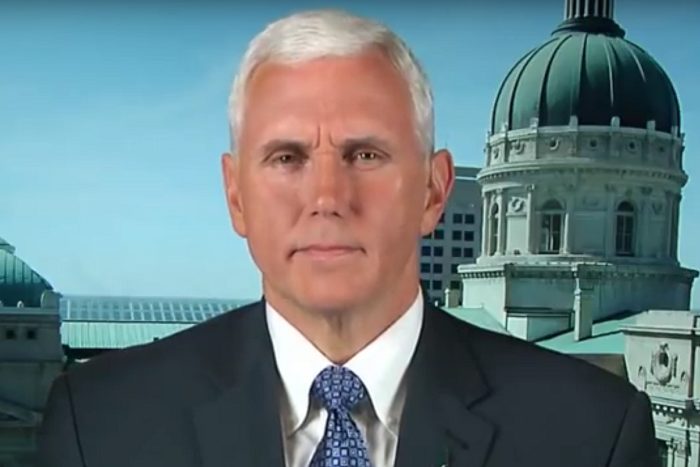 Indiana Gov. Mike Pence (R) renewed his commitment to discriminating against his state's LGBTQ community Tuesday during his State of the State address.
Pence announced that he would side with anti-LGBTQ "religious freedom" policies in his state's contentious debate over whether to protect Indianans from discrimination based on their sexual or gender identities. Indiana faced backlash last year over its Religious Freedom Restoration Act, which allows people and companies to refuse service or otherwise discriminate if behaving otherwise would be against their religious beliefs.
"I will not support any bill that diminishes the religious freedom of Hoosiers or that interferes with the constitutional rights of our citizens to live out their beliefs in worship, service or work," Pence said in his State of the State address.
Pence is up for reelection this year, and his likely Democratic opponent, former Indiana House Speaker John Gregg, in a press statement ripped the governor's refusal to extend civil rights protections to the the state's LGBTQ population.
Roe is gone. The chaos is just beginning.
Follow Rewire News Group on Twitter to stay on top of every breaking moment.
"Once again Mike Pence has proven he's just an officeholder, not a leader," Gregg said. "On issue after issue critical to the state of Indiana, he passes the buck, rather than doing the job he was elected to do. His refusal to take a stand for equality is unconscionable given the fact that he created this mess, which continues to damage Indiana's economy and reputation. This failure of leadership is disappointing, but sadly not surprising."
So-called religious freedom laws also apply to reproductive rights. The 2014 decision in Burwell v. Hobby Lobby allows employers to ignore provisions in the Affordable Care Act that require insurance companies to cover contraceptives. Seventeen states introduced legislation last year that would create or alter a state religious freedom law. Indiana's neighbors, Illinois and Kentucky, each have versions of the Religious Freedom Restoration Act.
Political analysts believe that Pence stuck to his conservative views to hold on to the religious vote in the 2016 election.
"He has chosen his side—the religious extremists. The people who really do not believe that gay and lesbian Hoosiers should be entitled to equal rights. And he is certainly entitled to do that, but I think politically it was suicide," Sheila Suess Kennedy, a professor at Indiana University-Purdue University Indianapolis and former director of the Indiana Civil Liberties Union, told the Indianapolis Star.
Indiana's Republican Senate leaders have already said they would debate adding anti-discrimination protections for LGBTQ residents, saying that by creating protected classes for people based on gender identity and sexual orientation, the law will force people to violate their religious beliefs when operating their businesses, according to the Indianapolis Star.
Indiana's Democratic Party condemned Pence's address. The party's representative, Drew Anderson, said in a statement, "Mike Pence doesn't 'abhor discrimination'—he actively promotes it."