Jameis Winston's Threat Against CNN Shows Pattern of Defamation Suits in Assault Cases
A letter from Tampa Bay Buccaneers quarterback Jameis Winston's lawyer to CNN threatening to sue if the network broadcasted the documentary film The Hunting Ground is the latest action in a series of high-profile sexual assault cases where both the accusers and the accused are bringing defamation claims.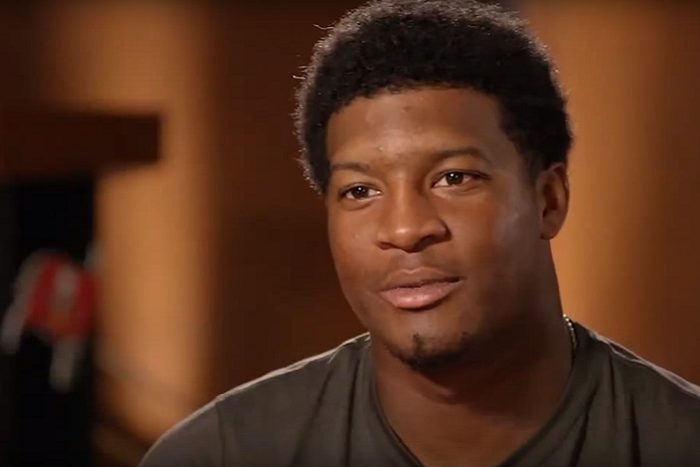 The lawyer for Tampa Bay Buccaneers quarterback Jameis Winston threatened on Friday to sue CNN if the network went ahead with its plans to air the documentary film The Hunting Ground last weekend. The film features the first public interview with Erica Kinsman, who says Winston raped her when they were both undergraduates at Florida State University and that the administration failed to adequately investigate the crime.
In spite of the legal threat, the film aired as planned on Sunday evening. But the letter from Winston's lawyer is the latest action in a series of high-profile sexual assault cases where both the accusers and the accused are making defamation claims.
To win a defamation suit, the plaintiff has to prove that the defendant said or wrote something false about him or her and in doing so, caused harm. They're notoriously hard to win, and even more so for public figures, according to Ruthann Robson, a law professor at the City University of New York who focuses on First Amendment rights as they relate to sexuality and gender. A public figure like Winston must prove not only that a defendant said something false, but also that the defendant either knew the statement was false or said it with reckless disregard of whether it was false or not.
But, she says, winning is not the only reason that public figures file defamation suits.
Roe has collapsed and Texas is in chaos.
Stay up to date with The Fallout, a newsletter from our expert journalists.
"People can bring a suit not necessarily because they think they can win, but because it is a form of retaliation against a person. You feel aggrieved, and so you then sue," Robson said in an interview with Rewire. "You can also do it to get press. It says, 'Yes I'm serious. I'm not just calling this person a liar, I'm actually suing.'"
The Hunting Ground, the film that provoked Winston's ire, examines the epidemic of sexual assault on college campuses, putting stories to the statistic that one in five women are sexually assaulted while in college. Directed by Kirby Dick and produced by Amy Ziering, it debuted in January at the Sundance Film Festival to positive reviews, and is being discussed as a possible Oscar contender. (Full disclosure: I attended the Sundance screening with Ziering's family.) On Monday, the Producers Guild of America announced that the documentary was one of five nominated for an outstanding producer award.
Ahead of the television debut, Winston and his lawyers sought to stop the film from airing.
"We are writing to formally caution CNN that the portions of the film 'The Hunting Ground' pertaining to Mr. Winston are false and defamatory to Mr. Winston," reads a letter sent from Winston's attorneys to CNN's president Jeff Zucker, originally posted by the Hollywood Reporter.
"CNN may have persuaded itself that Mr. Winston's status as a public figure insulates your company from a libel judgment," the letter continues. "If CNN decides to proceed with this broadcast, we will perhaps have the opportunity to test that legal proposition in a court of law."
This is not the first time that Winston has turned to a claim of defamation in an attempt to protect his reputation.
In May, he filed a countersuit against his accuser, Erica Kinsman, for defamation and "tortious interference with prospective business advantage"—in other words, he claimed that her allegation hurt his potential future earnings. (His suit contains the claim that "in or about March 2015, Ms. Kinsman appeared in a documentary entitled 'The Hunting Ground.' In that documentary, Ms. Kinsman repeated her malicious, defamatory, and false statements that Mr. Winston raped her.")
Kinsman is suing Winston for sexual battery, assault, false imprisonment, and intent to inflict emotional distress arising out of forcible rape. A judge dismissed one of Winston's claims against Kinsman in September, but upheld the defamation claim.
A similar defamation case arose in 2013 at Xavier University, where a basketball player named Dezmine Wells was expelled for a "serious violation" of the code of student conduct after a fellow student accused Wells of raping her. Wells sued the university for libel and injury to his personal and professional reputation. The case was settled in 2014 under undisclosed terms, according to the Cincinnati Enquirer. 
Robson says defamation suits can have a chilling effect on sexual assault reporting, which is already remarkably low. If an alleged perpetrator files a defamation suit, the alleged victim must go through a civil trial as a defendant—a long and potentially traumatic experience. The chance of a rape allegation being false is also small: Researchers put the number of false rape allegations between 2 and 8 percent, no higher than that of most other crimes.
Rodney Smolla, a professor at Delaware Law School and an expert on defamation and media law, says it isn't uncommon for people who have been accused of a sexual crime to file a defamation suit against their accuser.
"For hundreds of years, people have brought libel claims for allegations that they engaged in some kind of sexual misconduct. Libel suits have often been the vehicles by which the accused try to clear their name," Smolla said in an interview with Rewire.
But it's not only the alleged perpetrators of rape who are trying to clear their names in court, something Smolla calls a "new twist."
Earlier this month, four women joined an existing federal defamation suit against Bill Cosby. Cosby now faces four defamation suits in three states, brought by women who say they were sexually assaulted by Cosby and then branded by him and his lawyers as liars, according to the New York Times. Many of the women say Cosby assaulted them decades ago, in the 1960s and '70s, so the deadline to file criminal charges has passed. A defamation suit represents a kind of last legal resort for these women.
"In these recent cases, we see a very new and innovative switch, in which the alleged perpetrator says they didn't do it; and then the alleged victims say, 'Your denial basically implies that we're lying and making this up, so we're now going to sue you for this denial,'" Smolla said.
As for Winston's claims against The Hunting Ground, both the network and the filmmakers released statements backing the film and its subjects.
"CNN is proud to provide a platform for a film that has undeniably played a significant role in advancing the national conversation about sexual assault on college campuses," the network said in a statement to the New York Times. 
Winston's lawyer did not respond to a request for comment by publication deadline.
"We fully stand behind Erica Kinsman's account, and the accounts of all the subjects in our film," Ziering and Dick wrote in a statement to the Hollywood Reporter. "When documentaries bring to light uncomfortable truths about powerful people and institutions, it's not unusual for them to wage aggressive campaigns to silence their critics. That's what we're seeing now."