South Carolina Mom Shows Homophobic Sex Education Isn't a Thing of the Past
A mom in South Carolina was shocked to learn that what young people in her state hear about homosexuality in schools is biased, intolerant, and downright homophobic. But her state is not alone: At least eight states have laws that require teachers to present biased information about same-sex relationships.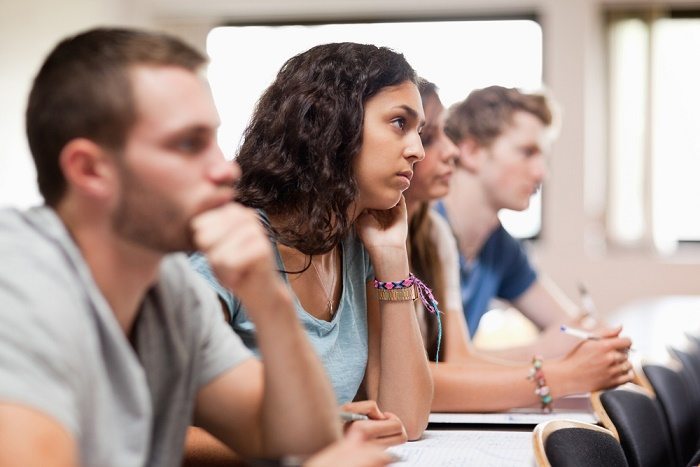 This summer, the country made great strides in the fight for LGBTQ rights as the U.S. Supreme Court declared state same-sex marriage bans unconstitutional. Yet as the school year started, one mother in South Carolina was shocked to learn that what young people in her state hear about homosexuality in public schools is biased, intolerant, and downright prejudiced. She is now working with advocates to overturn the decades-old law that requires teachers to present this skewed information. But South Carolina is not alone: At least eight states have similar laws.
While we celebrate all the progress we've made in securing marriage equality for same-sex couples, we can't let ourselves believe that the struggle for LGBTQ rights is over or that homophobia is a thing of the past, including in our school systems. Parents and advocates need to take a close look at what children in their states will be learning this year and work both to remove these outdated and unfair laws, and to help their children learn accurate and unbiased information in the meantime. 
Such was the case with Marie-Louise Ramsdale, whose daughter attends Wando High School in Mount Pleasant, South Carolina. According to the Post and Courier, like other high school students scheduled to receive sexuality education, she brought home a letter at the start of the academic year from a health teacher designed to inform parents of what was going to be taught and let them know that they could "opt out" of the class if they objected to its content. The letter explained:
The program of instruction for this unit may not include discussion of alternate sexual lifestyles from heterosexual relationships including, but not limited to, homosexual relationships except in the context of instruction concerning sexually transmitted infections.

Sex. Abortion. Parenthood. Power.

The latest news, delivered straight to your inbox.
Ramsdale, who is an attorney, told the Post and Courier: "I'm very concerned about the message it sends to children in the schools who may be gay, not by choice, but by birth. I'm concerned that it promotes homophobia, and I'm equally as concerned that they're teaching a curriculum that violates the U.S. Constitution," in the sense that the state is attempting to restrict individuals' First Amendment rights.
The letter actually quotes the state law regarding sexuality education. South Carolina requires that between ninth and 12th grade, students receive at least 750 minutes of "reproductive health education" and pregnancy prevention education. The law defines this as instruction in human physiology, conception, prenatal care and development, childbirth, and postnatal care. According to the law, however, such education does not include "instruction concerning sexual practices outside marriage or practices unrelated to reproduction, except within the context of the risk of disease. Abstinence and the risks associated with sexual activity outside of marriage must be strongly emphasized."
When the law was written in 1988, only heterosexual couples could get married—so all abstinence-until-marriage messages would have, by nature, excluded gay or lesbian students and suggested by extension that all same-sex behavior was wrong because those couples could never get married. But the message in South Carolina is worse than just exclusion. By leaving same-sex couples out of discussions of healthy sexual relationships but including them in the discussion on sexually transmitted infections (STIs), young people are essentially being told that gay people are nothing more than disease vectors: a false and dangerous stereotype that arose during the height of the HIV epidemic. This biased message could have a devastating impact on students who are gay, lesbian, bisexual, or questioning their orientation, as well as students who are being raised by parents in a same-sex relationship.
Ramsdale has taken her concerns to the State Board of Education. In addition, she has also contacted Colleen Condon, a Mount Pleasant city council member who successfully challenged South Carolina's same-sex marriage ban as a plaintiff in 2014. Condon agreed the law is troubling, asking the Post and Courier: "Are we trying to encourage young gay teens to believe there is something aberrant about their decisions?"
The two have since been working with the South Carolina Equality Litigation Post-DOMA Task Force, which was formed after the Supreme Court struck down the Defense of Marriage Act. The task force is now launching an investigation into what districts across the state are teaching in the hopes of overturning South Carolina's law.
Unfortunately, students in South Carolina are not the only ones who will hear such information in school. In Arizona, schools are not required to teach about sexuality at all. If they choose to address it, however, the instruction must be medically accurate but cannot promote a "homosexual lifestyle," portray "homosexuality as a positive alternative lifestyle," or "suggest that some methods of sex are safe methods of homosexual sex."
Of course, this is impossible: A medically accurate course would actually explain that when it comes to HIV transmission, certain behaviors carry more risks than others. Unprotected anal sex, for example, is very risky for the receptive partner; performing oral sex on a woman, by contrast, is less risky. The genders involved do not make a difference.
Alabama's law is even more inflammatory. It requires sexuality education to "emphasize, in a factual manner and from a public health perspective, that homosexuality is not a lifestyle acceptable to the general public and that homosexual conduct is a criminal offense under the laws of the state."
This statement is horrifyingly wrong from a number of angles. First, public health experts do not tend to use "acceptable" as a test as to whether something is likely to keep a population safe. Second, there is no difference from a public health perspective between same-sex and opposite-sex couples, as long as everyone takes precautions to prevent STIs and unintended pregnancy. Moreover, though it once might have been unfortunately true that homosexuality was not "accepted" by the general public—and, as these laws demonstrate, pockets of discrimination linger throughout the country—this is thankfully no longer the case. A Gallup poll conducted in May 2015 found that 60 percent of adults thought marriages between individuals of the same sex should be valid and have the same rights as those between opposite-sex couples. And, finally, laws criminalizing homosexual behavior were declared unconstitutional over a decade ago in the 2003 Supreme Court case Lawrence v. Texas.
Policies like these, which propagate fears and damaging stereotypes, are a vital reminder that the struggle for LGBTQ rights and equality did not end with this summer's Supreme Court decision. Young people—whether they are gay or not—should not be told that homosexuality is unacceptable, dangerous, and illegal. And the effect of these laws extend beyond sex-ed curricula: In fact, the Gay, Lesbian, and Straight Education Network's 2009 National School Climate Survey found that LGBTQ students in states with stigmatizing laws were more likely to hear homophobic remarks from school staff, less likely to report incidents of harassment and assault to school staff, and less likely to report having support from educators.
These classes also represent a tremendous missed opportunity. Ideally, sex-ed classrooms should be a place in which students can learn what sexual orientation is, how individuals come to understand their own sexual orientation, and what we can all do to respect each other's choices and identities. This kind of critical thinking about sexual orientation is necessary, not just to help those students who are LGBTQ or questioning their sexuality, but to help us all move toward a future free of homophobia and discrimination.  
To combat this continuing campaign of misinformation, parents should find out what is being taught in their child's school and, like Ramsdale, should fight if the curriculum is biased. States and localities have made strides when challenged—the Anoka-Hennepin school district in Minnesota, for example, changed its Sexual Orientation Curriculum Policy after being sued by several students who claimed it fostered an unsafe environment.
In the meantime, while educators' hands are still tied in certain states and they are forced to provide misinformation, parents should remain invested in the lessons their children are learning. If those lessons are propagating homophobia, it's up to parents to correct that inaccuracy at home.