Co-Founder Behind Planned Parenthood Video Has Close Ties to Abortion Clinic Violence
The face behind the heavily edited, misleading video purporting to show that Planned Parenthood illegally sells human tissue is fresh and young; it belongs to 26-year-old David Daleiden.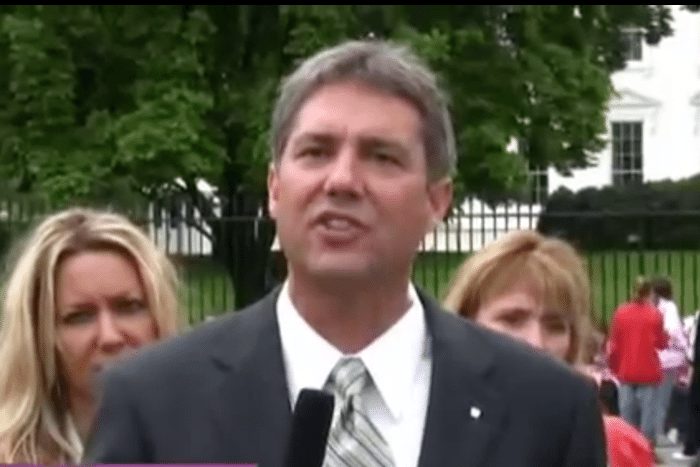 See more of our coverage on the misleading Center for Medical Progress video here.
The face behind the heavily edited, misleading video purporting to show that Planned Parenthood illegally sells human tissue is fresh and young; it belongs to 26-year-old David Daleiden.
But the muscle behind Daleiden consists of longtime anti-choice operatives who have worked for decades to criminalize abortion and take down abortion providers. Among these operatives is Troy Newman, who is an original founder of Daleiden's Center for Medical Progress (CMP).
Newman is listed on the center's initial nonprofit registration form as a secretary, as the Nation first reported.
Roe is gone. The chaos is just beginning.
Follow Rewire News Group on Twitter to stay on top of every breaking moment.
Newman runs Operation Rescue, an anti-choice activist group, which relocated to Wichita, Kansas, in 2002 to continue what ended up being a decades-long intimidation campaign to take down the practice of late-term abortion provider Dr. George Tiller, whom Operation Rescue frequently referred to as "Tiller the Killer."
When anti-choice activist Scott Roeder murdered Tiller at his church in 2009, Newman condemned the killing, but his group has continued to be associated with activists who promote violence against abortion providers and clinics.
Though Roeder was not directly affiliated with Operation Rescue, he was associated with the organization: He wrote comments on the group's website invoking violent thoughts against abortion providers, and authorities found a Post-It note with an Operation Rescue leader's number in his car the day he killed Tiller.
Ms. Magazine reported in 2010 that Roeder said Newman had told him during a lunch meeting that it would not upset him if an abortion provider were to be murdered, but Newman denied ever meeting Roeder. And though Operation Rescue's official position at the time was to denounce Tiller's murder, the group's founder and former president, Randall Terry, told reporters that Tiller's death was vengeance for the abortions he performed—comments that Operation Rescue and other anti-choice groups disavowed.
Despite its condemnation of violence against providers, Operation Rescue still employs Cheryl Sullenger as its senior policy advisor, though she was convicted of attempting to bomb a San Diego abortion clinic in 1988.
It was Sullenger's number that Roeder allegedly had on that Post-It note the day he gunned down Tiller.
Threats to murder a new abortion provider resurfaced in Wichita two years ago, when Dr. Mila Means attempted to start a practice in a new abortion facility opened by Tiller's former colleague Julie Burkhart. Extremist Angel Dillard, who has volunteered for Kansans for Life, sent a death threat and was charged under the Freedom of Access to Clinic Entrances (FACE) Act.
In an in-depth story for Religious Dispatches in 2013, Kathryn Joyce reported that Newman had a cavalier attitude toward accusations that his group helps to incite violence against abortion providers. Though there is no evidence that Newman or his group associated with Dillard, Operation Rescue was heavily engaged in campaigning to prevent Means from practicing in Wichita.
Joyce described Operation Rescue's Wichita offices as being located on the same stretch of blocks as many anti-choice groups in the area, including Kansans for Life.
Neither Newman nor CMP responded to multiple requests for comment. In a press release published on Tuesday, the day CMP published its video, Operation Rescue said that Newman advised Daleiden and provided "consultation services and material support" during the center's three years working on this project to attack Planned Parenthood.
Newman told the Boston Herald that CMP has "thousands upon thousands of hours of video and notes" related to Planned Parenthood and that group plans to publish its next video next week.
The eight-minute video Daleiden's group published this week was edited to make it look as though Planned Parenthood's senior director of medical services was describing a practice of selling fetal body parts.
The full video and the accompanying transcript the group published later shows that the director was in fact talking about reimbursement fees Planned Parenthood charges to help patients donate fetal tissue, which is a legal practice. This reality has not stopped several congressional leaders and governors from launching investigations against Planned Parenthood.
Both Daleiden and Newman have claimed they have evidence showing that Planned Parenthood officials have engaged in the illegal activity of trafficking fetal body parts for profit, though they have yet to present the evidence.
Newman told the Boston Herald that that the center has activists embedded at Planned Parenthood who are feeding the group information.