Ohio Attorney General to Investigate Planned Parenthood After Doctored Anti-Choice Video
Following the release of a heavily edited video, Ohio Attorney General Mike DeWine on Thursday announced that his office is investigating whether the state's three Planned Parenthood centers broke the law.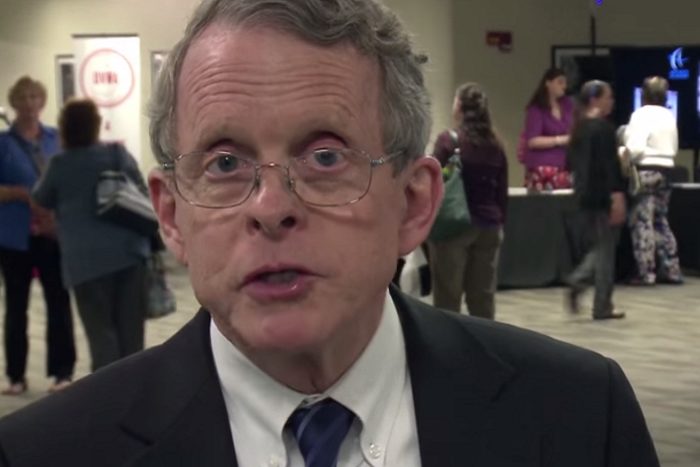 See more of our coverage on the misleading Center for Medical Progress video here.
Ohio Attorney General Mike DeWine on Thursday announced that his office is investigating whether the state's three Planned Parenthood centers broke the law by "profiting from the sale of aborted babies."
The attorney general's investigation follows the release this week of a misleading video showing Planned Parenthood's senior director of medical services Dr. Deborah Nucatola discussing the donation of fetal tissue resulting from abortions. The anti-choice organization that released the video, the Center for Medical Progress, claims that it shows a widespread system of illegally trafficking and profiting from the sale of the "unborn." DeWine, who has a staunch anti-choice record, is the latest Republican to use the video as a launching pad for political attacks against Planned Parenthood.
The video, heavily edited from more than two hours down to just eight minutes, shows Nucatola explaining how her organization handles tissue donation from aborted fetuses. Nucatola at the time thought she was speaking to buyers from a biological company, and was unaware that she was being filmed.
Roe is gone. The chaos is just beginning.
Follow Rewire News Group on Twitter to stay on top of every breaking moment.
Fetal tissue donation is a legal and longstanding practice in the United States, so long as it's not for a profit.
"There is no financial benefit for tissue donation for either the patient or for Planned Parenthood," Eric Ferrero, vice president of communications for Planned Parenthood, said in a statement. "In some instances, actual costs, such as the cost to transport tissue to leading research centers, are reimbursed, which is standard across the medical field."
"Patients sometimes want to donate tissue to scientific research that can help lead to medical breakthroughs, such as treatments and cures for serious diseases," he added. "Women at Planned Parenthood who have abortions are no different."
Planned Parenthood Federation of America President Cecile Richards also refuted the video's claims in a filmed statement of her own, released Thursday.
Conservative politicians, particularly those running for president in 2016, have used the video as a political attack on an organization they have long targeted with legislation and executive orders.
Louisiana Governor Bobby Jindal (R) on Wednesday ordered an investigation into Planned Parenthood in his state after calling the video "shocking and gruesome." And Texas Governor Rick Perry (R), who was late last year indicted on two felony counts of abuse of power, called the video "a disturbing reminder" of "the organization's penchant for profiting off the tragedy of destroyed human life."
Ohio Governor John Kasich, who is also seeking the 2016 Republican nomination, joined the anti-choice chorus on Wednesday, calling the video "abhorrent" and demanding that Planned Parenthood be "prosecuted to the fullest extent possible."
Attorney General Mike DeWine, who is fighting to close other abortion clinics in the state, may have taken steps toward answering that call today.