Court Upholds Texas' 'Devastating' Anti-Choice Omnibus Law
Two years after Texas lawmakers passed omnibus anti-abortion law HB 2, the Fifth Circuit Court of Appeals has ruled that the most restrictive provisions of HB 2 can go into effect.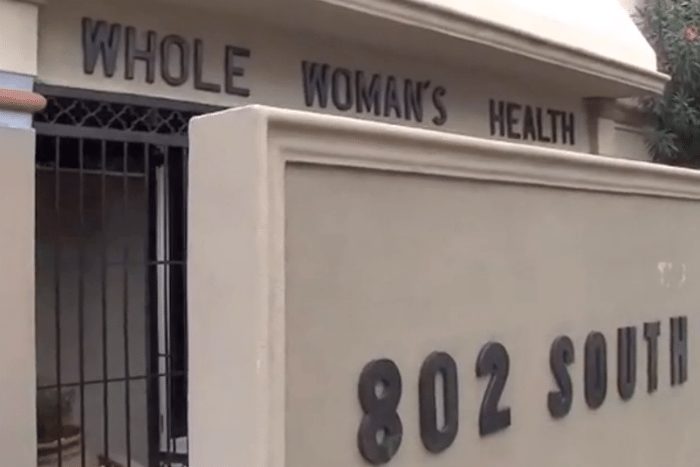 Read more of our articles on Texas' omnibus anti-abortion law here.
Two years after Texas lawmakers passed the omnibus anti-abortion law HB 2, which brought thousands of orange-clad protesters to the state capitol in support of reproductive rights, the Fifth Circuit Court of Appeals has ruled that the most restrictive provisions of HB 2 can go into effect.
The ruling on the draconian anti-choice law leaves eight legal abortion providers open in the state.
The deeply conservative New Orleans court issued its opinion around noon Tuesday, upholding a part of the challenged state law that requires abortion providers to operate as hospital-like ambulatory surgical centers (ASCs).
Roe has collapsed in Texas, and that's just the beginning.
Stay up to date with The Fallout, a newsletter from our expert journalists.
The court will provisionally allow one clinic, the Whole Woman's Health facility in Texas' Rio Grande Valley, to remain open without operating as an ASC until an abortion-providing ASC opens in the area.
"The Fifth Circuit has once again put their political ideology above the law and failed to recognize that HB 2 is an undue burden on Texans' access to safe, legal and timely abortion," NARAL Pro-Choice Texas executive director Heather Busby said in a statement issued after the court's decision.
The only remaining legal abortion providers in Texas are located in Houston, Austin, San Antonio, and the Dallas-Fort Worth area, with no legal abortion providers able to provide care in the half of the state that lies west of Interstate 35.
Texas has a population of 27 million and has the highest percentage of uninsured adults in the country.
Texas abortion providers have 22 days before the Fifth Circuit's decision goes into effect. They will seek a stay from the court on its own ruling, and proceed to the Supreme Court if necessary.
"With this ruling today, the justice system and our elected politicians put a road full of unnecessary hurdles in front of every woman in Texas who has decided to end her pregnancy," said Amy Hagstrom Miller, the founder and CEO of Whole Woman's Health, a group of comprehensive reproductive health-care providers with locations in Texas—including the clinic in the Rio Grande Valley—as well as New Mexico, Maryland, and Minnesota.
She described the "repercussions" of the court's ruling as "devastating," and said that "ending a pregnancy could mean traveling hundreds of miles and overcoming needless hurdles such as additional costs, childcare, time off, and immigration checkpoints."
Texas Governor Greg Abbott, whose office defended HB 2 in court as the state's attorney general, praised the Fifth Circuit's ruling.
"I am pleased with the Fifth Circuit's decision to uphold HB 2 and the State of Texas will continue to fight for higher-quality healthcare standards for women while protecting our most vulnerable—the unborn," Abbott said in a statement.