Abortion Providers Are Not Sex Offenders—No Matter What the Alabama Legislature Implies
Alabama legislators have pushed forward a bill that will make reproductive care harder to access while perpetuating erroneous and harmful stereotypes about providers.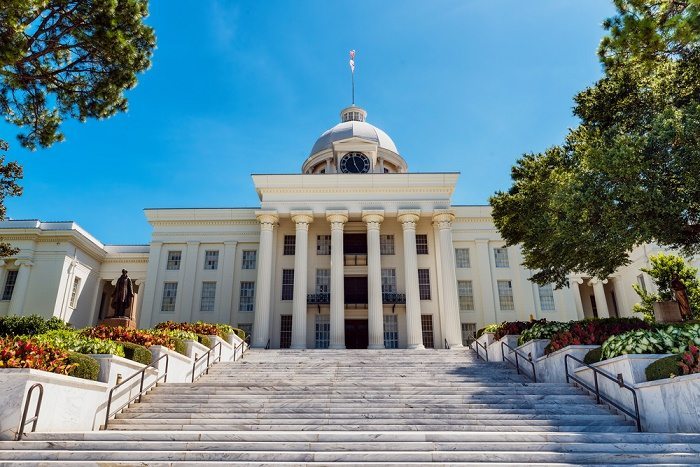 Alabama politics have become a laughingstock across the nation, often for good reason. But let me be clear: The realities of reproductive rights in Alabama—and the extreme anti-choice bills that enable the climate of injustice there—are no laughing matter.
Earlier this month, forced-birth activists in the Alabama legislature pushed three bills from committee to the house floor. HB 405, the "fetal heartbeat bill," will mandate transvaginal ultrasounds for any woman seeking an abortion. Rep. Terri Collins (R-Decatur) thinks it is important for women to hear a heartbeat before making a decision about abortion, apparently and egregiously assuming that women choose to have an abortion lightly. HB 491, meanwhile, is a "Health Care Worker Conscience Bill" that would allow any health provider, from doctor to pharmacist, to opt out of providing birth control, abortion, or any reproductive freedom to women if the worker personally objects, even if it means that someone will not be performing the functions of their job. Written by Alabama attorney Eric Johnston, who also helped craft the state's anti-same sex marriage laws, this bill is quite literally grounded in a work of fiction. Johnston said it himself: "Abortion, embryonic stem cell research, human cloning, and sterilization. Those are all 'Frankenstinian' kinds of things. Like Dr. Frankenstein, he didn't mind doing what he did, but there are those of us who do mind doing certain things."
The anti-choice legislation is capped off, though, with HB 527, a bill stating that clinics providing abortion services cannot operate within 2,000 feet of a K-through-12 school. The state's Christian Coalition, a lobbying group, drafted the legislation. According to member and former leader James Henderson, "We were advised by counsel that a good approach was to use the same standard of keeping sex offenders from public schools, which is 2,000 feet. … That is what the bill is based on."
That's right: Henderson likened abortion providers to sex offenders. In doing so, he pushed forward a bill that will make reproductive care harder to access in the state while perpetuating erroneous and harmful stereotypes about providers.
Roe has collapsed in Texas, and that's just the beginning.
Stay up to date with The Fallout, a newsletter from our expert journalists.
Rep. Ed Henry (R-Hartselle), who sponsored the bill, stated that he didn't realize that the legislation would fundamentally mean that the only abortion clinic in Huntsville would be closed. But that was obviously the bill's goal: The Alabama Women's Center, which includes abortion care among the many services it offers to women and men who seek reproductive freedom, is the only clinic in the state that will be affected by such a rule, and anti-choice agitators will stop at nothing to close it.
You may or may not recall that the Huntsville clinic voluntarily closed down in late June 2014 in order to comply with the state "Women's Health and Safety Act" that went in effect on July 1 of last year. Clinic administrator Dalton Johnson surrendered the license of the clinic rather than fall into a state of noncomplicance with targeted regulations of abortion providers (TRAP) that require Alabama clinics to meet the same building standards as ambulatory surgical centers. Johnson reopened the clinic on Sparkman Drive in Huntsville, the site of a former chiropractic clinic that, in fact, meets the building standards outlined in the Women's Health and Safety Act. This clinic, now operating, is located across the street from Ed White Middle School, which officially closed in 2014 but will return next year as a magnet school.
Yes, the school in question is not even a school anymore. Yet that has not stopped Henderson, the Alabama Christian Coalition, and many lawmakers from using it as leverage to try to close the Huntsville clinic through outrageous, misleading legislation that showcases the climate of restricted access in the state.
Victims of rape and other forms of sexual violence already face so many obstacles, here and around the country, when it comes to seeking legal justice for crimes perpetrated against their bodies. But even if it is never prosecuted, a crime has still occurred when a person is raped. Abortion, however, is perfectly legal, even if it is restricted by mandatory waiting periods, parental consent laws, and time limits on when it can be performed. But forced-birth advocates are conflating sex offenders, who are criminals, and abortion providers, who are not, because they know they can get away with it: After all, the bill has already moved from committee to the house floor. It is very likely that it will become law, too, because Alabama politicians have a very long history of standing behind horrendous anti-abortion legislation that puts women's lives at risk.
Many of these politicians, as well as those in the Alabama Supreme Court, work very closely with the state Christian Coalition and other anti-woman, anti-choice organizations. Operation Save America, for example, will hold its national convention in Montgomery beginning July 11. This group proudly supports Alabama Chief Justice Roy Moore, whom they identify as a "poet, warrior, statesman," and will descend upon the state capitol because "Alabama has five remaining death camps (abortion mill) [sic] defiling your state. OSA believes that abortion will come to an end in America when the Church of Jesus Christ makes up her mind it will come to an end― and not one second sooner. We are asking you to join with us in helping to make your state abortion free." Moore is opening the week-long rally, presenting a speech entitled "One Nation Under God."
According to Alabama Reproductive Rights Advocate (ARRA) director Anathalee Sandlin, "When the anti-abortion fanatics descend on Montgomery in July, Roy Moore will be there to greet them, proving once again he is more concerned with promoting his own agenda than representing the people of Alabama. He continues to be a disgrace to the state Supreme Court and those who have cases before it."
This is just a single example of how the unconstitutional and highly visible marriage of church and state in Alabama makes it impossible to work with legislators. To be honest, we reproductive rights activists have largely given up on state legislation and courts, working instead through the federal courts. There we have found success, such as the overturning of some TRAP regulations in Planned Parenthood v. Luther Strange. But while this strategy is sometimes effective, it denies and leaves vulnerable women who need access to abortion clinics in the meantime.
"These bills are an affront to women and limit their access to a constitutionally protected medical procedure," Susan Watson, the executive director of the ACLU of Alabama, said in a statement last week. "Politicians need to stop meddling in medical affairs and putting a woman in harm's way. Regardless of how we feel about abortion, we can all agree that a woman needs and deserves the highest quality medical care possible. And we can also all agree that Alabama's pocketbook can't afford any more unnecessary litigation."
Beyond the bill's harmful effects on women who need care and the state's finances, it is also dangerous to equate abortion providers to sexual predators, a conflation that could arguably incite violence against the doctors. It is also indicative of the attitude toward abortion providers in the state. Judge Myron Thompson, in his decision on Planned Parenthood v. Luther Strange, noted as much: "Although the vast majority of those who oppose abortion do so in non-violent ways, this court cannot overlook the backdrop to this case: a history of severe violence against abortion providers in Alabama and surrounding regions. Abortion providers in this case were so frightened that they testified in open court only behind a black curtain." And as so many of us clinic escorts, defenders, and advocates know, anti-choicers will enact violence, even murder, in the name of "life."
Even when they do not go that far, they will clearly engage in linguistic acrobatics to stop abortion providers. If successful, this legislation will give forced-birth activists another way to target clinics when TRAP laws and other shenanigans will not suffice.
Abortion providers do not harm children. Indeed, by participating in a comprehensive approach to women's—and men's—sexual health, they are actually helping children, modeling what a truly comprehensive spectrum of sexual health may look like. They are not predators who menace and traumatize young women and men, preying on their insecurities and insisting on their silence. They are operating within the confines of the law. Their work is completely legitimate, even under continued legal attack.
It remains necessary, now more than ever.