Fifth Circuit Panel Peppers Attorneys With Tough Questions on Texas Abortion Law
At stake is the question of whether Texas' remaining legal abortion clinics—16 currently operate in the state, down from 41 a little more than 18 months ago—will be allowed to stay open without making costly renovations or leasing new facilities to comply with hospital-like standards imposed by state lawmakers in 2013.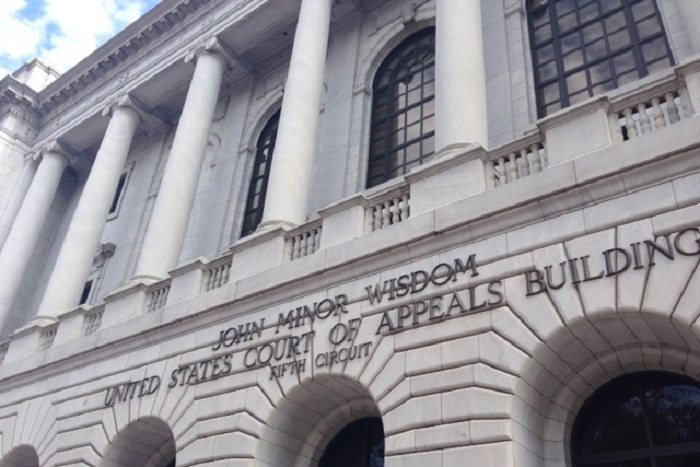 Judges on the Fifth Circuit Court of Appeals in New Orleans asked tough questions about Texas' omnibus anti-abortion law, HB 2, in front of a packed New Orleans courtroom Wednesday morning. At stake is the question of whether Texas' remaining legal abortion clinics—16 currently operate in the state, down from 41 a little more than 18 months ago—will be allowed to stay open without making costly renovations or leasing new facilities to comply with hospital-like standards imposed by state lawmakers in 2013.
From the first minutes of the hour-long oral arguments, it was clear that Judges Catharina Haynes and Jennifer Elrod, both George W. Bush appointees who have previously ruled in favor of earlier challenges to HB 2, had no intention of throwing softball questions either to the State of Texas, which is defending HB 2's increased abortion restrictions as medically reasonable and constitutional, or to the Center for Reproductive Rights, which is representing the plaintiffs, a group of independent Texas abortion providers who say HB 2 imposes an undue burden on Texans who seek legal abortion care.
The third panel judge, Edward Prado, another George W. Bush appointee, presided over the hearings and added some levity to a tense courtroom, asking whether everyone gathered might not rather hear two unrelated cases first instead of tackling the controversial HB 2 arguments.
Before the court are two issues, separate from challenges made to HB 2 in late 2013, though by now most of the law's multi-part language has been challenged in court. HB 2, as it is written, bans abortion after 20 weeks, severely restricts the prescription of medication abortion pills, requires abortion-providing doctors to have hospital admitting privileges within 30 miles of where they perform procedures, and mandates that abortion clinics adopt the standards, both operational and physical, of ambulatory surgical centers.
Roe has collapsed and Texas is in chaos.
Stay up to date with The Fallout, a newsletter from our expert journalists.
The stakes are high for Texans who need legal abortion care, but Elrod downplayed the role of the Fifth Circuit despite the packed courtroom and media presence inside and outside the courthouse.
"We're just a lower inferior court, we're not here to make abortion policy for America," Elrod said.
Nevertheless, her panel's ruling could direct the course of abortion-related law as multiple states across the country impose ever more onerous restrictions on abortion providers and, many believe, the Supreme Court prepares to take up cases that have been winding their way through circuit appeals courts over the past couple of years.
This latest challenge asks the federal courts to strike down the ambulatory surgical center requirement across the state, and to strike the admitting privileges requirement specifically for El Paso and McAllen in West and South Texas, where abortion access is particularly limited.
The Fifth Circuit, as an appeals court, is not tasked with fact-finding but rather with evaluating the lower court record. In this case, the lower Western District Court of Texas, in October, declared HB 2's ASC requirements unconstitutional and lifted the admitting privileges requirement for both El Paso and McAllen. The Supreme Court has put the Western District ruling in place, allowing non-ASC clinics to stay open until the Fifth Circuit rules on the oral arguments heard Wednesday.
In the cavernous wood-paneled courtroom, Haynes peppered counsel with questions about whether it might be unsafe for women to have "bleeding events" after their procedures while driving hundreds of miles to and from clinics across desolate areas of the state, and Elrod concentrated on weedy legal issues regarding precedent and other circuit court rulings.
Three issues appeared time and again during the arguments on Wednesday: first, whether the Fifth Circuit should apply a "rational basis" standard to evaluating the constitutionality of HB 2—that is, to evaluate whether the law's tenets are rationally related to the legislature's stated purpose of improving the health and safety of abortion patients.
Second, whether the state could defend HB 2 as medically necessary while also suggesting that El Pasoans who are unable to travel to the interior of the state should simply drive into nearby New Mexico, where abortion restrictions are much looser, belying the State of Texas' claims that the law was not meant to restrict access to abortion by closing clinics.
And third, whether established numerical parameters—like the number of miles a Texan might be required to drive to the nearest abortion facility, or the fraction of Texans affected by long travel distances—could or should be established as automatic proof of an undue burden.
Haynes opened with a line of questioning concerning the physical plant changes required by HB 2, which mandates that abortion providers operate as hospital-like ambulatory surgical centers, which could mean multi-million dollar renovations for small clinics.
"What is the underlying relationship between building requirements and sterility?" Haynes asked Texas Solicitor General Jonathan Mitchell, who said that Texas lawmakers had a right to require hospital-like environments because some medical experts believed that sterile operating rooms improved the standard of care for abortion patients.
Haynes replied that "you can kind of find an expert to say anything," and wondered if "marble floors in abortion clinics" could be legislated if the state could find just one expert to say they were necessary.
But Haynes also directed her pointed questions at the plaintiffs; she asked CRR staff attorney Stephanie Toti for evidence in the court record about abortion's overall safety and the capacity of existing ambulatory surgical providers to meet the demand for abortion care.
Haynes especially took issue with abortion providers' claims that hospital admitting privileges had been denied to a doctor in El Paso purely because she was an abortion provider, saying that was already considered discrimination under Texas law.
"That's a lawsuit against that hospital as far as I'm concerned," Haynes said. "Shouldn't she have pursued that since she has a remedy there rather than invalidate HB 2?"
Toti remained focused on the interconnectedness of the admitting privileges law and the El Paso doctor's denial of privileges, saying that HB 2 improperly put the ability to determine who can and cannot provide legal abortion care in the hands of potentially fickle, and unmonitored, hospital boards and staff.
Both supporters of reproductive rights and anti-choice groups told Rewire that they had positive takeaways from the hearing.
"I feel like the court did want to exercise deference to the legislative body of Texas to make these decisions," Allan Parker, president of the Justice Foundation, told Rewire. The Justice Foundation is a San Antonio-based anti-choice legal group that works to make abortion illegal and filed a friend-of-the-court brief in the Fifth Circuit supporting HB 2.
Amy Hagstrom Miller, the CEO of Whole Woman's Health, the lead plaintiff in this legal challenge and a multi-location abortion provider with clinics in Texas, Minnesota, and Maryland, told Rewire after the arguments that she was "very encouraged."
"They understood what a burden it is for women in McAllen and El Paso," said Hagstrom Miller, who said she appreciated the judges' questions that tackled Texas' claims that women can travel to New Mexico if they want abortion care.
Susan Hays, an appellate attorney and board member of Jane's Due Process, a nonprofit organization that helps minors obtain legal abortions in Texas, told Rewire that trying to suss out an appeals panel decision based on oral arguments alone was "like reading tea leaves," but acknowledged that the judges "asked the hard questions of both sides."
Heather Busby, executive director of NARAL Pro-Choice Texas, told Rewire after the hearing that "these are real people's lives being affected as [judges] discuss these abstract concepts."
The Fifth Circuit panel could take several weeks to issue a decision following Wednesday's hearing.