Gillibrand: Obama Could Act in New Push for Military Sexual Assault Bill
A bipartisan group of senators said Gillibrand's bill is the best way to protect military sexual assault victims—and that the president could convince Congress of this "overnight."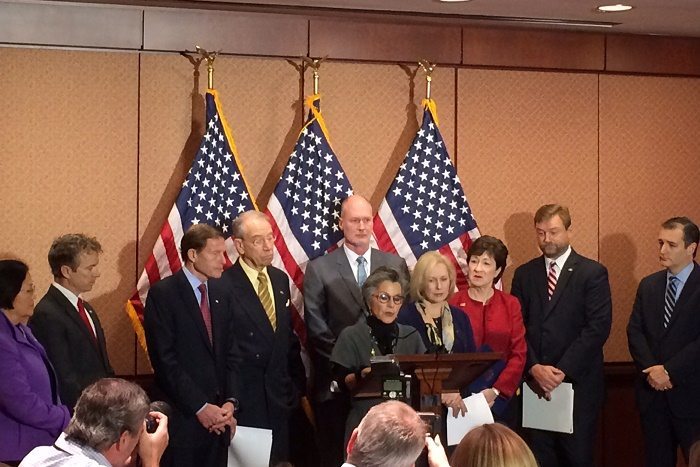 The military has failed to make significant changes to protect victims of sexual assault, a bipartisan group of senators said Tuesday, and the only solution is to let independent prosecutors handle these cases instead of military commanders.
The best way to make this change, the senators said, would be for Congress to pass Sen. Kirsten Gillibrand's (D-NY) Military Justice Improvement Act (MJIA), which fell five votes short of breaking a filibuster in March.
But Gillibrand told reporters during Tuesday's press conference that President Obama could also take action in creating an independent element to the military justice system.
"It is very possible the president could fix this himself," Gillibrand told reporters.
Roe has collapsed and Texas is in chaos.
Stay up to date with The Fallout, a newsletter from our expert journalists.
That doesn't necessarily mean the president should resort to an executive order like Obama's recent action on immigration, Gillibrand's office later clarified.
Theoretically, an executive order could change the court martial process, which would accomplish some of the MJIA's goals. The cleanest and most effective action Obama could take would be to publicly support the MJIA.
"The biggest opposition to this bill has been the military brass," a spokesperson for Gillibrand told reporters. But if the nation's commander-in-chief said the policy needed to change, he said, the military brass would change their position "overnight."
And once that happened, members of Congress who have resisted the bill would have little reason to continue doing so.
This has happened before, Gillibrand said. Military authorities used to uniformly, vehemently oppose revoking the right of commanders to overturn a sentence, a right that caused intense controversy when Lt. Gen. Craig Franklin overturned a sentence for a convicted rapist. But once the Secretary of Defense came out against that right, not one military leader spoke in favor of it again.
The year is almost up for President Obama's one-year review of the military's sexual assault response. Gillibrand said she has repeatedly urged Obama to take a public position on her bill, and that she hopes new information will sway him.
That new information includes still-dismal sexual assault reporting numbers that show no improved confidence in the system, she said, as well as shocking new revelations like a commander allegedly threatening to let no one graduate from a training program if one more sexual assault was reported.
Other supporters of the bill said it's clear that the military isn't taking the problem of sexual assault seriously.
"For decades, the promise has been: this will be fixed tomorrow," said Sen. Ted Cruz (R-TX). "What we're doing now isn't working."
"They really continue to brush this off," Sen. Barbara Boxer (D-CA) said.
Tea Party favorite Cruz and liberal stalwart Boxer are unusual allies in a bipartisan coalition that also includes Sens. Susan Collins (R-ME), Chuck Grassley (R-IA), Richard Blumenthal (D-CT), Mazie Hirono (D-HI), Rand Paul (R-KY), and Dean Heller (R-NV).
The case for the MJIA is also being bolstered by new public statements from newly-retired Col. Don Christensen, the Air Force's former chief prosecutor, who said he felt obligated to leave the military in order to fix a problem he saw no other way of solving.
"At first, I truly believed as the chief prosecutor of the Air Force I could help fix the broken military system from the inside," Christensen said at Tuesday's press conference. "This changed as I watched commanders persecute victims, while failing to prosecute predators."
Christensen said that his 23 years in the military justice system have convinced him that real reform has to start with letting independent prosecutors decide whether to bring charges for serious crimes.
Imagine a Walmart employee being raped by a popular supervisor, he said, but the police work for the store's corporate headquarters, and Walmart's CEO decide whether to prosecute the employee without consulting the local district attorney.
That's more or less how the current military system works, Christensen said. A rapist's boss, who might be friendly with the rapist and who has only a few hours of legal training, decides whether a survivor will get justice.
Christensen also ripped into arguments from military brass that the MJIA's reforms would "undermine good order and discipline." Those are the same arguments that were used to support "Don't Ask, Don't Tell," he said. And it's simply not true that commanders are assisted by trained prosecutors, as is claimed; instead, commanders are advised by a staff judge advocate who has limited prosecutorial experience and who is subordinate to the commander.
Gillibrand added that only 3 percent of commanders have the "convening authority" that's at issue in the proposed reforms—clearly, not having that authority doesn't have a negative impact on the ability of the other 97 percent of commanders to command their troops.
Supporters of the MJIA will first try to pass the bill before the end of this year as an amendment to the defense bill. Both Democratic and Republican leadership support the bill, Gillibrand said, although it's not clear whether amendments to the defense bill will be allowed.
If that doesn't work, the senators will try again for an up-or-down vote on the bill in the new Congress.
Gillibrand said she will meet starting today with colleagues who opposed the bill last year, but said they would be more inclined to support it if another year went by with no meaningful change.
"This isn't going away," Gillibrand said. "Military families have the hardest job in the world. Senators should do their job and vote on this bill."