Supreme Court: Texas Can Enforce Discriminatory Voter ID Requirements
In an order released early Saturday morning, a majority of the justices refused to reinstate a lower court ruling that blocked the law from being enforced in the November election.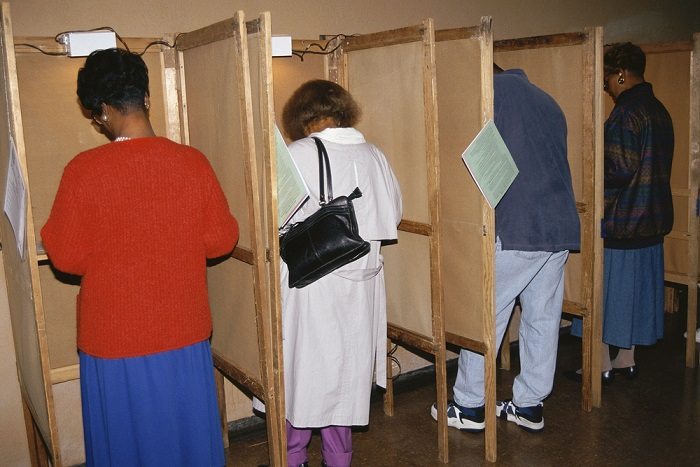 The U.S. Supreme Court ruled Saturday that Texas can enforce strict voter identification requirements in the upcoming November election, despite a lower court ruling that the law intentionally discriminates against minority voters.
The Roberts Court rejected the emergency appeal filed by civil rights organizations and the Department of Justice to reinstate a lower court ruling that struck down the Texas voter ID law as unconstitutional. Justice Ruth Bader Ginsburg, in her dissent, pointed to Texas' long history of racially motivated voter ID laws and said the Supreme Court's ruling could disenfranchise hundreds of thousands of Black and Latino voters.
Following a nine-day trial, U.S. District Judge Nelva Gonzalez Ramos called the 2011 law the equivalent of a poll tax that had been passed during a "racially charged" legislative session. Gonzalez Ramos concluded that the bills' sponsors were "motivated, at the very least in part, because of and not merely in spite of the voter ID law's detrimental effects on the African-American and Hispanic electorate" and that if enforced the law threatened to disenfranchise as many as 600,000 voters, many of them Black or Latino.
"Based on the testimony and numerous statistical analyses provided at trial, this Court finds that approximately 608,470 registered voters in Texas, representing approximately 4.5% of all registered voters, lack qualified SB 14 ID and of these, 534,512 voters do not qualify for a disability exemption," Gonzalez Ramos wrote.
Roe has collapsed and Texas is in chaos.
Stay up to date with The Fallout, a newsletter from our expert journalists.
Texas Attorney General Greg Abbott (R) appealed Gonzalez Ramos' decision to the conservative Fifth Circuit Court of Appeals, which put her decision on hold, citing a 2006 Supreme Court opinion that instructs judges not to change voting rules too close to Election Day.
Texas had enforced its voter ID requirements in elections since the Supreme Court's 2013 Shelby County v. Holder decision that largely gutted the Voting Rights Act.
Justice Department attorneys and representatives of civil rights organizations challenging the law filed an emergency appeal with Justice Antonin Scalia, who oversees requests from the Fifth Circuit.
Scalia in turn referred the matter to the entire Supreme Court for consideration.
The Supreme Court order, released early Saturday morning, included a scathing dissent authored by Justice Ginsburg and joined by Justices Sonia Sotomayor and Elena Kagan.
"The greatest threat to public confidence in elections in this case is the prospect of enforcing a purposefully discriminatory law, one that likely imposes an unconstitutional poll tax and risks denying the right to vote to hundreds of thousands of eligible voters," Ginsburg wrote.
"The potential magnitude of racially discriminatory voter disenfranchisement counseled hesitation before disturbing the District Court's findings and final judgment," Ginsburg continued. "Senate Bill 14 may prevent more than 600,000 registered Texas voters (about 4.5% of all registered voters) from voting in person for lack of compliant identification. A sharply disproportionate percentage of those voters are African-American or Hispanic."
Ginsburg closed by noting that "racial discrimination in elections in Texas is no mere historical artifact. To the contrary, Texas has been found in violation of the Voting Rights Act in every redistricting cycle from and after 1970."
The Texas voter ID case represents the first time the Court has allowed a law restricting voters' rights to be enforced after a federal court ruled it unconstitutional because it intentionally discriminates against minorities, according to SCOTUSblog. Saturday's order by the Roberts Court is not an ultimate ruling on the merits of the Texas voter ID law, which means the fight over Texas voter ID is likely to find its way back before the high court after the Fifth Circuit rules.
This is also the third time since the start of the Court's term in October that it has intervened in disputes over Republican-led restrictions on voting rights.
Previously, the Court blocked Wisconsin's voter ID law from being enforced in the November election. And the Court allowed limits on same-day registration, early voting, and provisional ballots in North Carolina and Ohio to take or remain in effect.
Early voting in Texas begins Monday.