Pennsylvania Activists Rally for Reproductive Rights and Justice
The All* Above All Be Bold Road Trip stopped in Philadelphia on September 9 at Love Park, a symbol of great pride to the City of Brotherly Love and Sisterly Affection. However, as low-income families and women in the city have experienced, the motto certainly isn't a reflection of the city's stewardship to communities in need.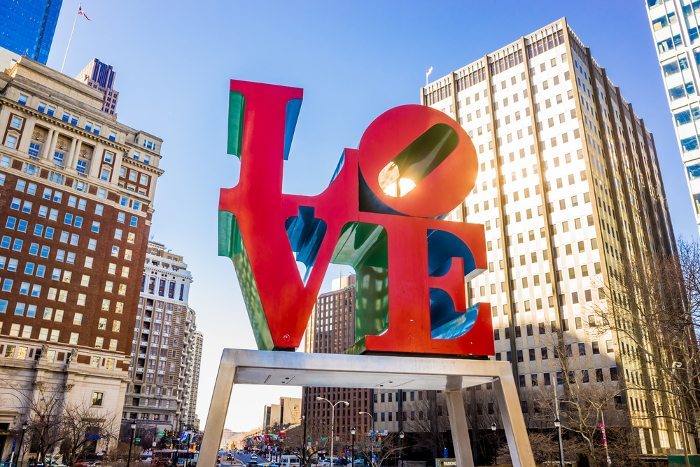 This piece is published in collaboration with Echoing Ida, a Forward Together project.
The All* Above All Be Bold Road Trip has blazed a trail across the country, celebrating the work reproductive health, rights, and justice movements are doing to protect abortion access while building momentum for the hard-fought wins ahead, such as eliminating Medicaid restrictions on abortion access under the Hyde Amendment.
The road trip started in Los Angeles on August 9 and has traveled 10,000 miles across 12 cities and eight states with a mission to elevate the effects that restrictions on abortion access and affordability have had on families across the country.
The tour stopped in Philadelphia on September 9 at Love Park; I was the Women's Medical Fund community organizer for the event. I know the location to be a symbol of great pride to the City of Brotherly Love and Sisterly Affection. However, as low-income families and women in the city have experienced, the motto certainly isn't a reflection of the city's stewardship to communities in need.
Roe has collapsed and Texas is in chaos.
Stay up to date with The Fallout, a newsletter from our expert journalists.
The state's history of restricting reproductive health care for low-income women (primarily women of color, immigrant, and rural women) includes coerced sterilization and severely limited access to abortion care based on bias and stigma from state policymakers who believe they are justified in making health decisions for Pennsylvania women and their families. For instance, last year Gov. Corbett signed a bill into law that restricts abortion insurance coverage in health-care policies sold on the state insurance exchange.
Restrictions on public funding for abortion care are nothing new for Pennsylvania. It is one of 32 states that restricts Medicaid coverage for abortion under the Hyde Amendment. (Medicaid-funded abortions are only an option in the state in cases of rape, incest, or life endangerment of the pregnant person.) This year marks the 38th anniversary of this policy and its repressive restrictions on poor women, young women, and people of color.
When women have limited access to abortion because their private or public insurance plan is banned from covering it, that places a substantial barrier between low-income women and access to health care, as well as their ability to care for their families.
The speakers at the Philadelphia rally offered various perspectives on this issue. They spoke about the past and current harms of the Hyde Amendment as well as other reproductive health-care restrictions in the state that are a major concern of the reproductive justice community.
Rev. Marvin Marsh shared his experiences as a faith leader and chaplain for Planned Parenthood of Southeastern Pennsylvania. "I'm old enough to remember [what it was like] before Roe v. Wade, and I remember … it didn't matter what the law of the land was, [people who had the money] could get an abortion by going overseas, going to an island, or simply going to an understanding doctor right here," he said. "I'm also old enough to remember what happened when women and families were desperate enough to seek [abortion] services in the back allies."
Rabbi Lori Koffman of the National Council of Jewish Women explained that her organization exists to do what Judaism demands of us: to pursue justice for everyone (or tzedakah in Hebrew). "Economic insecurity should not be a barrier between a family's livelihood and a woman's health-care access. Women struggling to make ends meet should not have inferior health care … that is not reproductive justice," she said.
Jessica Arons of the Reproductive Health Technologies Project shared a recent example of the punitive measures that Pennsylvania legislators take to control women and their families. "These are the same folks who are putting up barriers to abortion care everywhere we look. Just this past week, a single mom in Washingtonville, Pennsylvania, was sentenced to at least a year in prison—prison—for giving her 16-year old daughter pills to end an unwanted pregnancy," she told the crowd.
"Do you know why they [the mother from Washingtonville and her daughter] didn't go to a clinic?" Arons added. "One, there was no local clinic—the closest one was 75 miles away in Harrisburg. And two, her daughter didn't have insurance to cover the cost of an abortion at a hospital."
Abortion clinics weighed in on the unique challenges that geographic distance and disability causes for women seeking care at their clinics. Kim Chiz, a registered nurse at the Allentown Women's Center, shared some stories about these challenges. "We serve Northeast and Central Pennsylvania because there are no abortion clinics north of the Lehigh Valley," she said. "This means that folks from Williamsport and state college [Penn State] have to take a long drive and spend lots of money (for child care and transportation) to get to Bethlehem."
Access to abortion doesn't end with able-bodied people, however. "If a person is on Medicare and disabled, Medicare will not pay for their abortion," Chiz added. "Many times they are appalled that Medicare doesn't cover the services they need. … My zip code shouldn't determine my access to abortion."
Nina Ahmed, president of Philadelphia NOW, emphasized the need for accountability from legislators who say they stand with advocates and activists on this issue. "I put all these [Pennsylvania] legislators on notice: You are signing the death sentences of women and girls with every stroke of your pen that curtails access to safe abortions," she said.
Meanwhile, Council member Blondell Reynolds Brown reminded us that it takes a village: "Government cannot do it alone. Those days are over! It takes a collective will and mix of women and enlightened men to move what we believe is a no-brainer issue."
Rhiannon DiClemente from Law Students for Reproductive Justice at Temple University let everyone know that young people care about these issues and spoke in support of youth being involved on their campuses. She noted that only three in ten young people qualify for Medicaid, "and then [they're] subject to federal bans on abortion" on top of that.
Waheedah Shabazz-El of the Positive Women's Network of America shared the circumstances that women living with HIV face in accessing abortion care, especially because women account for one of five new infection cases in the United States. "I am … one of the 300,000 women we know of living with HIV in this country—which are mostly poor women and women of color," she said. "We are having babies who are born healthy and [HIV-]negative. … Yes, we are having sex and upholding our right to when or whether we choose to have children like any other woman. If we need to terminate a pregnancy we demand those same rights."
Advocates also spoke of the Pennsylvania Agenda for Women's Health, which supports, among other things, equal pay for equal work, support for pregnant women in the workplace, and accommodations for those in a domestic violence situation. Policies like those introduced under the agenda give us hope that the women's equality movement in Pennsylvania will make some headway. And the rally gave me hope that the fight against restrictive abortion insurance coverage policies like the federal Hyde Amendment will not stop until the policy has been retracted.
La'Tasha Mayes from New Voices-Philadelphia (Pittsburgh, Cleveland, Pennsylvania) said it best: "There is power in reproductive justice, there is transformation in reproductive justice, and most importantly for women of color and the marginalized communities we serve, there is hope and change and a future in reproductive justice."