Iowa's Gubernatorial Contest Draws Sharp Contrast on Abortion
Iowa's gubernatorial race pits a virulently anti-choice governor against a pro-choice opponent who has a record of supporting the expansion of health care to low-income Iowans.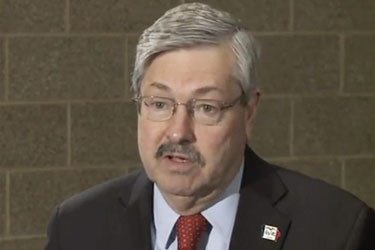 The Iowa gubernatorial campaign offers a sharp contrast in governing philosophies, records in government, and their stances on high-profile issues.
Gov. Terry Branstad (R) has a record of supporting policies that restrict reproductive rights, as well as opposing measures to extend health-care access to low-income Iowans, while his opponent, state Sen. Jack Hatch (D-Des Moines), has a record of opposing legislation to restrict reproductive rights and has been a forceful advocate for expanding health-care access in the state.
Branstad was elected governor in 2010 and is campaigning for reelection. This is not the first time that Branstad has been on the ballot for reelection. Branstad served as Iowa's governor from 1983 until 1999. If elected, he will be the longest serving governor in U.S. history.
Unlike many other Republican governors, Branstad has had to govern with a legislature not fully controlled by his own party. Republicans control the state house and Democrats control the state senate, both with slim majorities.
Sex. Abortion. Parenthood. Power.
The latest news, delivered straight to your inbox.
In order to pass legislation, Republicans have had to work with Democrats in the state assembly, like Bradstad's opponent.
Sen. Hatch has served in the state senate since 2003, and is currently the assistant majority leader. Hatch, prior to his tenure in the senate, served in the state house from 1985 to 1993 and again from from 2001 to 2003.
Bradstad's campaign has centered around his record as governor, including economic issues such as job creation and taxes. Hatch has been critical of Branstad's record on job creation, claiming that Branstad has fallen well short on a promise to create 200,000 jobs. Branstad claims to have presided over the creation of more than 146,000 jobs.
When Branstad took office in 2011, the state and the rest of the country were emerging from the Great Recession. According to a U.S. Senate report, Iowa added 78,900 private-sector jobs since the end of the recession in February 2010.
The Business Journals ranked Branstad 28th among governors for job creation as the state has added 46,000 jobs since Branstad took office in January 2011.
The difference in the numbers come from different measurements of job creation. Branstad is claiming the gross number of jobs created in the state—he is not including job losses over the same period of time.
Health-Care Reform
During the national debate over health-care reform in 2009, Hatch was named chair of the White House Working Group of State Legislators for Health Reform. He was a vocal proponent of fully implementing the Affordable Care Act (ACA) in Iowa, including Medicaid expansion.
Branstad initially opposed the expansion of Medicaid under the ACA. After the U.S. Supreme Court decision upholding the law, he called it "federal blackmail."
"The federal government has done this again and again: 'Buy into our program, and we're going to do all these things for you,' and then it doesn't happen, and then the taxpayers of the state get stuck with it. This is the reason why we and so many others objected to this," Branstad said in a press conference following the decision according to the Iowa Republican.
"I've said all along, I don't think the states can afford … in our state it adds 150,000 to the Medicaid rolls, and the federal government frankly can't afford it either," said Branstad. But even as he vocally rejected Medicaid expansion he was already hinting at an "alternative."
Hatch told the Cedar Rapids Gazette that his clashes with Branstad over health care directly resulted in his decision to become a candidate for governor. "[Branstad's] opposition to the ACA and Medicaid expansion drove me to think [that] I just can't stay in the Senate if he's governor," Hatch said.
After Branstad's alternative plan failed to pass in the legislature, lawmakers negotiated a bipartisan compromise that paved the way for the state to expand health-care access to low-income residents.
Iowa expanded Medicaid using a system similar to how Arkansas expanded the program, with some key differences. The state uses public funds to purchase private coverage for those eligible for Medicaid. However, unlike Arkansas, Iowa charges a small premium for Medicaid enrollees who are between 100 and 133 percent of the poverty line.
The modified expansion of Medicaid has extended health-care coverage to an estimated 100,000 residents.
Hatch has proposed creating a "new, integrated, patient-centered health care delivery system that combines Medicare, Medicaid, and private insurance into an integrated provider payment system within the current private market."
It is unclear what the specifics of this policy would be, and how they would differ from the state's current policy.
Reproductive Rights
Earlier this year, during the annual Rally for Life in the state capitol, Branstad pledged his continued support of anti-choice policies, reported the Waterloo-Cedar Falls Courier. On his campaign website, Branstad describes himself as "pro-life" and says that he believes "in protecting the sanctity of human life," and touts the fact that he signed "every pro-life law in Iowa."
Iowa has some restrictions on abortion affecting low-income women and minors' access to abortion care.
Branstad signed many of the laws restricting abortion access that came up during the latter part of his first tenure as governor.
The anti-choice activism of the early 1990s did much to push the Iowa Republican Party further to the right on social issues, including abortion. Laws requiring parents to be notified before a minor can receive abortion care, and requiring statistical reporting of abortion were signed by Branstad in 1996 and 1997. Branstad signed a law in 1998 that would have outlawed abortion procedures as early as 12 weeks, but that law was blocked by a federal judge because it was constitutionally vague and violated privacy rights.
Hatch has a legislative record of supporting reproductive rights and issues related to women's health care. From 1996 to 2004, Hatch voted 100 percent of the time for legislation supported by Planned Parenthood of the Heartland.
Hatch voted for a bill in 2008 that required health insurance plans that provide vaccination coverage to also provide coverage for human papillomavirus (HPV) vaccinations.
As of 2011, 85 percent of Iowa counties had no abortion provider, and half of all women lived in these mostly rural counties. The importance of access to reproductive health care for women living rural areas led to Iowa becoming the site of great innovations in telemedicine abortion care. A 2012 study found that since the practice began in the state in 2008, it increased access and improved the quality of reproductive health care in the state.
A Branstad-appointed judge ruled to uphold the state regulators' decision to ban the use of video-conferencing systems that allow doctors to dispense abortion-inducing medication to patients in rural clinics across the state. Branstad praised the ruling, saying that "it certainly is the right decision because the code says before an abortion can be performed, there needs to be an examination. I don't see how you can do an examination by telemedicine."
The regulations were implemented by the Iowa Board of Medicine, of which all ten members were appointed by Branstad, including a Catholic priest who has testified in favor of anti-choice legislation.
In a statement, Hatch told the Des Moines Register that the regulations over-regulate health care. "I believe we should free doctors and providers from burdensome regulation and allow them to do what they do best: practice medicine," Hatch wrote. "They should determine the correct uses for telemedicine, not state bureaucrats and unelected board members."
In the state legislature, a debate took place over low-income women's access to abortion in the state. Iowa Republicans sought to prevent Medicaid funding for any abortion care, but Branstad did not support fully eliminating the funding.
During the senate debate, Hatch called the legislation "extreme," and said that it was in direct conflict with federal law.
"Are you willing to take over $1.5 billion of federal dollars away from the health and safety of every women, every child and every family involved in Medicaid in this state?" Hatch asked his colleagues.
Instead of completely banning Medicaid funding for abortion, Branstad signed a law that would allow him to decide on a case-by-case basis whether Medicaid funds will be used to reimburse for abortion services when pregnancies are the result of rape or incest, when there are fetal abnormalities, or to protect the life of the woman.
"I take the responsibility that I've been given very seriously," Branstad told the Omaha World-Herald.
"As I understand it, the decision is not whether there's an abortion or not, the decision is whether the state is going to approve funding, which is a decision that is made after the fact," said Branstad, according to the Sioux City Journal. "So I'm not really going to have any say in whether this procedure occurs or not—I would discourage it wherever possible—but then I'll have to make a decision whether or not it's appropriate under the circumstances and under the guidelines that we have."
The Associated Press reports that after the new rule took effect, Branstad did not approve any payments, because the few patients who were eligible for Medicaid-funded abortions received them anyway; the University of Iowa Hospitals and Clinics, where most of the abortions were performed, never billed the state.
John Hedgecoth, spokesperson for the Hatch campaign, told Iowa Watch that Hatch would would seek to change the policy.
"Sen. Hatch does not believe that is the best administrative process to be used and would like to keep the governor's office out of those decisions, if possible," Hedgecoth said.