This Week in Sex: Bisexual Men Have Unique Needs, Casual Sex Is Good for Some, Later Childbirth Linked to Longer Life
This week, new studies accuse the public health community of ignoring the unique needs of bisexual men, find that casual sex is good for some people's self-esteem, and show that women who get pregnant naturally at older ages may live longer.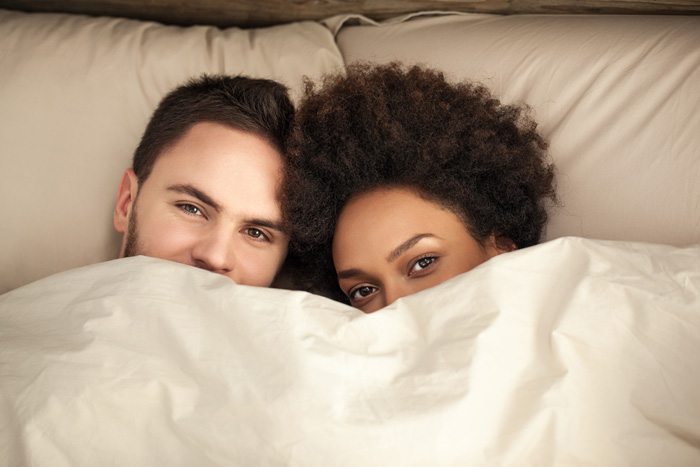 This Week in Sex is a weekly summary of news and research related to sexual behavior, sexuality education, contraception, STIs, and more.
The Public Health Community and the Needs of Bisexual Men

A new study in the Journal of Preventative Medicine argues that the public health community has not paid enough attention to the unique needs of bisexual men. In Beyond the Bisexual Bridge, author William Jeffries suggests that men who have sex with men and women (MSMW) are often seen as transmitters of sexually transmitted infections (STIs) including HIV, and, more to the point, as the way in which certain diseases or epidemics jump from gay men to heterosexuals of both sexes. By looking at them as disease vectors and not a population with their own sexual health issues, however, Jeffries believes that we are making bisexual men more vulnerable to STIs.
Only about 2 percent of the male population identifies as MSMW but, according to the study, their sexual health needs and experiences are different from those of heterosexual or straight men. They are more likely to have early sexual debut, forced sexual encounters, and sex in exchange for money or something else of value. They tend to have more sexual partners, greater issues with substance abuse, and take more risks in sex with both male and female partners. Adolescent MSMW are more likely to drop out of school because they don't feel safe. This may be one of the reason that, according to the study, adult MSMW are less likely to have a college degree and more likely to have lower incomes or be homeless.
Sex. Abortion. Parenthood. Power.
The latest news, delivered straight to your inbox.
Jeffries attributes many of these issues to biphobia, which comes from both gay and heterosexual people who feel that bisexuality is not a legitimate sexual orientation. The view of bisexuals as the STI "bridge" between communities heightens biphobia and can lead MSMW to take additional risks. For example, Jeffries says that "MSMW may feel inclined to publicly validate their bisexuality through multiple sexual partnerships with men and women." He adds that the biphobia "can contribute to MSMW's social isolation and psychological distress, which in turn may promote HIV/STI risk through substance use, sexual risk behaviors, and the avoidance of prevention services."
Jeffries ends the article with a number of social and public health strategies, including media and educational campaigns that he believes can improve the health and well-being of MSMW. One suggestion is to create "social spaces that cultivate a sense of community to provide opportunities for social support and candid discussion of sexual health concerns." He also believes that medical and health professionals need "sensitivity trainings to lessen any hostility encountered by MSMW when they seek information about sexual health or HIV/STI testing."
Finally, Jeffries concludes, "Recognition of MSMW's unique sexual and social experiences can lay the foundation necessary for ensuring that these men have healthy and fulfilling sexual experiences."
Is Casual Sex Good for You? Depends Who You Are

Researchers, possibly because they reside primarily on college campuses, where this is common, have taken quite an interest in hook-up culture. They've tried to determine how prevalent casual sex is, whether it represents a significant change in values around relationships, and, importantly, how it affects those young people who are doing the hooking up. As you can imagine, the results of these inquiries have been varied.
For example, Rewire reported on a study around this time last year that found college students who had recently had casual sex had lower levels of self-esteem, life-satisfaction, and happiness, and higher levels of general anxiety, social anxiety, and depression compared with their peers who had not had casual sex recently. A study published this past March, however, suggested that it's not whether you have casual sex that affects your well-being; it's why. Those who had casual sex for the "wrong reasons"—such as to feel better about themselves, to please someone else, for material reward, or for revenge—had lower self-esteem, higher depression and anxiety, and more physical health symptoms, compared to those who didn't have casual sex. In contrast, those who did it for the "right" reasons, such as to have fun and new experiences, had similar levels of depression, anxiety, and physical symptoms to those who didn't hook up but notably had higher self-esteem.
Now a new study, by the same lead author, suggests that reactions to casual sex are mostly about the individuals who are having it and how authentic they are being to their own sexual mores. The study followed 371 college students at New York University and Cornell and asked them to fill out diaries about their sexual contacts over a semester, as well as answer various questions about their states of mind. Participants were considered to have had casual sex if they had oral, anal, or vaginal sex with anyone they described as a one-night stand, friend with benefits, "fuck buddy," ex-partner, just a friend, or a casual hang out, or anyone with whom the relationship was "unclear" or "complicated." By the end of the study, 42 percent of participants had had casual sex.
The effect of such incidents on the participants' psychological well-being, however, had to do with each person's own views on casual sex. For those who the researchers described as sociosexually unrestricted—essentially those who were more open to and accepting of casual sex—the experiences were beneficial. In fact, these people reported thriving after the casual sexual experience. Interestingly, however, the researchers did not find the reverse—sociosexually restricted individuals did not report negative effects after casual sex. Still, they believe this study shows that the impact of casual sex is never just good or bad, but depends on situational characteristics and personality traits. They also believe the lack of findings on restricted individuals can be explained by the small portion of this group that actually engaged in casual sex during the course of the study.
Having Children at an Older Age Linked to Living Longer

When I got pregnant with my second child, I was somewhat offended at the label "AMA" stamped on my medical records, because they stood for Advanced Maternal Age. At 37 (and a half to be accurate), I didn't feel all that "advanced" and knew plenty of women who had had uneventful pregnancies and healthy babies when they were older than that. But from a medical perspective, women are at their reproductive best (most fertile, less likely to have pregnancy complications) closer to 27 than 37. A new study, however, suggests that those of us who do have children a little later may live longer.
Using data from the multi-year Long Life Family Study, researchers analyzed the effect of age-at-childbirth on overall life expectancy and found that women who got pregnant naturally and successfully gave birth to their last child after 33 lived longer than those whose last child came before the age of 29. These findings were true even when the analysis controlled for other health factors like smoking and obesity.
While us older parents would like to think that countless episodes of Dora the Explorer and games of Candyland we suffer through keep us young, the researchers have a different explanation. Rather than being the reason these women lived longer, the researchers believe that becoming pregnant and having a child later in life is a sign that these women are aging more slowly than their peers. The Long Life Family Study included women with family members who had lived longer than average and examined these women, in part, to determine the genetic keys to longevity.
Dr. Thomas Perls, a co-author of the new study, said in a statement, "The natural ability to have a child at an older age likely indicates that a woman's reproductive system is aging slowly, and therefore so is the rest of her body."
Women are having children later in life as the age of marriage increases and they spend more time getting an education and starting a career. However, many women who get pregnant after age 35 rely on reproductive technologies like in vitro fertilization. The study only looked at women who got pregnant naturally.
There's an App for That Rash on Your Genitals

Last year, Rewire reported on an app that for $10 would allow you to send a couple of pictures of odd bumps, lumps, or sores on your genitals to a dermatologist who could tell you either to stop worrying and buy some over-the-counter cream or get thee to a clinic pronto. Unveiled in early 2013 as STD Triage, it apparently did not officially launch in the United States until January of this year. Now called First Derm, the app charges $40 and claims to be able to diagnose 90 different skin disorders anywhere on the body including Lyme disease, hemorrhoids, psoriasis, and yeast infections—as well as, of course, HPV, Herpes, and syphilis. The creators of the app say that the rebranding came in part because they realized that no one wanted to recommend an STD app to their friends. Despite this, however, they claim that 70 percent of inquiries still come from "below the waist."
The app is completely anonymous (no registration required) and promises a response in 24 hours. Since its launch in January, First Derm has been downloaded 10,000 times and has provide 1,000 diagnoses, according to TechCrunch.