Report Debunks Conservative Case for Sex-Selection Abortion Bans
The report shines a light on the harmful racial stereotypes driving one of the right's latest anti-abortion efforts.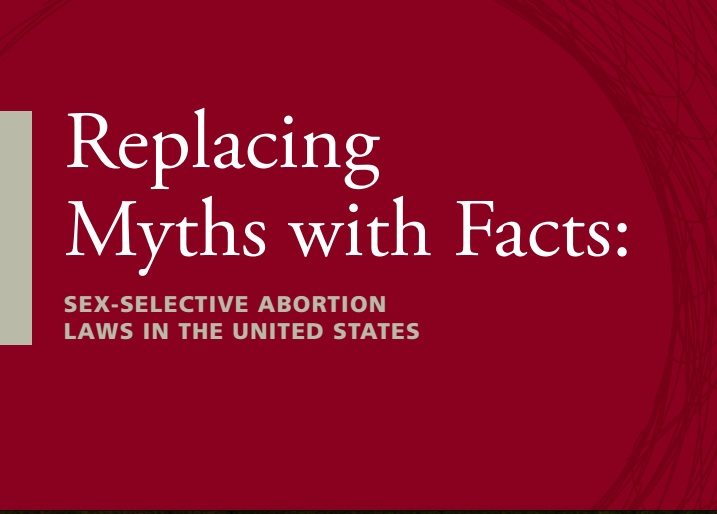 This week, the International Human Rights Clinic at the University of Chicago Law School, the National Asian Pacific American Women's Forum, and Advancing New Standards in Reproductive Health at the University of California, San Francisco, released an important new report that corrects the significant misinformation lawmakers rely on to introduce and pass sex-selection abortion bans around the country.
Over the past five years, more than 60 sex-selection abortion bills have been introduced both at state and federal levels. These bans, often proposed in the context of race or with legislation that includes race-selection bans as well, are steeped in stereotypes that are designed to provide an entry-point into banning abortions entirely. In South Dakota, for example, lawmakers proposed the state's sex-selection abortion ban in response to changing demographics, claiming an increase in Asian immigrants would fuel an increase in acceptance of sex-selective abortions. Meanwhile, in Arizona, lawmakers attempted to use harmful racial stereotypes against Black women to justify its ban, citinghigher rates of abortion among Black women as evidence that women of color were being coerced into having more abortions than other women as part of some racist plot.
The new report, Replacing Myths with Facts: Sex-Selective Abortion Laws in the United States, identifies six major inaccuracies commonly associated with legislation seeking to ban sex-selection abortions. It is the product of extensive legal research and empirical analysis of U.S. birth data and fieldwork in India as well as an extensive review of academic work.
Among the clearest evidence that sex-selection bans depend on misinformation is a finding noted in the report that shows foreign-born Chinese, Indian, and Korean-Americans, as well as all Asian Americans considered as one group, have more girls on average than U.S.-born white Americans. In states like Pennsylvania and Illinois that already have sex-selection bans in place, those laws are not associated with higher numbers of baby girls.
Roe has collapsed and Texas is in chaos.
Stay up to date with The Fallout, a newsletter from our expert journalists.
"Lawmakers have relied on misinterpretations of narrow data and faulty assumptions about sex selection practices to enact sex-selective abortion bans in the United States," said Sital Kalantry, clinical professor of law and director of the International Human Rights Clinic at the University of Chicago Law School, in a statement following the release of the report.
Miriam Yeung, executive director of the National Asian Pacific American Women's Forum, which is one of the organizations challenging Arizona's race-and sex-selection abortion ban, added that the report's findings make plain the harmful stereotypes driving these kinds of bans. "This report debunks the myths that have been used to advance an anti-abortion agenda that stigmatizes Asian American and Pacific Islanders," Yeung said in a statement. "We've long thought of this type of legislation as 'wolves in sheep's clothing.' This research lays bare the disguise, and what remains is legislation that promotes racial stereotyping and is deeply offensive to Asian American families."