Trial Set to Begin in Alabama Admitting Privileges Case
Reproductive health-care advocates challenging the Alabama TRAP law plan to present evidence that the legislation, if enacted, threatens to end abortion at three of the five clinics in the state.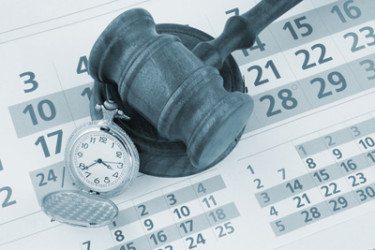 A trial begins Monday in a lawsuit that seeks to permanently block an Alabama law that requires doctors who perform abortions in the state to obtain admitting privileges at a nearby hospital.
HB 57 was signed into law in 2013 and mirrors similar targeted regulation of abortion providers (TRAP) laws passed in states like Texas, Wisconsin, and Mississippi that single out abortion providers for additional regulations. The American Civil Liberties Union, the ACLU of Alabama, the Planned Parenthood Federation of America, and Planned Parenthood Southeast all challenged the law, arguing it is unconstitutional because it creates an undue burden on a woman's right to choose abortion. A lower court blocked the measure last summer, preventing the law from taking effect while the trial on its constitutionality proceeds.
According to reproductive health-care advocates challenging the law, if allowed to go into effect HB 57 threatens to close three of the five licensed health centers providing abortion in the state. They note that leading national medical groups, such as the American Medical Association and the American Congress of Obstetricians and Gynecologists (ACOG), oppose laws admitting privileges requirements because despite the fact that they are passed in the name of patient safety, they claim they do little to advance the care of pregnant women. Instead, they argue, admitting privileges requirements put women at risk because they force quality health-care providers to close and subject abortion providers to regulatory requirements that other, less safe professions face. "Let me be clear: This law was designed by politicians, not doctors, with the single-minded goal of shutting down women's health care centers and ending access to safe, legal abortion," said Louise Melling, deputy legal director of the ACLU, in a statement. "Opponents are waging a stealth war on abortion with these medically unnecessary regulations, and women and families are paying the price."
In a call with reporters, advocates explained how admitting privileges laws like Alabama's work to close clinics. As advocates explained, physicians who provide abortions in Alabama cannot obtain admitting privileges at local hospitals for a variety of reasons that have nothing to do with their quality or credentials. For example, Jennifer Dalven, director of the ACLU Reproductive Freedom Project, noted that some hospitals require doctors to have a minimum number of hospital admissions per year to qualify for admitting privileges. "Meeting the minimum number of something abortion providers often cannot meet because abortions are so safe they don't have any admissions," Dalven said. Additionally, Jeanne A. Conry, immediate past president of ACOG, noted that admitting privileges requirements do not even truly reflect the nature of a modern medical practice. "Providers are becoming more specialized generally," said Conry, "so to identify a subgroup of providers like this goes against the evolution of the practice of medicine generally."
Roe has collapsed and Texas is in chaos.
Stay up to date with The Fallout, a newsletter from our expert journalists.
According to attorneys representing the plaintiffs in this case, abortion providers already have plans in place for patient safety and HB 57 does nothing to improve on those plans. For example, regulations in Alabama already require providers of safe and legal abortion to maintain contracts with a backup physician that has hospital staff privileges. These physicians are available to provide care for complications, in the rare event that they occur after an abortion. Abortion providers in Alabama also are subject to specific licensing requirements by the Alabama Department of Public Health and are also subject to extensive regulation related to personnel, physician qualifications, record keeping, minimum doorway sizes and room sizes, interior finishes and flooring material, and emergency exits.
Conservative state legislatures across the country have passed admitting privileges requirements like the one at issue in Alabama. Later this month, Planned Parenthood and the ACLU will be in a federal court in Madison for a trial on a similar Wisconsin law, which the Seventh Circuit Court of Appeals has blocked. Meanwhile, a similar law in Mississippi, also blocked by court order but under review by the U.S. Court of Appeals for the Fifth Circuit threatens to eliminate the state's only remaining abortion provider. In Texas, where a similar law has taken effect, the number of physicians providing safe and legal abortion has been drastically reduced, especially in the impoverished Rio Grande Valley. Similar legislation has been introduced in Pennsylvania, Louisiana, and Oklahoma. "We're on the verge in this country where a woman's right to access safe, legal abortion depends on where she lives," Helene Krasnoff, senior director of public policy litigation and law at Planned Parenthood, explained to reporters.
The trial over the Alabama admitting privileges requirement is scheduled to begin May 19. Attorneys expect the trial to last at least a week, and possibly carry over to the early part of June if needed.