Another Pennsylvania Politician With Anti-Choice Record Stumps on Pro-Choice Platform
With two weeks to go until the May 20 Pennsylvania primary, and with analysts observing that single women are the key to success in this year's elections, Rep. Brendan F. Boyle is the second Pennsylvania Democrat to stump on a woman's right to choose despite having recently supported anti-choice legislation.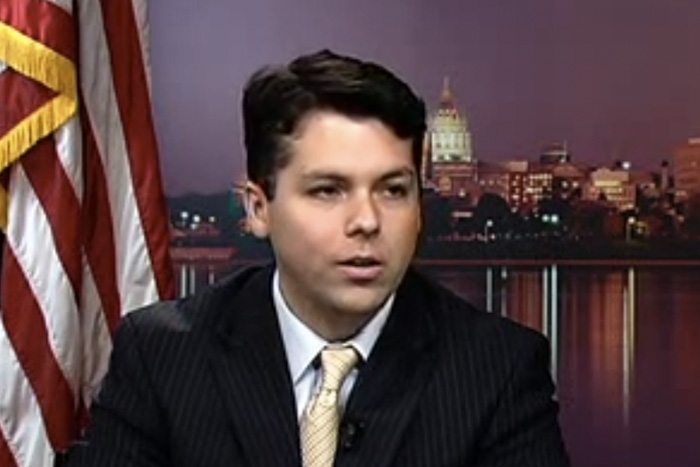 With two weeks to go until the May 20 Pennsylvania primary, and with analysts observing that single women are the key to success in this year's elections, Rep. Brendan F. Boyle is the second Pennsylvania Democrat to stump on a woman's right to choose despite having recently supported anti-choice legislation.
In Pennsylvania, the abortion issue is not theoretical; at least four signature anti-choice votes have been proposed in the last four years, and candidates' records can be easily fact-checked. But that is not stopping two Democrats from making false and misleading claims to court female voters.
The most recent example is Rep. Brendan F. Boyle. Boyle has represented district 170, an area that covers part of northeast Philadelphia and Montgomery County, since 2008.
Currently, he is one of four Democractic candidates competing in a very heated primary for Pennsylvania's 13th congressional district. The seat opened up when the incumbent, Democratic Congresswoman Allyson Schwartz, decided to run for the opportunity to challenge Republican Gov. Corbett in the fall.
Sex. Abortion. Parenthood. Power.
The latest news, delivered straight to your inbox.
Political observers are calling the race for the 13th a "knock-down, drag-out brawl." Marjorie Margolies, who held the seat from 1993 to 1995, was the early front-runner, but physician Valerie Arkoosh, state Sen. Daylin Leach, and Boyle have made it anyone's election.
The district is historically blue, so the winner of the Democratic primary will be well-positioned to take the seat.
The race will come down to "who has the most compelling message and the resources to get that message out on TV and by mail aggressively," observed political consultant Mark Nevins in the Philadelphia Inquirer.
Enter Rep. Boyle's new TV ad (which was reportedly paid for by a third-party coalition of trade unions).
A voice-over says, "The truth? Boyle's taken on Corbett to protect a woman's right to choose and will defend Planned Parenthood."
The first claim—that Boyle's "taken on" Corbett to protect a woman's right to choose, is not reflected in his voting record. If he will defend Planned Parenthood in the future remains to be seen.
In 2004, Democrats for Life recognized Rep. Boyle as a "Pro-Life All Star."
In a recent debate, Boyle tried to temper this politically inexpedient accolade. "I don't hold the same views at 37 then I did in my early 20s," he said.
However, Boyle cast a devastating anti-choice vote and sponsored anti-choice legislation in 2011, only three years ago.
Boyle voted for SB 732, which includes regulations requiring prohibitively expensive architectural upgrades at the state's freestanding abortion clinics. (It was later called Act 122.)
The new regulations, criticized by some state medical associations but supported by religious organizations, led to the closure of four clinics in good standing that had provided surgical abortion care. There is no evidence that the regulations have increased patient safety.
The same year, Boyle co-sponsored HB 1314, which requires that all physicians performing abortions in the state secure admitting privileges at a hospital within 30 miles of their respective clinic.
Advocates claim the goal is to improve patient safety, but there is no evidence to suggest that the bill would do so. However, there is significant evidence demonstrating that the legislation will lead to the closure of abortion clinics if local hospitals refuse to sign agreements.
In Pennsylvania, such legislation is particularly redundant. Clinics already must hold transfer agreements with local hospitals under current state law. As Rewire reported last year:
Pennsylvania is one of nine states that already requires clinics providing abortion services to negotiate a transfer agreement with a local hospital. From Chapter 29 of the Pennsylvania code:

Each freestanding clinic shall have a written transfer agreement. The agreement shall be entered into with a hospital which is capable of providing routine emergency services.
When the bill was re-introduced earlier this year as HB 1762, Boyle's name was no longer listed as a co-sponsor.
Sen. Daylin Leach (D-Montgomery/Delaware) challenged Boyle on his support of this legislation during a recent debate by pointing out that Boyle's bill is similar to the one Texas Sen. Wendy Davis famously filibustered last year.
In response, Boyle denied the association. From sections of a debate transcript:
Absolutely not the case that the bill Wendy Davis was filibustering was actually up for debate in Pennsylvania. The bill, as I understand it, in Texas that Wendy Davis was filibustering would have banned all abortions after 20 weeks.
Leach is correct. HB 2, the Texas bill filibustered by Sen. Davis, bundles multiple anti-choice measures, including an admitting privileges provision. Parts of the bill were challenged, but eventually upheld in court. The bill's passage led to the closure of a significant percentage of Texas abortion clinics. As a result, clinic directors report an increase in women attempting to perform abortions on themselves by either crossing the border into Mexico to obtain unregulated drugs, douching with Lysol, or even "asking their partners to beat them."
These are "the same stories we saw pre-Roe [v. Wade]," observed Amy Hagstrom Miller, founder of Whole Woman's Health, which operates several abortion clinics in Texas, on a recent episode of the Rachel Maddow Show.
The bill Boyle co-sponsored in 2011 is not only similar to the Texas bill in content, but the current sponsor, Pennsylvania Rep. Bryan Cutler (R-Lancaster), has publicly stated that he has been closely watching the Texas legal challenges in order to help him improve the chances of its passage in Pennsylvania. Similar legislation has been blocked in other states.
As the Patriot-News reported, "[G]iven the Texas ruling, Cutler wisely said he's thinking about retooling the legislation to respond to the legal objections raised in the court ruling."
Pennsylvania anti-choice advocates expect that the admitting privileges legislation will remain below the radar through the primary, then move in late May. There's little reason to believe the bill, if passed, will not lead to the closure of more Pennsylvania clinics. Currently, there are 13 clinics in the state providing surgical abortion.
As for Boyle's claim in the ad that he will, in the future, fight for Planned Parenthood, perhaps the change of heart occurring while politically expedient is not entirely coincidental.
"Obviously we're always glad to hear that candidates will oppose attacks on women's health and we will hold them to it," Sari Stevens, executive director at Planned Parenthood Pennsylvania Advocates, told Rewire in an email. (The group has not taken a position or made an endorsement in the race.)
"Representative Boyle has an inconsistent voting record on women's health that includes supporting abortion restrictions," said Stevens, though she noted that he recently returned a Planned Parenthood questionnaire that scored him a 100 percent rating from the group. Boyle returned the questionnaire in April—so, just before the ad, according to Stevens.
Last month, Rewire fact-checked the campaign-trail claims of Rep. Margo Davidson (D-Delaware), a lawmaker representing a district bordering Philadelphia hoping to retain her seat. Davidson sent out mailers falsely claiming that she supports a woman's right to choose, but a review of her key votes indicates otherwise.