Three Penn State Hires Linked to Sex Abuse Cases at Other Schools
Two reports in as many weeks have revealed that three big hires at Pennsylvania State University, chosen in part to help the school move past the Jerry Sandusky sex abuse case, are linked to football-centered sexual assault cases at other schools.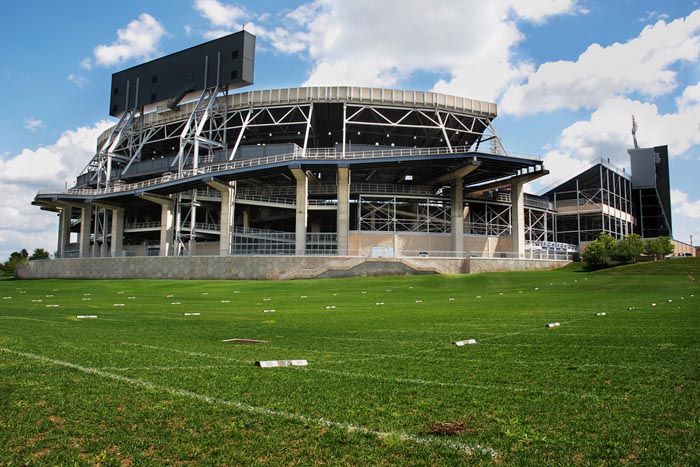 Read more of our articles on consent and sexual assault on U.S. college campuses here.
Two reports in as many weeks have revealed that three big hires at Pennsylvania State University, chosen in part to help the school move past the Jerry Sandusky sex abuse case, are linked to football-centered sexual assault cases at other schools.
In January, Penn State officials introduced James Franklin as the new coach of the Nittany Lions football team. Franklin had been football coach at Vanderbilt University in Nashville.
Last June, four Vanderbilt football players were dismissed from the team under suspicion of raping a female student while she was unconscious. A security camera in the dorm where the rape allegedly took place captured multiple men going in and out of one room before junior football player Brandon Vandenburg emerged and threw a towel over the lens.
Roe has collapsed and Texas is in chaos.
Stay up to date with The Fallout, a newsletter from our expert journalists.
By August, four players were charged with five counts each of aggravated rape and two counts of aggravated sexual battery. A fifth player was charged in relation to assisting in covering up the crime. He pled guilty to lesser charges in exchange for testimony against the other players. He was sentenced to probation and currently hopes to join the NFL.
Police described the evidence against the four players as "unsettling" and "compelling." From Deadspin:
It's believed the woman was raped in the room and then moved while the camera was obscured. The woman was reportedly unconscious while Vandenburg had sex with her. After the other three players entered the room, she was penetrated with random objects. Vandenburg recorded and took pictures. The woman had no recollection of any of it until she began to hear about the pictures and video.
Deadspin also reported, back in September, that a "source close to one of the dismissed players thinks coach Franklin urged one of the players to delete a video after viewing it."
Franklin denied those charges.
Then, on Tuesday, documents filed by the defense allege that both Franklin and Dwight Galt, Vanderbilt's former "head of performance enhancement," contacted the victim after the alleged rape.
Galt was also hired by Penn State.
From The Tennessean:
Referring to records, the attorneys said the victim was contacted by Franklin and Galt during a medical examination four days after the rape to explain "that they cared about her because she assisted them with recruiting."
The newly released defense filings allege that besides contacting the victim, Franklin also invited her to a "private meeting," and told her "he wanted her to get fifteen pretty girls together and form a team to assist with the recruiting even though he knew it was against the rules. He added that all the other colleges did it."
Franklin was referring to the practice of hiring female "hostesses" as part of a recruitment strategy.
Last night, Franklin issued a statement denying doing "something wrong."
In 2012, Franklin made headlines for stating that he wouldn't hire an assistant unless that person was married to a woman Franklin perceived as sufficiently attractive. "I've been saying it for a long time, I will not hire an assistant until I see his wife," said Franklin. "If she looks the part and she's a D1 recruit, then you got a chance to get hired."
The allegations about Franklin and Galt come on the heels of last week's explosive news regarding another high-profile, reportedly profoundly flawed investigation that unfolded at Florida State University (FSU) under Eric Barron's tenure.
Barron is Penn State's new president. He's not an outsider to Penn State; he previously served as an administrator for two decades.
Under Barron's tenure at FSU, a female student accused star football player Jameis Winston of rape. A year into the investigation, last December, local authorities announced they would not pursue charges against Winston.
As ESPN reported, the "decision clear[ed] the way for Winston to finish the season with the No. 1 Seminoles." Winston won the Heisman Trophy, awarded annually to the most valuable college football player in the country, and his team won the national championship.
Barron's appointment at Penn State came under scrutiny after a recent New York Times report revealed that the investigation was profoundly flawed—that is, what little of an investigation actually existed. The report "found that there was virtually no investigation at all, either by the police or the university."
According to the Times, authorities didn't follow leads, failed to interview Winston for the first two weeks after the incident, and never obtained his DNA, among other failures, errors, and omissions. Evidence "disappeared," including—as in the Vanderbilt case—video.
As noted at The New Republic, the revelation should trouble Penn State administrators, who are still struggling to move past revelations of profound systematic failure and a football-first culture that helped enable former football coach Jerry Sandusky to sexually assault children for years, sometimes on campus.
It has not been reported that Barron had direct knowledge of the botched investigation, despite it involving the most valuable player on not just the team but in all of college football.
Meanwhile, Penn State is holding events on campus all month in honor of Sexual Assault Awareness Month.