Tennessee Governor Signs Bill Criminalizing Pregnant Women
Tennessee Gov. Bill Haslam signed a bill Tuesday that will allow criminal charges against women who struggle with drug dependency during their pregnancy.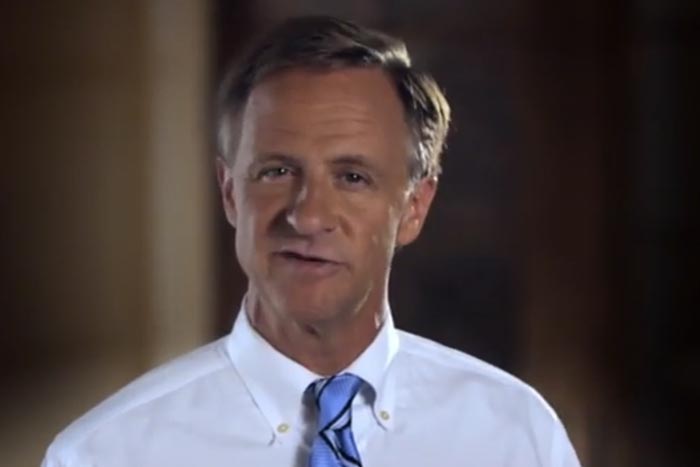 Read more of our coverage on the Tennessee pregnancy criminalization law here.
Tennessee Gov. Bill Haslam signed a bill Tuesday that will allow criminal charges against women who struggle with drug dependency during their pregnancy.
The measure will also single out users of illegal street drugs, despite the fact that 41 percent of infants born addicted to drugs in Tennessee have that condition because their mothers are addicted to prescription painkillers.
Reproductive rights advocates had called on Haslam to veto the bill because it will discourage addicted pregnant women from seeking treatment, and is written in such a broad way that it could allow criminal charges for any poor pregnancy outcome, even if a woman is not addicted to drugs.
Roe has collapsed and Texas is in chaos.
Stay up to date with The Fallout, a newsletter from our expert journalists.
The bill is likely to hit Black women the hardest because they are more likely to be reported to authorities for their addiction, even though the rates of substance abuse between white and Black women are about the same.
"Today, the Tennessee governor has made it a crime to carry a pregnancy to term if you struggle with addiction or substance abuse," said Alexa Kolbi-Molinas, staff attorney with the ACLU Reproductive Freedom Project, in a statement. "This deeply misguided law will force those women who need health care the most into the shadows. Pregnant women with addictions need better access to health care, not jail time."
As Haslam was deciding whether to sign the bill, White House drug policy czar Michael Botticelli criticized the idea of treating addiction as a crime rather than a disease. While he declined to comment specifically on the Tennessee bill or Haslam's decision, he did offer pointed commentary on why it's bad policy to treat drug-addicted pregnant women—or any drug addicts—as criminals rather than patients in need of help.
"What's important is that we create environments where we're really diminishing the stigma and the barriers, particularly for pregnant women, who often have a lot of shame and guilt about their substance abuse disorders," Botticelli said during a tour of the neonatal intensive-care unit of Vanderbilt's Monroe Carell Jr. Children's Hospital. "We know that it's usually a much more effective treatment and less costly to our taxpayers if we make sure that we're treating folks."
Advocates praised Botticelli's remarks, which were seen as an unusual but welcome gesture from an administration official. "We are very pleased that the White House is speaking out in a way that might actually discourage the expansion of the war on drugs, in general and when it comes to pregnant women," Lynn Paltrow, executive director of National Advocates for Pregnant Women, told Rewire. 
Botticelli has not responded to a request for comment at publication time as to whether the White House Office of National Drug Control Policy will take action to protect pregnant women from the effects of this bill.
Tennessee got rid of its criminalization policies towards drug-addicted pregnant women two years ago and last year passed the Safe Harbor Act, which incentivized women to get into treatment programs by guaranteeing that they would not lose custody of their children by doing so. But now prosecutors can resume bringing criminal charges, and the maximum penalty under the new bill could conceivably be 15 years for aggravated assault.