CPAC Come-Ons: Sexual Culture at the Nation's Largest Conservative Conference
One university student CPAC attendee said that there is definitely "a culture of a bunch of creepy guys" at the conference—young guys, he clarified. "Everybody knows that guy who swings by and puts his arm around the girl who wants nothing to do with him."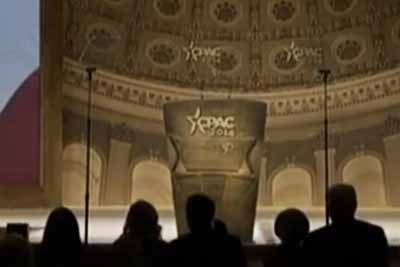 Read more of our coverage on the 2014 Conservative Political Action Conference here.
At this year's Conservative Political Action Conference (CPAC), reporter Jamelle Bouie witnessed (and live-tweeted) a painfully awkward attempt at young conservative romance:
Young woman: "Why did you ask me if I've been 'hit on' here." Dude: "I don't like the term 'hit on.' It sounds sexual and disrespectful…"

— Jamelle Bouie (@jbouie) March 6, 2014

Roe is gone. The chaos is just beginning.

Follow Rewire News Group on Twitter to stay on top of every breaking moment.
Dude continues: "But I asked because you are beautiful and it seems like a lot of guys would want to talk to you." Young woman: "Um…"
— Jamelle Bouie (@jbouie) March 6, 2014
Conversation has moved on to why he's so terrible with women, and why she seems so stand-offish. I think I have an answer for him.

— Jamelle Bouie (@jbouie) March 6, 2014
The young woman casually mentions "sleeping with someone." Guy recoils, "I don't like physical contact early in a relationship."
— Jamelle Bouie (@jbouie) March 6, 2014
The mind-boggling combination of prudery, frustrated sexual entitlement, and slut-shaming got me thinking: Does this kind of thing happen to a lot of young women at CPAC? What's the sexual culture like at this heady three-day event, where busloads of college students enjoy subsidized registration prices, the company of gaggles of like-minded peers, and a constant tension between socially conservative and libertarian values?
When I asked University of Virginia students Amy McMahon and Abigail Welborn whether they'd been hit on at CPAC, the first response was giggles of recognition; of course they had been.
"At night, going out, there's a lot of characters," Welborn said.
"Our party has more men than women, by far, so the ratio's kind of skewed a little bit," McMahon said.
Welborn recalled a conversation with a "random guy" who wasn't hitting on her, but who said, "'Oh yeah, I'm gonna hook up with five women.' And I was like, whoa. That's not what I thought of when I came to CPAC. I thought, politics, opportunity!"
A group of young women from Westchester, Pennsylvania, who asked to remain anonymous said that the guys in their group had been "talking about girls non-stop," as one put it. "They'll be like, 'did you see that one there?' and point one out." Another young woman in that group said she had gotten a lot of creepy comments from older men about her curly, bright red hair.
Patrick Moran of the University of Albany said that there is definitely "a culture of a bunch of creepy guys" at CPAC—young guys, he clarified. "Everybody knows that guy who swings by and puts his arm around the girl who wants nothing to do with him."
"I've seen guys open up with their credentials as though it's a job interview," Moran said. "Hi, how you doing, I'm president of this club and that club, and I'm at Yale!"
Some said that the flirting or hook-up scenes weren't that much different from back home—except that connections were almost guaranteed to be short-term ("you either get their number or you don't," Moran said), and you meet more like-minded people in one place than you're used to.
"Coming from a liberal state like New York, there's not a lot of conservative women," Moran said. "And when you come here and see a bunch of well-dressed people who believe what you believe and look very good—I mean, you get excited!"
Is waiting to have sex until marriage still an ideal among young conservatives?
"It's definitely kind of an ideal, but I think we're realistic enough to see that it doesn't always happen, and there's nothing really wrong with that," McMahon said.
Is there hypocrisy along those lines? "I've seen a lot more not really practicing what they preach," said University of Albany student Robert Warshauer. "I feel like religion plays a big part of it."
Most young people I spoke to hedged with an "everybody has their own view" kind of answer when asked whether they, personally, wanted to wait until marriage. Not so, however, with two young women from Virginia who didn't want to give their names or the name of their school. One wore an engagement ring and said she's waiting until her wedding day, and the other said she also believes in waiting until marriage and doesn't agree with the "casual" attitude toward sex that pervades events like these.
Some didn't identify with the hook-up scene for other reasons. "I already feel really old here," said Heather Linville, from Minnesota. "I had to check the 26-40 box today. It's just been a very rough morning," she said, laughing, referring to the demographic information in the CPAC straw poll. "I've heard stories, you know it's going on, I've just never been a part of it."
Linville, who wore a "Stand with Rand" button, was still concerned about the tension between social conservatives and libertarians. "Sometimes when I'm around libertarians I feel more Republican, and when I'm around Republicans I feel more libertarian," she said. "We have to figure out a way to get over ourselves and start being an inclusive party again. We're just going to start driving people away." She cited the exclusion of the gay Republican group GOProud as an example.
The right-wing Catholic group Tradition, Family, and Property, which passed out leaflets painting GOProud as "beavers" chomping away at the social conservative "leg" of conservative politics, presumably has strong opinions of its own about the morality of CPAC hook-ups.
I experienced a few CPAC come-ons myself while reporting this piece at a Friday happy hour. One guy looked at my badge to see where I worked and asked what "RH" stood for. I told him it was "reproductive health."
"What's that code for?" he asked.
Another said, as an opening salvo: "You look like you need saving." He probably meant "from boredom," though, not sin.
Correction: A version of this article incorrectly attributed a quote said by Abigail Welborn to Amy McMahon, and vice versa. We regret the error.