It's Nearly Unanimous: Pregnant Workers Deserve Fair Treatment
In recent months, several cities and states have passed measures to strengthen protections for pregnant workers. But the way in which these laws passed—with overwhelming, bipartisan support—may be almost as notable as what they will do.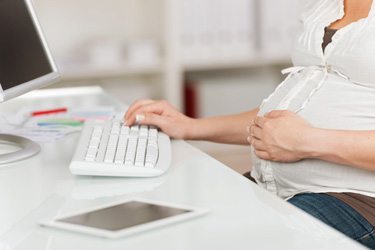 What do West Virginia and New York City have in common? As someone who spent many years living in each place, I can assure you that the answer is not that much. Which makes it all the more striking that this week West Virginia followed the lead of New York City, becoming the most recent in a string of jurisdictions in recent months to strengthen protections for pregnant workers by a unanimous or near unanimous vote.
The West Virginia Pregnant Workers' Fairness Act, like similar measures passed in New York City, New Jersey, and Philadelphia, requires employers to make reasonable accommodations for employees who have limitations in their ability to work arising out of pregnancy, childbirth, or related medical conditions, unless these accommodations would pose an undue hardship for employers. While many pregnant workers never need any changes in their jobs, some will need accommodation at some point during pregnancy, especially if they have physically demanding jobs. Too often when a pregnant woman requests a temporary change in workplace duties or policies, such as being allowed to sit instead of stand during a long shift or staying off high ladders for a few months, employers respond by pushing her out of work altogether, at the moment her family can least afford it. These new laws provide a clear, unmistakable rule that will ensure these sorts of reasonable accommodations are available for limitations arising out of pregnancy, just as the law has long required employers to make reasonable accommodations for disability. This is good news for pregnant women and their families.
But the way in which these laws passed—with overwhelming, bipartisan support—may be almost as notable as what they will do. Only one legislator in these four jurisdictions—a single, lonely New Jersey state senator—voted against these provisions. Former New York City Mayor Michael Bloomberg (I) and New Jersey Gov. Chris Christie (R) signed these measures into law. But while overwhelming support in progressive cities and blue New Jersey is impressive, the unanimous support in West Virginia should make indisputably clear that protecting the rights of pregnant workers isn't just good policy; it's powerfully and irresistibly good politics. Polling makes this clear: 91 percent of all voters favor policies ensuring workers won't be fired or demoted when they become pregnant or take maternity leave. Support for these efforts is as American as mom and apple pie.
So why hasn't Congress gotten the message yet? The bill that just passed without a peep of opposition in West Virginia is nearly identical to the federal Pregnant Workers Fairness Act. That bill has reasonably healthy support, with 24 cosponsors in the Senate and 121 cosponsors in the House, but so far this support is only from one side of the aisle, and many names are still missing. For example, neither of West Virginia's senators has announced his support for the bill, nor have its three representatives. West Virginia's enthusiastic embrace of this policy should help change that. It sends a loud message not just to that state's congressional delegation, but to senators and representatives across the country that standing up for pregnant workers is a common ground, commonsense measure, which resonates with voters. Fairness for pregnant workers isn't just a blue state priority. It's a national priority. And the wave of support for pregnant workers is on its way to Washington.
Roe has collapsed and Texas is in chaos.
Stay up to date with The Fallout, a newsletter from our expert journalists.