Legal Wrap: Too Soon to Celebrate the Fall of 'Religious Liberty' Bills in the States
A veto in Arizona may have meant the demise of one attempt to further enshrine discrimination in the name of religious liberty, but the larger threat from the Supreme Court remains.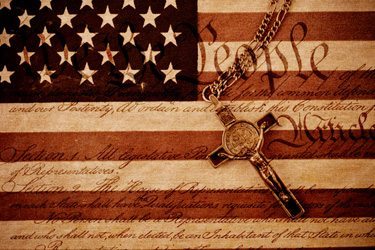 Legal Wrap is a weekly round-up of key legal reproductive rights and justice news.
Arizona's so-called religious liberty bill may have been vetoed after considerable corporate pressure and public outrage, but the fact is, the kind of broad protections for discriminatory conduct proposed in Arizona and elsewhere is precisely the kind of protections the Supreme Court will consider granting later this month in the challenges to the contraception mandate. And that's a problem.
Just in case it wasn't clear that the defeat of the Arizona "religious liberty" bill should be seen as a short-term win, the state is at it again, this time with a bill that would allow judges and other public officials to decline to perform same-sex marriages based on their religious beliefs.
North Dakota lawmakers pushed a "carnival" of anti-choice legislation in 2013, knowing full-well the result would be thousands of dollars in legal fees to lose in court. At what point do voters say "enough"?
Sex. Abortion. Parenthood. Power.
The latest news, delivered straight to your inbox.
Former Virginia attorney general and failed gubernatorial candidate Ken Cuccinelli is now shilling pre-paid legal services for gun owners worried about getting sued should they fire their weapon in "self-defense."
Attorneys for the Alliance Defending Freedom agreed to settle yet another lawsuit in which they claim universities have violated the First Amendment rights of anti-choice student groups by regulating where and how they can display graphic anti-abortion imagery.
In Madison, Wisconsin, a federal court has refused a request by anti-choice groups to block a newly enacted buffer zone ordinance that protects individuals entering health-care clinics from unwanted "sidewalk counseling."
It finally looks like we're getting some movement on Sen. Kirsten Gillibrand's military sexual assault measure. Adele Stan has the latest here.
The University of California, Berkeley is the latest school to face complaints from current and former students that the university administration failed to properly respond to sexual assault and harassment on campus.
In Pennsylvania, a third judge has ruled that state's juvenile sex offender registration is unconstitutional, holding that the law fails to properly take into account juveniles' greater capacity for reform.
For the first time in history, the Arkansas Supreme Court will be made up of a majority of female judges, joining only eight other states who have a majority of female justices on their state high courts. Progress!
Finally, yes, elections matter. But voters matter more. Which is why this piece by Imani Gandy on the continued erasure of Black women as an electoral force is a must-read, especially for the reproductive rights community.