NARAL Takes Pro-Choice Battle to the States
NARAL Pro-Choice America President Ilyse Hogue announced a new electoral strategy at the group's news conference on its annual report: "go deep, go early" into state races that send a pro-choice message.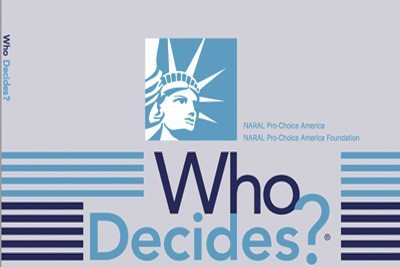 NARAL Pro-Choice America President Ilyse Hogue has a message for opponents of women's rights: No longer will her organization content itself with playing defense. At a meeting with reporters at the organization's Washington, D.C., headquarters, Hogue said the group is going on offense—taking the fight to the states, where an unprecedented level of legislative activity last year targeted reproductive freedom, including access to abortion and birth control.
In its annual report, Who Decides? The Status of Women's Reproductive Rights in the United States, NARAL tallies up the damage along with several success stories, such as California's expansion of abortion access and Albuquerque's rejection of a 20-week abortion ban. Good news aside, NARAL's researchers find that some 24 states enacted 53 anti-choice measures in 2013 alone. Arkansas won the prize for passing the most anti-choice measures, a total of eight in a single year.
Add to that the recent introduction of HR 7, an omnibus anti-choice bill in the U.S. House of Representatives that would, among other measures, use the tax code to penalize some women who have abortions, as well as employers who provide health plans that cover abortion care, and the political landscape for women's rights looks perilous indeed.
Roe is gone. The chaos is just beginning.
Follow Rewire News Group on Twitter to stay on top of every breaking moment.
Citing a 2013 NBC/Wall Street Journal poll that showed 70 percent of Americans support the Supreme Court's decision in Roe v. Wade, the 1973 case that legalized abortion in the United States, Hogue said, "This is disturbing, and completely out of line with the American people. But the good news is, we're going to take aggressive action—in Congress, and in the legislatures, in the courts, and at the ballot box."
The assault on women's rights in Arkansas and other states stems, in part, from the vast flows of outside campaign cash that flowed into the state, thanks to the Supreme Court's 2010 decision in Citizens United v. the Federal Election Commission, a major factor in turning Arkansas' state legislature from a Democratic to Republican majority for the first time since the post-Civil War Reconstruction era.
Similar dynamics yielded similar results in other states, yielding anti-abortion measures that passed into law tucked into North Carolina's motorcycle safety bill and Ohio's budget bill. North Dakota passed a ban on all abortions after six weeks of pregnancy (currently blocked by a federal judge). And who can forget Texas, where Democratic state Sen. Wendy Davis' 13-hour filibuster riveted the nation's attention, even if it ultimately failed to prevent the passage of that state's most recent cluster of abortion restrictions, thanks to a gaming of the system by Republican Gov. Rick Perry, who ultimately called three special legislative sessions to see the bill passed.
In addition to enacting a ban on abortion after 20 weeks post-fertilization, one provision of the bill requires doctors who are abortion providers to gain admitting privileges to a hospital within 30 miles of their practices, with no requirement that hospitals grant the privileges. That provision alone is responsible for about one-third of Texas abortion clinics closing or no longer providing abortion procedures (though four clinics have been able to re-open).
A New Focus
"The state focus is a departure from our usual focus here at NARAL Pro-Choice America," said Erika West, the organization's political director, in her remarks. "We have been accustomed to maintaining the federal electoral space, while our affiliates handled state races. But it's clear now that our best focus is to stop these politicians before they're in place to do more damage."
The organization is seeking to involve itself in races where it can build "firewalls" against anti-choice legislation, West said—essentially looking for races in which it can tip the balance away from complete control of all branches of government and both chambers of the legislature by anti-choice players. As of 2013, as shown in a graph in the Who Decides? report, 21 states were fully controlled by an anti-choice governor and legislature; only seven states were fully controlled by pro-choice lawmakers and governors.
This year will see gubernatorial races in 36 states, as well as more than 6,000 state legislative seats, according to Ballotpedia. In addition, all members of the U.S. House face re-election battles, and 35 seats in the U.S. Senate will be decided in 2014.
West pointed to the 2013 defeat of Ken Cuccinelli, an anti-choice Republican, in the Virginia governor's race, as a model for election campaign partnerships between NARAL Pro-Choice America and the group's state-based affiliates. After presentations by West and Crane, Hogue was asked by a reporter whether the group was disappointed by the decision of newly inaugurated Gov. Terry McAuliffe, who ran as a pro-choice Democrat, to retain Bill Hazel as secretary of health and human resources. Hazel was responsible for implementing the anti-choice policies of Bob McDonnell, who preceded McAuliffe in the governor's mansion.
"I think our Virginia affiliate has been outspoken in their disappointment—we are, as well," Hogue replied. "And our approach to that in 2014 is making very clear that the governors that we support are held accountable for what they do after the election, and its impact on women's health and reproductive freedom during their term."
Crane explained why restrictions such as those that marked 2013 as the year of the "war on women" pass into law despite the essentially pro-choice views of a majority of Americans.
For starters, Crane said, the way in which anti-choice legislators have flooded the zone with abortion restrictions and other anti-choice measures leaves the average voter unable to keep up with the torrent of legislative activity. But even more importantly, she said, "the elected officials who move these restrictions obfuscate their position."
"They bury what they're doing," she continued. "They find a bill on motorcycle safety or sharia law or a massive budget bill [in which to insert anti-choice provisions]. And those are really hard for the American public to follow."
Overcoming Obstacles
Rewire asked NARAL leaders to address the structural impediments to unseating anti-choice state legislators and members of the U.S. House of Representatives (which has an anti-choice majority), given the dynamics that yielded the current set of incumbents (backlash against the election of President Barack Obama, combined with the nearly limitless flow of money into Republican campaigns, thanks to Citizens United), and the 2010 redrawing of legislative and congressional district lines to ensure incumbents' re-election.
Crane dated the origins of the current spate of anti-choice legislation in a Supreme Court decision far earlier than the 2010 Citizens United verdict; it all began in 1992, with the Court's decision in Planned Parenthood of Southeastern Pennsylvania v. Casey, Crane said, when the composition of the Court changed because of the election of anti-choice presidents Ronald Reagan and George H.W. Bush in 1980 and 1988, respectively. The Casey decision, Crane explained, "lower[ed] the standard of review for state restrictions—and you see them explode after 1992." She posted a bar graph that showed a steep climb in restrictions passed since 1995. Prior to 1992, she said, "many state restrictions were attempted," only to be struck down by the Supreme Court.
In many states where the harshest attacks on women's rights have taken place, voting rights and environmental regulations are also under attack. "NARAL is very proud to have a policy supporting democratic access—voting rights, redistricting," Hogue said, after acknowledging the need for pro-choice activists to work in coalition with civil rights groups. "And it's no coincidence that when we see the individual voter suppressed … the first thing that gets thrown under the bus is women's rights."
Despite the electoral threats to reproductive freedom that lie ahead, there are bright spots, Hogue said, that bear out her assertion that access to abortion and contraception can be winning issues, even in red states. She pointed to the current gubernatorial contest in Kansas—"a deep red state"—where incumbent Sam Brownback, an anti-choice Republican well known in the state, is "running neck and neck" with state Rep. Paul Davis, a pro-choice Democrat with little name recognition. Hogue attributed Brownback's apparent weakness to, in part, his anti-choice views, saying that the vulnerability of the longtime Kansas politician sends a signal to gubernatorial candidates running in other states.
Because of redistricting and other structural obstacles, "we recognize [that] reversing this trend is a long game," Hogue said. "We need to make a start in 2014, but it's going to take several cycles for it to take hold, so a key criteria are going to be races that send signals nationally. … And that is part of why our strategy is to go deep, go early, and show that even in what are considered red states, this is still a crossover issue; it's a winning issue if you have the right position on it."